The Hon'ble Union Minister of Home Affairs, Government of India, Sh. Rajnath Singh today visited the Union Territory Chandigarh. During his day long visit the Home Minister launched new projects and also interacted with the officers of the Chandigarh Administration.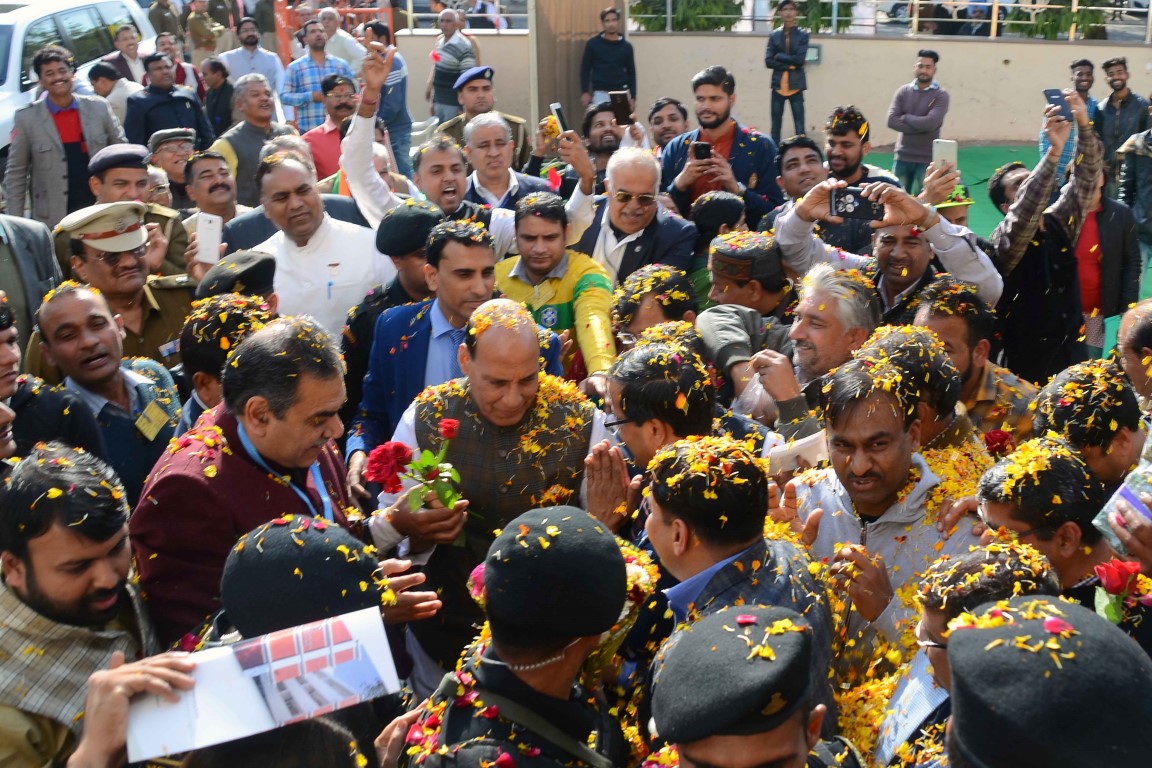 At the onset Sh. Rajnath Singh launched the multi-storeyed 300 bedded Infosys Foundation Red Cross 'SARAI' at Post Graduate Institute of Medical Education & Research Chandigarh. With the aim of helping the ailing patients & their caregivers who are from economically weaker sections, INFOSYS FOUNDATION RED CROSS SARAI was conceived by Mrs. Sudha Murthy, Chairperson of the Infosys Foundation. The land was made available by the PGIMER to Red Cross Society, Chandigarh who signed an MoU with Infosys Foundation to construct the Sarai. Hindustan Petroleum Corporation Limited has also played a role in this noble initiative by donating beds, linen and other items.
Sh. Rajnath Singh had laid the foundation stone for the construction of the Sarai last year on 9th September, 2016. Fitted with modern energy saving and energy efficient equipments, this facility is likely to ease the hardships of visiting patients and their families at PGI. The Sarai consists of     300 Beds, 36 Dormitories and 13 Private rooms. It is easily accessible, in close proximity to the OPD with direct access from the main road as well as from inside PGI. There are lifts and ramps available making it easily accessible for the differently-abled.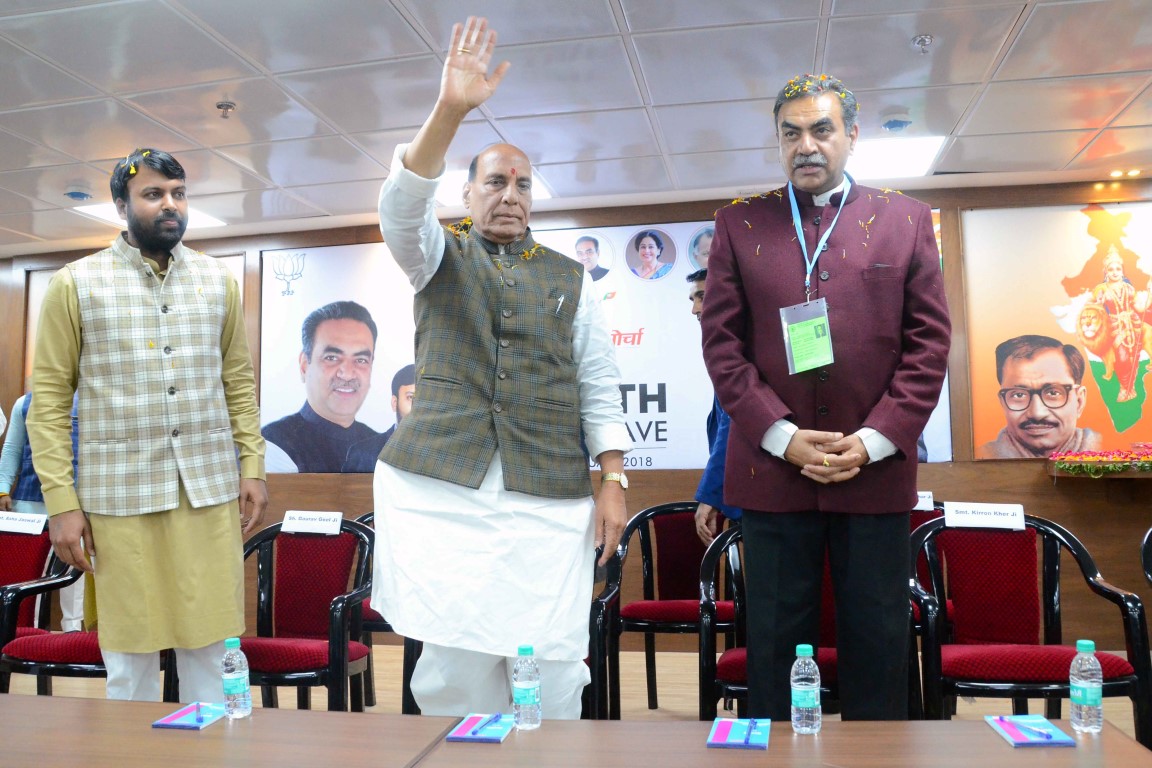 There's a separate wing on the 3rd floor exclusively for women. Common areas include 75-seater cafeteria, waiting hall and reception, administrative office, stores, lifts, service areas, etc. The Sarai has a Panasonic 20KVA Solar Photovoltaic plant installed, 24X7 Hot water supply, Generator back up and is fully equipped with safety equipments like CCTV, Fire extinguishers etc. The charges for Dormitory are Rs.100 per person per day and for a Private Room is Rs. 500 per day.
After the inauguration of Sarai, the Union Home Minister proceeded towards the launch of Administrative Block & Auditorium in GMCH, sector-16, Chandigarh. Built at a cost of 12 crores, the Administrative Block covers an area of 54,537 sq.ft that has five floors and a basement. The Auditorium has been built on an area of 10,510 sq.ft at a cost of 4.50 crores. The double storey Auditorium consists of an Administration office library, foyer and green rooms.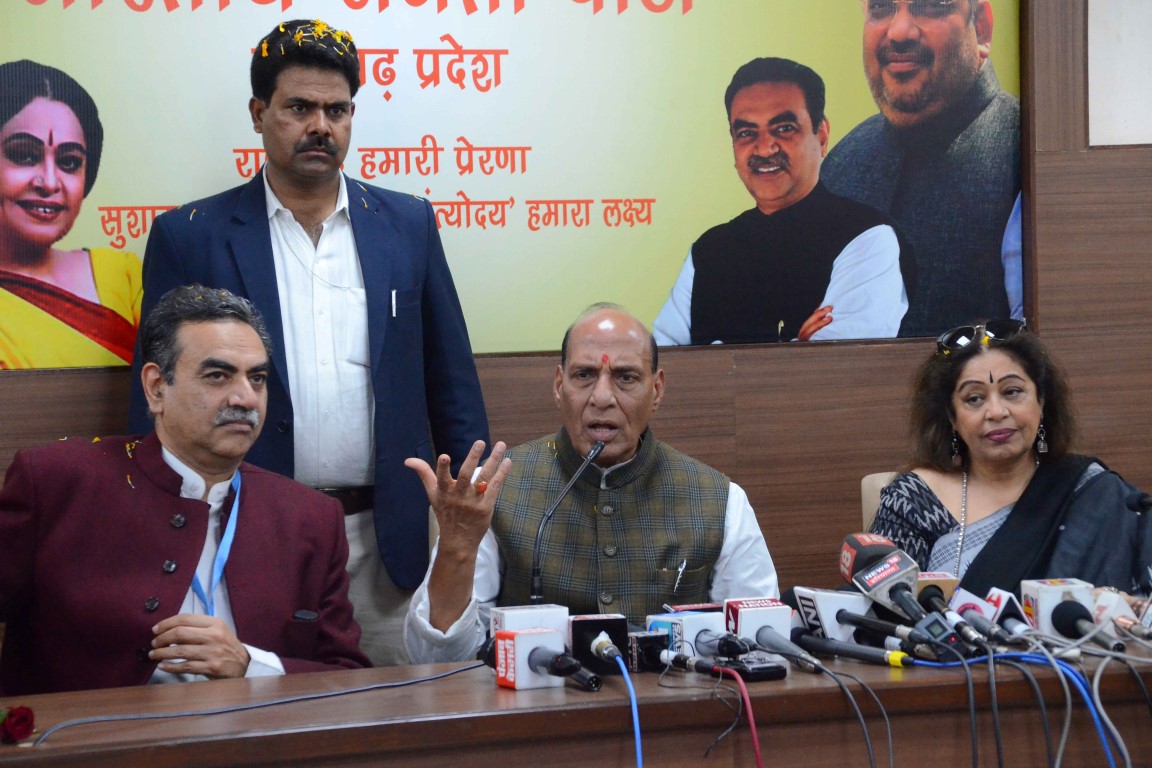 The visit drew to close with a meeting of senior officials of Chandigarh Administration with Sh. Rajnath Singh at U.T Guest House. The Hon'ble Home Minister was apprised about the major achievements made by Chandigarh in the past and the future needs of the city through a presentation. The highlights of the presentation were:
·       1st State/UT where the food subsidy is 100% DBT based on Aadhar. This subsidy is disbursed in the name of Grehni, senior most lady of the house.
·       1st UT to have the Status of "Fair Price Shop Free City"
·       1st City in North India to launch Human Milk Bank
·       Move towards Transparent Governance: Govt. Procurements done through GeM (Govt. e Marketplace). Launched Android based Mobile application for linking of Aadhaar with Property
·       Less Cash City: All Transactions-Business to Govt. & Govt. to Business are Digital. No Extra Charges for Digital Payment charged from General Public. Launched a Single Card with Multiple Payment Options that can be Recharged at any e-Sampark Center and used for Public Transportation, Parking Lots, Utility Bills etc.
·       Promotion of Hon'ble Prime Minister's Flagship Programs: PMSBY (Suraksha Beema Yojna), PMJJBY (Jeevan Jyoti Beema Yojna), Atal Pension Yojana, PM MUDRA Yojna and PM Jan Dhan Accounts
·       Priority to RTI: 1st City nationwide to link with national RTI portal,
·       Green City: Recently 31 Trees (More than 100 Years old) declared as Heritage Trees.
·       Solar City: Generated 31.04 MU of solar energy on the rooftops of Govt. buildings in the last 4 years, which is equivalent to reduction of 21,417 MT CO2 and planting of 23.21 Lakh trees.
·       Kerosene Free City/UT: Since April, 2016 UT Chandigarh became Kerosene free City. All Consumers provided with LPG
·       Cyclist Friendly City: Completed 96 Kms length of cycle track and another 70 Kms length of cycle tracks under construction.
·       Launch of Mobile Food Testing Labs: Helping the residents to check the purity of various food items like milk, pulses, etc.
·       Annapurna Akshayapatra Yojana: Unique Initiative under CSR activity under the aegis of Red Cross Society, Chandigarh to provide Quality food at the cost of Rs.10/-.
·       KALAM EXPRESS: Mainstreaming children with special needs and to make them Independent. Team Consisting of 1 Physiotherapist, 1 Special Educator along with all equipments visits the under privileged at their Door Steps.
·       Food Fortification: Fortified Food (Wheat, Rice & Salt) Supplied to 450 Aanganwadi Centers, 114 Govt. & 7 Aided Schools, 48 Creches under ICCW (Indian Council for Child Welfare). Burail Jail supplies Fortified Food to 100 AWCs (1st UT/State)
·       Specially-Abled Friendly City: Under Sugamya Bharat Abhiyan, 38 out of 43 Identified Government Buildings made Specially-abled Friendly. First Pride Fashion Show for Empowerment of Divyang in which 152 Divyang Participated. Para games organized on the Eve of International World Disability Day
·       SWAYAM – Self Defence Training for Women
·       Pick & Drop for Women in Distress
·       SMART-ONE (Skill Maximization and Reorientation of Training through Online Examination) for Continuous Professional Education: 5812 police personnel trained through SMART – One test.
·       Paperless Police Stations: 10 police stations declared paperless for all IIFs (Integrated Investigation Forms) like FIR, Crime Detail, Arrest/Surrender form, Property Search and Seizure, Final Report, Court Disposal and Result of Appeal forms. Citizens access FIRs through Citizen Portal.
·       Nigehbaan Project: 13,070 CCTVs installed at Zero cost with Community help and participation.
·       Achievements made in School, Higher & Technical Education, Health Sector, Sports Infrastructure
·       Smart Chandigarh: SPV (Special Purpose Vehicle) structure named CSCL (Chandigarh Smart City Ltd.) formed in 2016. 70 Projects have been envisaged, 23 Projects have been tendered and 6 Projects have been completed.
·       Adoption of GST: 1st amongst UTs & 2nd amongst States in GST compliance. Two 'GST Rath' for handholding Small Traders. 100% existing live traders Migrated. About 9,000 New Traders registered i.e. addition of approx. 50%.
Concluding the meeting, the Home Minister lauded the efforts of the officers of the Chandigarh Administration for consistent development and achievements made by the city beautiful. He further assured on exploring the possibilities of fulfilling the demands of the city for the prosperity of its citizens.
The Governor of Punjab & Administrator U.T Chandigarh, Sh. V.P. Singh Bandore and Smt. Kirron Kher, Member of Parliament, U.T, Chandigarh, accompanied the Home Minister during his day long visit. Among others present were Sh. Parimal Rai, IAS, Adviser to the Administrator, Sh. Ajoy Kumar Sinha, IAS, Finance Secretary, Sh. Anurag Agarwal, IAS, Home Secretary, Sh. Tajender Singh Luthra, IGP, Chandigarh Police, Sh. Ajit Balaji Joshi, IAS, Deputy Commissioner and Sh. Sanjay Tandon, State President of Bhartiya Janata Party.