NewZNew (Chandigarh) : A newly formed political party- National Freedom Party (NFP), being spearheaded by New Delhi-based social organisation Vivekananda Foundation, today got blessings of great social activist and crusader Anna Hazare. The Foundation's Managing Trustee Amlan Biswas called on Hazare at his village Ralegan Siddhi today to seek his blessings and support for the new political party. The NFP is all set to bring in big and revolutionary changes in political landscape of the country. The party will take on all big ones in Assembly elections in coming two years and then go for general elections in 2019.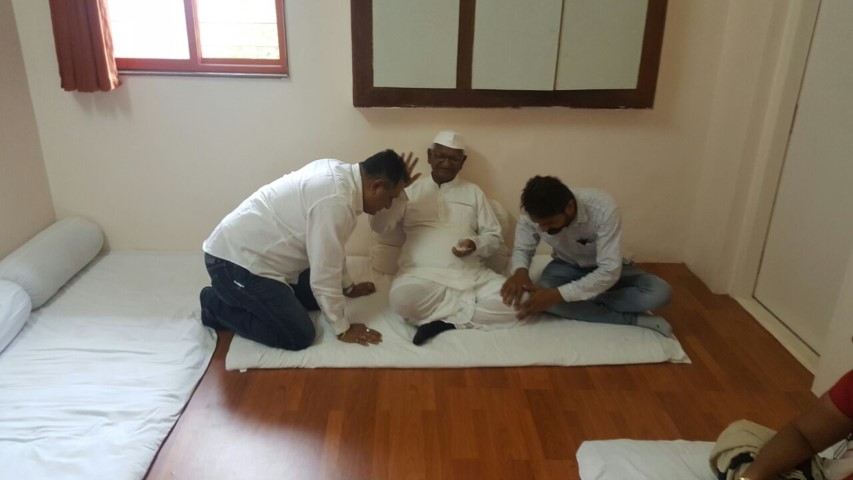 In a statement issued here after the meeting, Mr Biswas said the Foundation is fighting against corruption and other social ills in society. " We follow noble principles of Swami Vivekananda and Mahatama Gandhi. Hazare sahab is our living guiding force. That is why, before formally launching the party on October 1, we met him to seek his blessing and support. we ask him to join our party,but  as he is against the present party system, so politely declined," Mr Biswas said,
"However, Hazare sahab assured us to give full support and said 'India against Corruption' will certainly work hand-in-hand with Foundation & NFP. We are highly motivated with this meeting and assured guidance & support from him," he added.
As Anna Hazare wants to do away with disturbing distance between Sansad (Parliatment) and Samaj( Society), the NFP would also struggle achieve this goal.
"We are ready and the party will formally be launched on the eve of Gandhi Jayanti – October 1. We will declare our national and states executive committees along with complete roadmap on that auspicious day," Biswas said.
The Party, with its aim to provide a viable alternative to distraught youth and masses, will contest all Assembly seats of its own in states like Punjab, Goa, Gujarat and Tripura.
The Foundation is spearheading this political movement with the help of its youth cadre, intellectuals and support of those who seek real change in the system. The Mission is to mobilize youth of the country to join this movement which seeks to reform the system. The party, with support of the foundation, enjoys huge support base in many parts of the country. Leaders and members of the Party will continue to put their efforts to make India a nation as dreamed by our freedom fighters and martyrs Ram Prasad Bismil, Chandra Shekhar Azad and Shaheed Bhagat Singh. With these names, name of the party has been perfectly aligned. The party is dedicated to build a society free from corruption, poverty, illiteracy, unemployment, casteism, communalism and regional biases.