National Insurance Company Ltd, the Kolkata based General Insurance major has achieved total premium income of Rs. 14282 crores in financial year 2016-17.  In 2016-17 it has achieved new height of financial strength with a Solvency Margin of 1.90 as against required level of 1.50 prescribed by the Regulator. Company's premium grew at 18.83% in 2016-17 while its Net worth grew at 9 % to Rs 9,544 Cr. Value of total investments of this Public sector Insurer reached Rs 24,513 Cr at the end of the last fiscal. This was 12.65 % higher than previous year.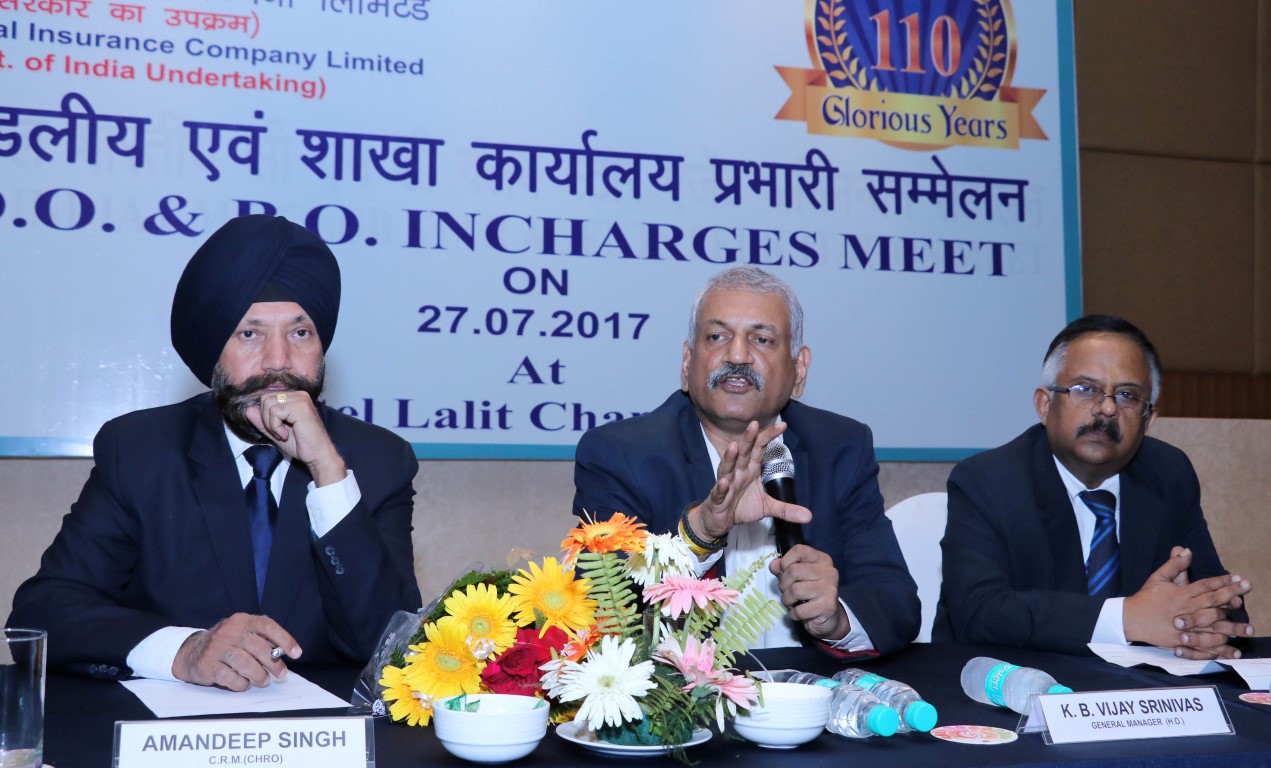 While interacting with media at Chandigarh today, Sh. K. Sanath Kumar, Chairman cum Managing Director, National Insurance Company Ltd. informed that the Company was able to bring down its core claims ratios from 90.53 % to 85.98 %, but the gross claims ratios went up as they absorbed an additional Incurred But Not Reported Claims of Rs. 2126 Cr . The Company also could bring down its operational expenses to Rs 3,977 Cr from Rs 4142 Cr with a premium growth of 18.83 % .
He further said that the 110 years old PSU major adopted unique steps to shore up the capital adequacy by going for subordinate debt of Rs 895 Cr and a special Reinsurance arrangement with GIC on Health & Motor.  The Debentures were oversubscribed. National Insurance cut down its presence in Group Health Insurance and exited more than 100 loss making policies. It could increase the prices of many large policies to optimum levels.
Mr K Sanath Kumar stated that they would approach Government for approval of IPO, preferably in this fiscal itself, now that its Capital position is comfortable. IRDAI had allowed the Company to absorb Motor TP  IBNR as on 31st March 2016, in next three years.  Company has to absorb another Rs. 2776 Cr in the next two years and hopes to wipe it off by this year itself. It had adhered completely with all IRDAI's directions in this regard.
The Company continues to write the mass insurance programme in Maharashtra & Swasthya Sathi & RSBY in West Bengal.  They continue its leadership position in Govt's flagship scheme of Pradhan Mantri Surkasha Bima Yojana. It wrote Rs 840 Cr in Prime Minister's Fasal Bima Yojana  and is on the look-out for more reinsurance support.
The settlement ratio of non legal claims cases crossed 91 %, while claims pendency ratio is 3.76 % .  National received a number of awards  and accolades including ASSET award for best Cash management solutions, Skoch merit Awards for PMSBY & General Insurance company of the year.  Company plans to hive out its Nepal operations to a subsidiary.  It plans to bring out more products in personal space like Top Up in Health Insurance and better packaged Home Insurances.
Company is aiming at a premium 16,000 Cr in 2017-18, with complete capital adequacy and financial strength .
While introducing CMD Sh. K. Sanath Kumar to the media, Sh. Amandeep Singh, Chief Regional Manager, Chandigarh Region informed that the CMD Sh. K. Sanath Kumar has been recognized as CEO of the year (General Insurance Category) for bringing about a significant turn-around in the Company's financial growth.  He further said that Chandigarh Region comprising the states of Haryana, Himachal Pradesh, Jammu & Kashmir and Chandigarh, has shown tremendous growth in premium procurement.   The Company settled around 5000 flood claims in J & K and disbursed more than Rs. 300 Crores which was widely appreciated.  Similarly the region has expeditiously settled claims incurred during Jat Agitation in Haryana with total outgo nearing Rs. 5 Crores.  Chandigarh region is having more than 100 offices and an office on wheels catering to general insurance needs of public at large and plan to open more business centres to reach out to the public in unrepresented areas.
On the visit of CMD Sh. K. Sanath Kumar and General Manager Sh. K.B. Vijay Srinivas, the Company has organized various meetings at Chandigarh for felicitating their Star Agents and Development Officers from all over India.  A meeting of Operating Incharges of Chandigarh Region and our Business Partners/Brokers has also been scheduled.