Neeru Bajwa's next titled; Beautiful Billo to Premiere on ZEE5: ZEE5, India's largest home-grown video streaming platform and multilingual storyteller for a billion audiences are all set to announce its next direct-to-digital Punjabi movie – Beautiful Billo.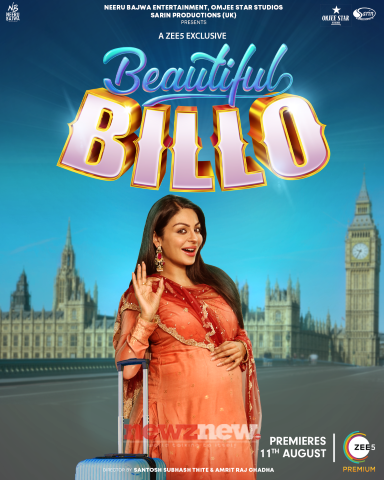 Produced by Neeru Bajwa Entertainment, Omjee Star Studios, and Sarin Productions, the movie stars actress Neeru Bajwa, Rubina Bajwa, Roshan Prince, and Raghveer Boli in lead roles.
This comedy-drama movie will premiere on ZEE5 – on August 11.
Directed by Santosh Subhash Thite and Amrit Raj Chadha, Beautiful Billo is a Comedy drama movie set against the backdrop of the United Kingdom. With warmth at its center, the story deals with an emotional bond between a couple played by Rubina Bajwa, and Roshan Prince, and their tryst with a pregnant woman played by Neeru Bajwa.
The story unfolds when Neeru becomes the third wheel in the house and the families get involved. With lots of drama, laughter, and fun – Beautiful Billo will chronicle the life journey of three individuals in a unique way.
Commenting on the announcement, Mr. Manish Kalra, Chief Business Officer, ZEE5 India said, "As India's homegrown storyteller, we continue our efforts to keep the audience entertained with different narratives across languages. Our audience loves content that has relatable themes, identifiable characters, and strong storytelling.
Beautiful Billo brings out a narrative that has the right mix of humor, wit, and drama that our audience will love."
An elated Neeru Bajwa says "Beautiful Billo narrates a heart-warming tale of human emotions with a twist of comedy that will surely strike a chord with the audience. It is a story that will embark the audience on a journey never seen before. I am extremely elated to stream our movie with ZEE5 ensuring wider in 190+ countries."
Watch 'Beautiful Billo' exclusively on ZEE5!
Know More About ZEE5:
ZEE5 is India's youngest OTT platform and a Multilingual storyteller for millions of entertainment seekers. ZEE5 stems from the stable of ZEE Entertainment Enterprises Limited (ZEEL), a Global Content Powerhouse.
An undisputed video streaming platform of choice for consumers; it offers an expansive and diverse library of content comprising over 3,500 films; 1,750 TV shows, 700 originals, and 5 lakhs+ hours of on-demand content.
The content offering spread across 12 languages (English, Hindi, Bengali, Malayalam, Tamil, Telugu, Kannada, Marathi, Oriya, Bhojpuri, Gujarati, and Punjabi) includes best Originals, Indian and International Movies, TV Shows, Music, Kids shows, Edtech, Cineplays, News, Live TV, and Health & amp; Lifestyle.