New appointed trainee IPS Officers call on Governo: Six newly appointed trainee officers of the Indian Police Service Himachal cadre met Governor, Bandaru Dattatraya at Raj Bhavan.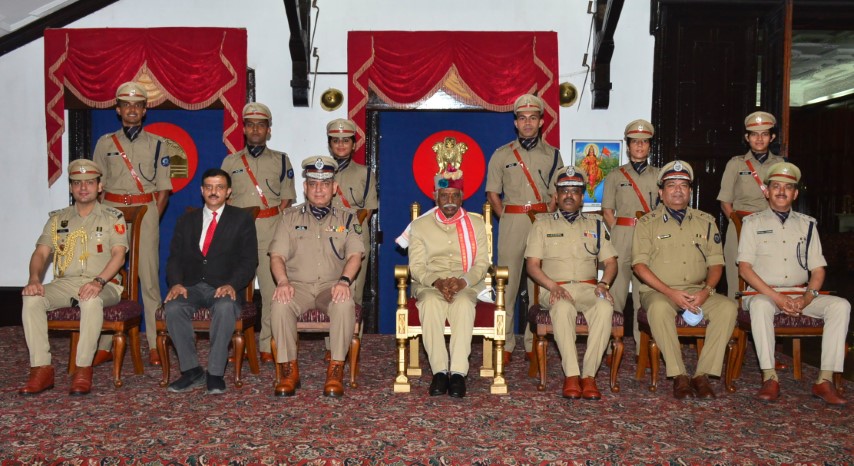 These officers included Abishek S, Amit Yadav, Mayank Chaudhary, Charu Sharma, Jina Afroz and Kamya Misra. All the officers also gave information related to their home states and educational qualification to the Governor. All these are Indian Police Service officers of the 2019 batch.
The Governor congratulated the officers and wished them a bright future. He said that it is a matter of pride for all of them that they have got the opportunity to work in a developed and peaceful state like Himachal which is one of the leading states in terms of development in the country.  He said that all the officers have received higher education in various fields, which would certainly prove beneficial for the people of the State. He advised them to work with commitment, conviction, impartially towards the society particularly towards the downtrodden and poor people. He appealed to contribute in making a corruption-free society. 
Shri Dattatraya said that a police officer has an important role in maintaining law and order in the State. Therefore, to work in right perspective in difficult circumstances, the efficiency of the officers is tested. Officers should work with dedication and hard work.
He specially congratulated the women officers and said that due to the policies of women empowerment brought in by Prime Minister, Narendra Modi, today women are outshining in every field, which indicates the prosperity and progress of the country. Three woman officers, one from Solan district of Himachal Pradesh were among the six Indian Police Service officers present in today's courtesy visit. 
During this interaction, Sanjay Kundu, Director General of Police, also briefed about the training of these young officers and their commitment towards the society. 
Venu Gopal, ADGP, Law & Order, Rakesh Kanwar, Secretary to Governor and J.P. Singh, IG were also present on the occasion.