"New Haryana Vidhan Sabha Building will be Disastrous for Chandigarh": The Indian Institute of Architects (IIA), Chandigarh Chapter has expressed grave concern over the proposal to have a new building for Haryana Vidhan Sabha in Chandigarh.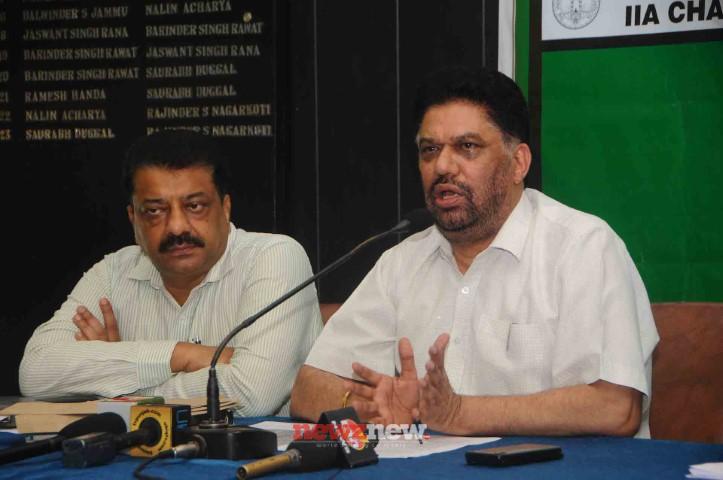 Senior functionaries of the IIA Chandigarh Chapter have shot a letter to the Home Minister, Chief Ministers of Haryana and Punjab and the UT Administrator, stating that the proposed building is a clear violation of the city's master plan and any such move will be nothing but tinkering with Chandigarh's unique character.
In a press conference held at Chandigarh Press Club here today, S.D. Singh Chairman, IIA Chandigarh Chapter said, in the communication it has requested to consider several other options.
The idea of making new Vidhan Sabha will be against Master Plan of city and it may invite huge criticism at International level, he said, citing similar proposals like destroying green belt of mango trees, and Tata Towers project, in the past which led to their cancellation at the PMO level, causing a lot of embarrassment to the Chandigarh Administration.
Surinder Bahga, former Chairperson of Chandigarh-Punjab Chapter said, Chandigarh is considered as one of the best experiments in Urban Planning and Architecture in India after Independence. Thousands of Indian and foreign architects visit Chandigarh and its Capitol Complex as tourists because of Iconic landmark buildings designed by legendary architect Le Corbusier.
He added, the whole world knows that Chandigarh's Master Plan was originally prepared by Swiss-born French Architect Le Corbusier which was followed in letter and spirit by the then Punjab Government. Revised Chandigarh Master Plan-2031 was prepared by Chandigarh's Urban Planning Department and was approved by Chandigarh Administration and Union Ministry of Home, Government of India.
"Le Corbusier compared the Chandigarh Plan with a human body where the Capitol Complex consisting of Secretariat, High Court & Assembly Hall is "Head" of the human body. If Haryana will add a new Assembly Hall, then Chandigarh will have two heads!", he said.
The proposal of building a separate Vidhan Sabha within the boundary of city at different locations is in complete violation of original Le Corbusier plan and revised Master Plan of Chandigarh. It will destroy Corbusier's concept of city planning, Bahga said, adding, Chandigarh can appoint an international jury consisting of eminent but independent architects and planners who have knowledge about Le Corbusier's work and philosophy to finally take the decision.
Sanjay Goel, Chairman, IIA, Punjab Chapter said while giving different options said, "Haryana Government can plan to build a New Capital city of its own on some suitable site located in the centre of Haryana state which is easily accessible to residents of the state. The other option can be that the Haryana Government can consider building only the Capitol Complex on the outskirts of some existing town of Haryana having Secretariat, Vidhan Sabha and its own High Court with other relevant facilities.
Goel said, "Le Corbusier originally planned the Governor's Palace in the Capitol Complex of Chandigarh. On the insistence of then PM, Pandit Jawaharlal Nehru, idea was dropped. But Corbusier was perturbed that this would spoil the composition of his Capitol Complex. Nehru advised him to replace it with another building so that his composition is not spoiled. Then Corbusier came up with the concept of building a Museum of Knowledge in its place which has been lingering on for nearly 70 years. During the International Conference held in Chandigarh in 1999, a mock façade of Governor's Palace was built on the same site to highlight the urgency to build that structure by Internationally-acclaimed architects and planners. We recommend that Haryana can build that building and shift its 350 officials to the new building. They can continue to use the existing Hall in Vidhan Sabha plus the new building as well. It will not only solve their problem, but rather help in completing Corbusier's dream project."
"Based onHaryana Government's factual data about present space requirements, efficient space planning with some minor changes can be explored. A series of low-height annexes were added on the rear side of the High Court to cope with growing demands of the High Court. Likewise some additional nicely-designed low-height structure can be added on the rear side of existing Assembly Hall", he said adding, Haryana Government and Punjab Government can use the same Hall by segregating the dates of their sessions.
Discussions of having an independent high court of Haryana and shortage of space in the main Secretariat have also been going on for years. Haryana can build its own High Court in the existing Capitol Complex area as well as Secretariat but without disturbing the core area. But the design of Le Corbusier's buildings can be repeated, Anju Bala, Joint Secretary of IIA concluded.