CM inaugurated two-day Rural Entrepreneurship, Innovation Convention and Expo
Organized by PHD Chamber of Commerce and Industry
New and successful Punjab can only be formed and ensured of growth with the help of entrepreneurs and rural development in state. This was stated by Chief Minister, Punjab, Captain Amarinder Singh. Encouragement of rural entrepreneurship is essential in present scenario.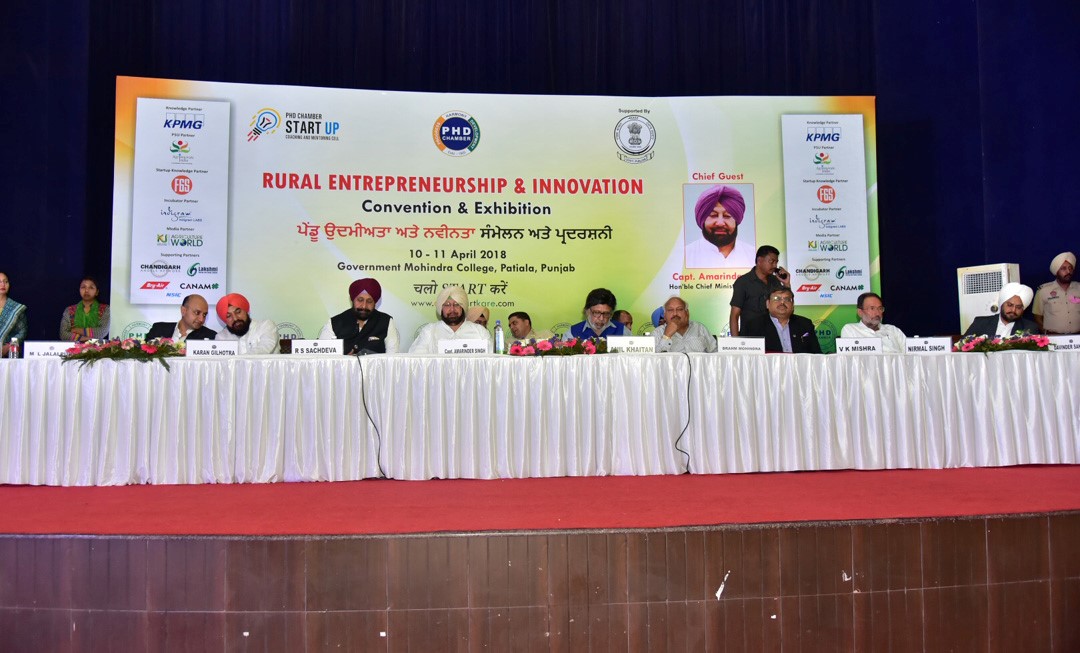 C.M Punjab Captain Amarinder Singh was addressing a gathering of farmers, industrialists and youngsters at Mohindra College after inaugurating two days Rural Entrepreneurship, Innovation Convention and Expo organised by PHD Chamber of Commerce and Industry in association with Punjab Govt. He remarked that to establish new industrial sectors in rural areas, creating and encouraging entrepreneurship among people is important. He said that the pace of industrial development in state has slowed down which is now being revived.
Appealing to the entrepreneurs for significant development of state, Amarinder Singh said that there has been a lot of research in the field of agriculture and rural development, which is still not known to public. Considering that, the programs being organised by PHD Chamber can prove beneficial for the villagers and to the farmers. Captain Amarinder Singh after inauguration started his speech with the Phrase "Necessity is the mother of invention". Citing the example of "Alexa" he said that this is called innovation.
Mentioning the slow pace of development, he said that in India there are lots of ideas but lack of capital for its implementation. He further remarked that the govt. of Punjab will support and provide capital for the same. He also mentioned that People of Punjab have a very thoughtful mind, the jobs in state are also good, but the people of Punjab lack innovation.
He encouraged the youngsters to innovate which will also result in increase in revenue. He said that in present scenario industries need innovative skilled people. He said, Industries, PHD Chamber and Government is doing each and every step for overall development of state.
He said that after assuming the charge by congress party in Punjab, the state government is developing the rural areas on the pattern of urban areas. As a result, the government has created a program to provide self employment opportunities in rural areas. This program can play an important role for spreading awareness.
During this convention Shri Brahm Mohindra, Health & Family Welfare Minister Punjab also encouraged the youngsters to become innovative and asked them to come forward with innovative ideas which are worth implementing.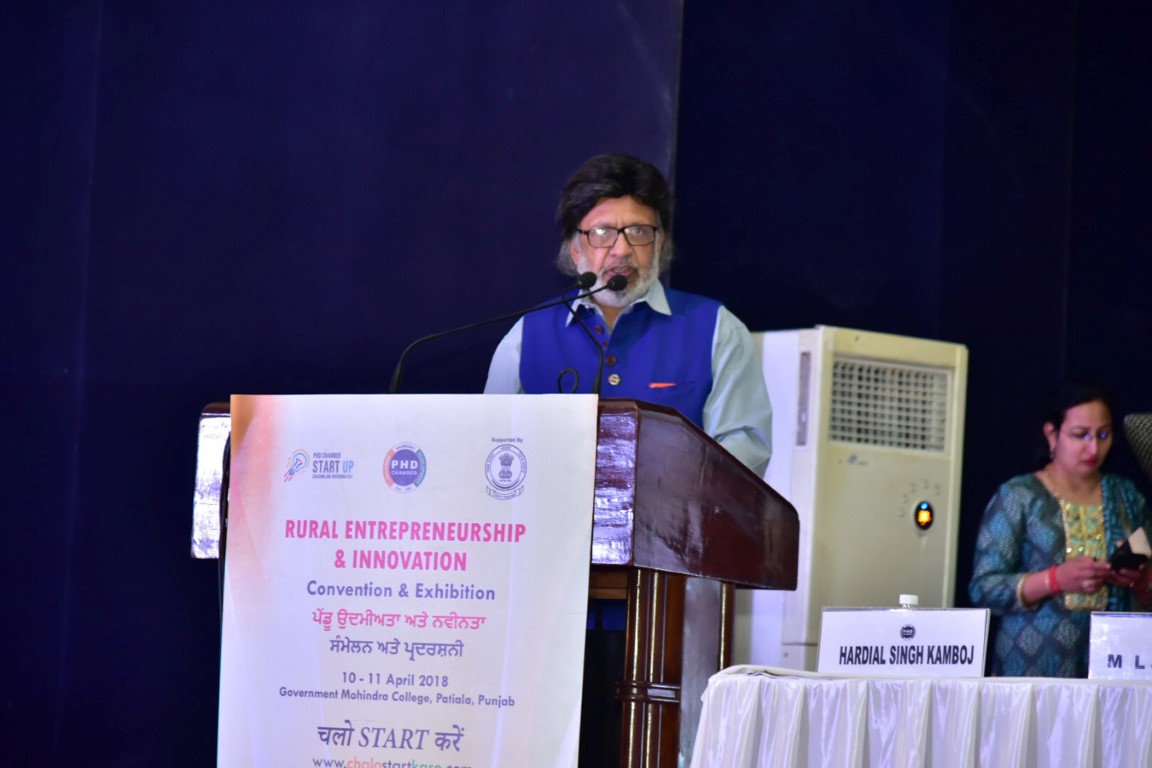 Shri Anil Khaitan President, PHD Chamber of Commerce and Industry, in his welcome note, expressed gratitude to CM Captain Amarinder Singh and said that while the PHD Chamber serves as a catalyst between industrialists and the government however the Chamber also works actively on spreading awareness among general public about new research in agriculture, rural development and industry by organising such programs. He hoped that this program would play an important role in making the youth self-reliant.
Speaking on the occasion, Shri V K Mishra, Co-Chairman, Innovation Committee, PHD Chamber, said that, in this two days program, the experts will provide training about the role of industries to make the youth self-reliant while living in rural areas through Startup Boot Camp. Shri R. S. Sachdeva, Chairman, Punjab Committee, PHD Chamber of Commerce and Industry, expressed gratitude towards cooperation being provided by state Government and said that Rural Entrepreneurship and Innovation is spearheaded by CM Punjab Captain Amarinder Singh. Expressing gratitude to all the departmental officers and industrialists present on the occasion, Shri Sachdeva, said that such programs will also be organized in future.
Chief Minister Capt. Amarinder Singh also released the PHD Chamber-KPMG Knowledge report on "Progressing through Innovation and Entrepreneurship- Case for Punjab". or the youth.
Also present on the occasion were Shri Hardyal Singh Kamboj, MLA, Shri Madan Lal Jalalpura, Sh. Karan Gilhotra, Co-Chairman, Punjab Committee, PHD Chamber of Commerce, Sh. Davinder Sandhu, Partner, KPMG along with other reputed people of industry and government.
The main attraction of the event was Startup Boot Camp in which around hundred budding entrepreneurs from various Universities participated. Their hand holding was done by domain experts from multi sectoral domains.