NewZNew (S A S Nagar) : Strands, India's leading salon chain, added another feather in its cap with opening its new outlet at SCO 541, Sector-70, Mohali. Destined to appeal to an upscale and leisure clientele alike, Studio Strands is poised to transform the face of beauty care and service in the city.
Strands also organized a spectacular fashion show in which models strutted down the ramp in their flamboyant and resplendent dresses, showcasing new hairstyles which were high on sculpting and flaunted their stunning hair color for bridal, weddings' and evening parties' collection which included very innovative and classy braids and buns. The eye makeup was done of the same colour as of the hair colour, taking into account the complexion of the models. The hairstyles, Makeup and hair styling were done by strands professionals who gave models a bold and spectacular look.
Strands Hair expert Mallika said," high amount of sweat, head and humidity make hair limp. Moisture form the air settles on the surface of hair and makes them oily and hard to manage. To solve these summer hair problems, we have come up with new hair styles for every occasion and to make hair easy to manage and leave them looking fresh for longer".
She also explained how to tie short and long hair according to different occasions and what kind of products should be used for different textures and quality of hair and how to care for curly, wavy and straight hair.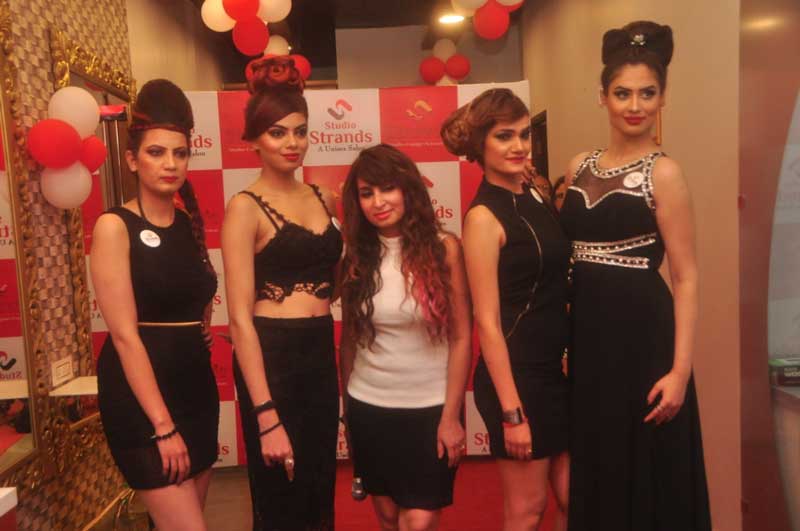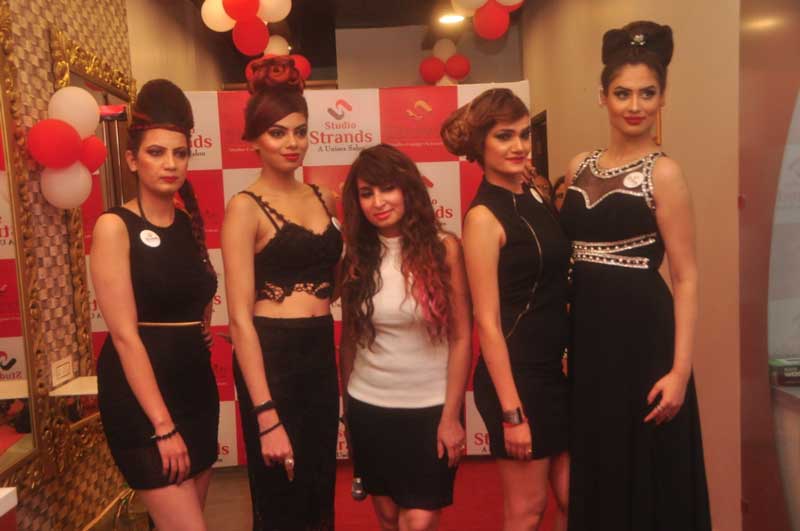 The ritzy and stylish Studio Strands is located in a prime location of the city, one can't miss the luxe interiors of the salon as you step in. The capacious studio has defined sections for the beauty services. The posh interiors are beautiful and luxurious and so is the furniture. Their vast offering includes services like hair care treatments, haircuts, smoothening, hair spa, haircuts, colours, straightening, perming, body massages, scrubs, foot spas, facials, under eye treatments, skin care services, hair extensions, reflexologies, body polish, bridal service, pamper packages and more. The salon will operate 365 days a year, opening at 9 am and closing at 9 pm on weekdays and 10 pm on weekends.
The salon at Mohali has a slick ambience and efficient staff. Strands offers the most current hairstyling and hair care techniques for every look, with world class products, highly trained experts and the kind of personal service that will keep bringing one back for more. The salon has appointed an efficient staff trained by Wella Professionals- the biggest salon brand of the world who have the passion for creating great and enviable looks
Speaking on the occasion, Amit Chawla, Head Business and Franchise Strands said, "I am extremely delighted to launch our latest edition Studio Strands in Mohali. "Wella is a trusted hair care brand to reckon with, all the stylists at Strands have been trained and certified by Wella & Strands Academy For Skill Development. Each of them has an extensive background and proven track record in their field, and continues to research and practice new technologies and technicalities in hair, constantly updating their client's look with the perfect color, design and proper care."
Raman Ghai, VP Operations, Strands said, "I am extremely delighted to welcome Mohali in the Strands family.  We have aggressive expansion plans and this launch is an integral part, we not only bring world class beauty care services to the residents of Mohali but are a profit making proposition for our franchise partners."
Strands also offers various hair treatment services including Re-Bonding, hair extension, hairstyling, hair coloring, hair smoothening, scalp purification treatments, color shine hair spa, oily scalp treatment and split ends treatment.