Online fashion store Ninecolours.com introduces new features, bets big on bespoke service feature 'Youdesign'
'Youdesign' at the helm of revenue growth
Entering into 4th year of its operations in October 2017, Mumbai-based premium online lifestyle brand www.ninecolours.comhas introduced several new customer-friendly features and services to its website recently keeping in sync with the latest e-commerce trends across the country. With evolving sentiments of the middle-class and rise of disposable incomes alongside proliferation of technology in India, brands like Ninecolours.com are carving a niche for ethnic wear in our country and across the globe.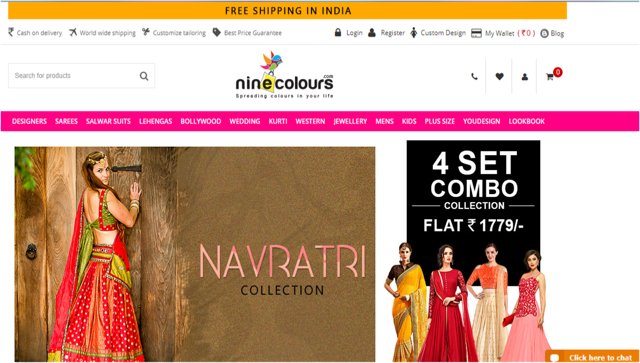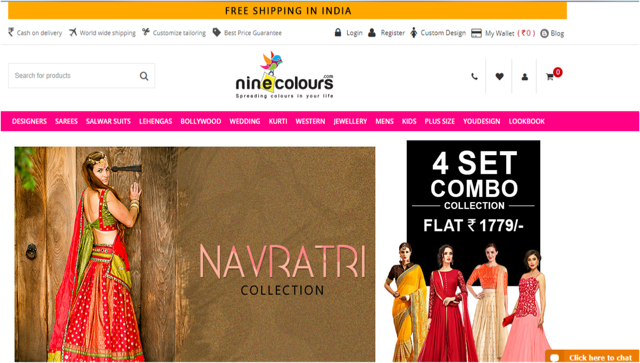 The company has notably reported a 100% estimated net jump in online sales of apparels in both men's and women's category by the end of this quarter (Q2 of the fiscal year 2017-18). Also, the bespoke service of Ninecolours known as 'Youdesign'—which offers anyone and everyone to design their fully customized garments for bridal wear, plus size, maternity wear or any garment that customer desires has been witnessed to be the main catalyst behind the unprecedented sales volumes. The online store has also introduced an 'easier check out' option by partnering with reputed payment gateways such as Paypal (for international customers) and PayU, Paytm, Mobiwik (for domestic customers).
Starting with a turnover of only about 2-3 lakh in the first six months since its inception in 2013, the current annual turnover of Ninecolours.com stands at approximately Rs.10 crore and is entitled to grow by 100-150% in the next five years.Ninecolours has always focused on a wide range of products catering to traditional, indo-western needs of the commoners, and is providing clothes from XXS to up to the 4XL category.
The unique service feature called 'Youdesign', besides creating unique bridal wear for women, is now also customizing outfits for men's wear and kids' wear under the service platform, and has added plus size garments and maternity wear to its custom portfolio off late. Notably, the online fashion store also offers a customized tailoring option; custom stitching includes designing according to specifications selected by the buyer regarding their measurement, hence people get to choose from a great variety of neckline, sleeve length, sleeve type and back depth style. The garment is tailored as per the exact measurement of the wearer, and the measurements can be saved for future orders to save time and energy.
According to an Assocham-Forrester study, the current estimated revenue of Indian e-commerce is about USD 38 Billion and is projected to hit USD 120 Billion by 2020, at an annual growth of around 51%. Also, within retail e-commerce, apparel is the fastest growing segment. Every third query on search engines like Google at present is related to fashion or lifestyle.