'Of Epilepsy Butterflies': A wake-up call to reduce social stigma around epilepsy: To raise awareness on epilepsy and reduce the social stigma around it, celebrated author, Preeti Singh unveiled her book, 'Of Epilepsy Butterflies' with Dr HS Mann, Additional Director, Neurology, Fortis Hospital Mohali.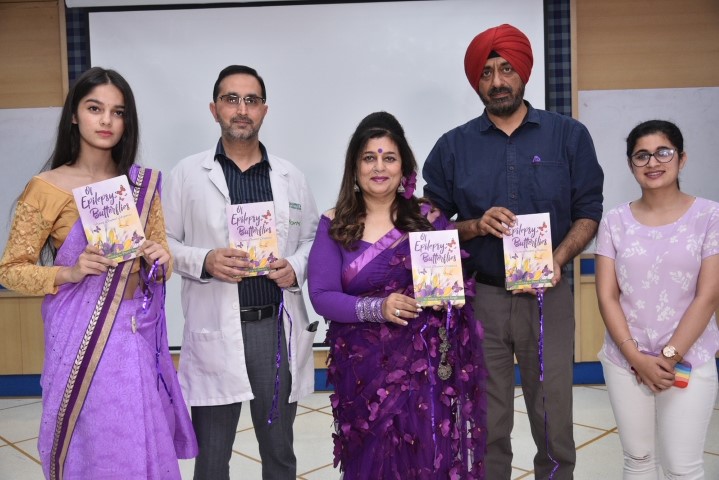 The book encapsulates stories of eight people afflicted with epilepsy including the author, who was diagnosed with the brain disorder at two years of age.
Dr HS Mann, Additional Director, Neurology, Fortis Hospital Mohali, said, "Epilepsy is a neurological disorder related to a number of underlying conditions that affect the brain. The manifestations and treatment for each condition varies widely. Nearly 80% patients can be effectively cured with medical intervention. However, the social stigma and misconceptions around this disorder need to be urgently addressed. The book is a vital step to highlight the problems faced by people with epilepsy, their families and care givers. People need to know that epilepsy is not contagious and is not associated with witchcraft. For a majority of patients, management of epilepsy is mostly through medications. It is important that treatment is taken under close supervision and monitoring by neurologists. At Fortis Hospital Mohali, we have a comprehensive epilepsy treatment programme with excellent patient outcomes through a customized, patient-centric approach."
Placing emphasis on the need to break down existing barriers to understand epilepsy and empathise with people suffering from this condition, Ms Preeti Singh said, "Epilepsy continues to be a social stigma. I was diagnosed with the brain disorder at a really young age. But ever since, I have faced embarrassment, rejection, negativity and inferiority complex due to my health condition. The turning point came when my friend's 28-year-old epileptic son died due to SUDEP (sudden unexpected death in epilepsy). It is then that I realized that it was time to write about this condition which is more a social stigma today than a neurological disorder. That's how the idea behind the book, 'Of Epilepsy Butterflies' was conceived."
Delving deeper into the subject, Ms Singh further added, 'A lot is written and discussed about cancer, diabetes, heart ailments and other health conditions, but conversations around epilepsy are negligible due to social stigma. Through my book, I want to raise awareness about epilepsy and how it affects the mental health and overall well-being of people."
Know More About Fortis Healthcare
Fortis Healthcare Limited – an IHH Healthcare Berhad Company – is a leading integrated healthcare services provider in India. It is one of the largest healthcare organizations in the country with 27 healthcare facilities (including projects under development), 4100 operational beds and over 419 diagnostics centres (including JVs). Fortis is present in India, United Arab Emirates (UAE) & Sri Lanka. The Company is listed on the BSE Ltd and National Stock Exchange (NSE) of India. It draws strength from its partnership with global major and parent company, IHH, to build upon its culture of world-class patient care and superlative clinical excellence. Fortis employs 23,000 people (including SRL) who share its vision of becoming the world's most trusted healthcare network. Fortis offers a full spectrum of integrated healthcare services ranging from clinics to quaternary care facilities and a wide range of ancillary services.