One-of-a kind audio, video and film production facility unveiled: A press-meet and media tour was held on the unveiling of Sood Entertainment, a one-stop audio, video and film production house, that is equipped with an Advanced Digital Recording Studio – QDhun, facilities like film dubbing, chroma shoot, a music release platform, and Q24 Live Punjab – a news channel.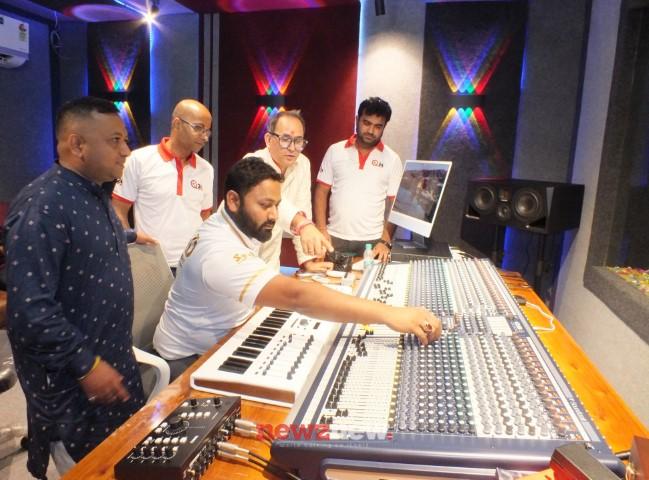 The facility has come up in Zirakpur's famous Maya Garden Magnesia. The formal inauguration of the state-of-the-art production house was done by the chief guest of the programme, famous singer Master Saleem.
Addressing the press persons, film producer Rajendra Sood, Founder of Sood Entertainment, said, "I am delighted to announce the opening of our grand production house. We aim to fill the gap of a quality one-stop-shop for all needs of the growing Punjabi film industry."
Sood added,"To promote the trend of self-employment among youngsters we will offer a unique platform for young talent to showcase their skills and get recognized. This shall be done by our experts who will provide end-to-end solutions to young, talented people who want to make a name for themselves via social media platforms like YouTube, Instagram etc."
Apart from Sood the other key persons of the studio, Vinod Kumar, Raj Kashyap and Gaurav Mishra also addressed the media.
Director, Vinod Kumar said, "The USP of Sood Entertainment is 360-degree audio, video and film production services. You come here with an idea and go with the final product in your hands. I am sure the individuals and industry will benefit from the one-stop audio, video and filmmaking platform, which comprises pre-production to post-production and everything in between."
From a team of skilled directors, producers and actors to advanced and high-tech recording studios and even well-established digital platforms like QDhun and News 24 Live, the facility will cater to every single demand of the industry under one roof.
After the facility was inaugurated by Master Saleem by cutting the ribbon a glittering launch party was held in the evening, graced by a bevy of celebrities. The special guests at the party included actors Priya Arora, Amaira Jairath, Mandeep Singh Bamra, Harsimran Oberoi, Amrita Sethi, Karam Kaur, Vishal Saini, Yasmin, Gurjeet Channi, Kajal Sharma, Harsh Chawla, Navdeep Bajwa, and Navdeesh Arora. The singers included Sunny Kahlon and Amber Vashisht. Apart from these celebs from the entertainment industry like Madan Shanky, Dheeraj Pawri and Harminder Ojha were also there.   The party saw the presence the who's-who of the region's entertainment industry.
"We want to be a part of the booming entertainment and even infotainment industry by introducing new and fresh faces, such as singers, actors, social media influencers and even directors," summed up Rajendra Sood.