Organic Farming should be encouraged to Mitigate Various Agricultural Issues: "Traditional Practices with Modern Innovations can lead to Sustainability in Agriculture", opined Mr Ajay Vir Jakhar, Chairman, Punjab State Farmers' & Farm Workers' Commission while addressing the Culmination Ceremony of the 2nd edition of Innovative Farmers' Meet, here today at Chandigarh.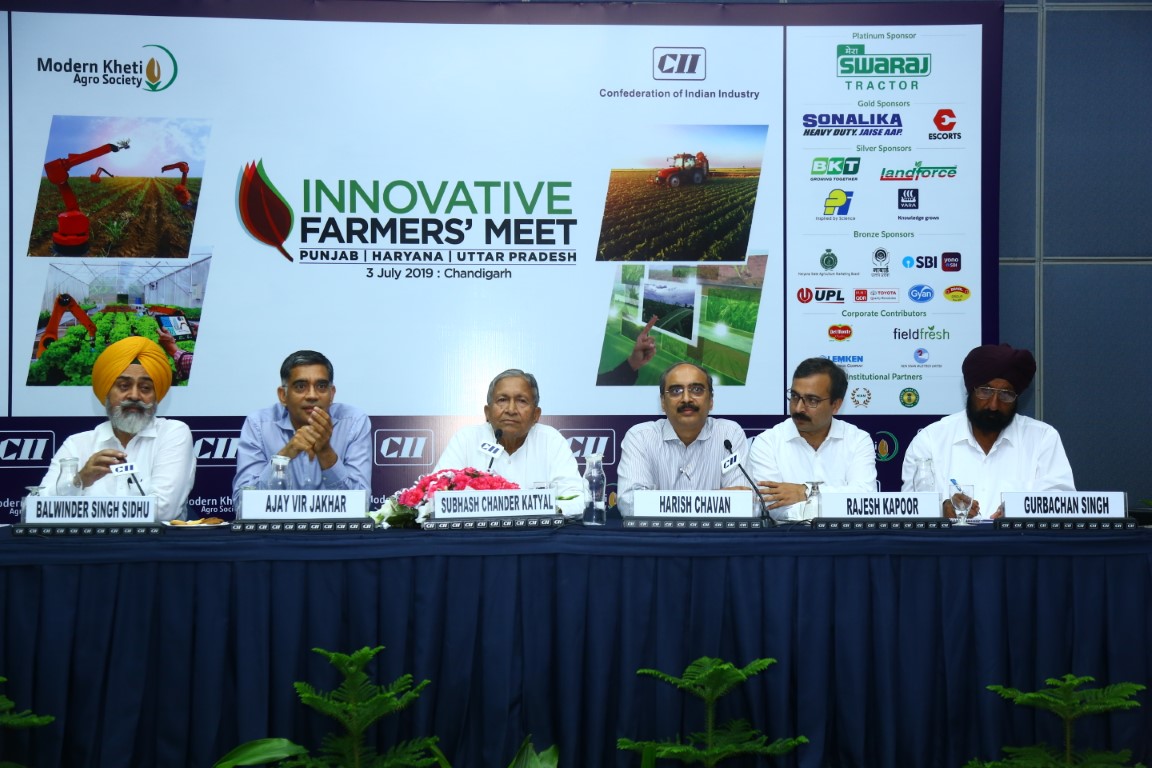 He added that the Confederation should conduct research as to what extent the industry is polluting the water bodies and offer viable solutions to the same. On the other hand, farmers should engage with CII to establish linkages with the industry for a mutually beneficial regime.
Mr Jakhar said that his Commission would request CII to intervene into budget discussions pertaining to agriculture and work upon removing the trust deficit among its various stakeholders.
"Technology and Innovations can only function if there is sufficient water to irrigate our fields", said Dr Balwinder Singh Sidhu, Commissioner – Agriculture, Government of Punjab while sharing his thoughts. Dr Sidhu congratulated CII on initiating a grass root level intervention that aimed to achieve quality produce and empower the cultivators. He added that maintaining the quality and quantity of water is a social responsibility and a national concern.
Mr Subhash Chander Katyal, Chairman, Haryana State Co-operative Supply and Marketing Federation Limited (HAFED) also graced the occasion and appreciated CII for devising a practical approach to counter farmers' problems. Mr Katyal shared that water conservation is a top priority in the state of Haryana. He added that Organic Farming should be encouraged to mitigate various agricultural issues as the excessive use of chemical fertilizers in the crop fields are leading to many fatal diseases such as heart cancer and heart failures. Mr Katyal also insisted that the youth and young children should be encouraged to learn agricultural practices as against their contemporary inclination to white collar jobs.
Dr Gurbachan Singh, Founder, Dr Gurbachan Singh Foundation also addressed the gathering and shared his knowledge and experience about best practices in farming. He said that there is a growing need of conserving water by adopting requisite changes. He mentioned that Crop diversification, introduction of legumes, integrated farming, building of ecological zones in the fields, etc. to replenish the soil quality can work wonders for the farmers. Issues like distressed sale of produce, residue burning, weather change & global warming should also be addressed with caution.
Mr Harish Chavan, Chairman, CII Punjab State Council and CEO, Mahindra & Mahindra (Swaraj Division) welcomed the distinguished dignitaries from the government, industry and especially the agrarians on behalf of CII who took out time to participate in the deliberations. He reiterated that the primary goal behind holding such interactions is the welfare of the farmers, propelling industrial growth and boosting GDP of the nation. Mr Chavan also opined that technology is extremely crucial in the agricultural sector, but now the focus has shifted on sustainability and dealing with water crisis is the need of the hour.
Dr Rajesh Kapoor, Director, CII walked through the entire series and shared the reminiscences of the Farmers' Meet at different locations. He elaborated that 9 sessions and the final culmination ceremony were organized in the second edition of this initiative where more than 5000 farmers participated and 20 plus corporate organizations supported the cause. Free stalls were provided to more than 20 FPOs and the proceedings were attended by 50 plus government officials including Shri Yogi Adityanath, Chief Minister, Uttar Pradesh.
The Culmination Ceremony ended with felicitation of the Progressive Farmers who are setting examples for the others with their innovative ideas. The attendees also indulged into a Q & A round where they approached the panelists with their doubts requested for their guidance.