Over 90 gameplay videos have been leaked for Grand Theft Auto 6: The first gameplay footage of the forthcoming Grand Theft Auto game has been discovered online, along with over ninety videos displaying the game's engine, gameplay, and other aspects from an early development version.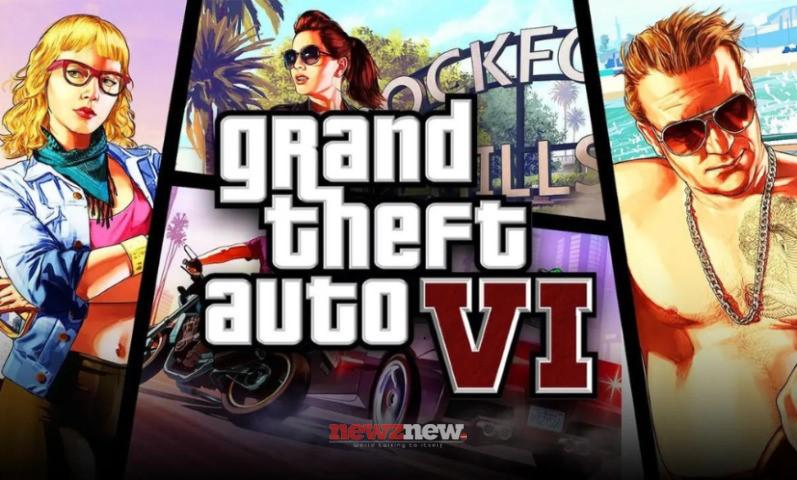 In addition, the historic leak offers a look into the upcoming edition in the Grand Theft Auto series, confirming earlier rumours that Vice City would serve as the backdrop for the game and that the franchise will include its first female protagonist.
According to Rockstar Games, the leak occurred due to a "network penetration," which enabled an outside entity to access secret information that was held inside the company. However, in a recent K-8 form submitted to the SEC, the parent company of Rockstar Games, Take-Two Interactive, declared that it had "already taken actions to isolate and address this situation."
The individual who first uploaded the video to GTA Forums said they have access to stolen source code and other assets worth "no less than five figures," even though Rockstar Games has stated that the breach would not have a "long-term impact" on the game's development.
Several New GTA Leaks
Take-Two Interactive, the company that publishes Grand Theft Auto, has commented on the recent breach that resulted in an early gameplay video from GTA 6 being shared online. The company addressed the breach in an 8-K document submitted to the SEC. The record indicated that the company has "already taken actions to isolate and control this problem."
This filing comes after an attempt by Take-Two Interactive to prevent leaks on prominent video sharing and social media sites, including the use of DMCA takedowns on platforms such as YouTube. Unfortunately, the requests removed several films that included the material; nevertheless, many movies are still freely viewable, even on famous websites. The complete statement sent by Take-Two Interactive can be seen below, which echoes the reaction issued by Rockstar Games earlier in the day.
According to a statement released by Take-Two Interactive, "Rockstar Games recently experienced a network intrusion in which an unauthorised third party illegally accessed and downloaded confidential information from its systems." This information included early development footage for the next instalment of Grand Theft Auto. "There will be no impact on Rockstar Games' services. We have already taken measures to isolate this situation and get it under control.
Leaked Videos GTA
The stolen films are presently being uploaded to online gaming communities, such as YouTube, Twitter, and Reddit. A video called "Robbery at the Restaurant with Hostages" was uploaded on YouTube, and in it, a female playable character named Lucia is shown committing the heist. You can see where the game engine is detecting items in the picture, and a large quantity of text seems to be serving as a placeholder. It strongly suggests that the gameplay is not yet complete.
Another film depicts a playable character riding the "Vice City Metro" train, consistent with speculations that the game would take place in a fictionalised version of Miami similar to that of GTA: Vice City, which was released in 2002. However, in a different clip, a chat takes place by the pool, and it seems very much like the NPC interactions in Rockstar's Red Dead Redemption 2 game.
It is not quite apparent how old the film is; however, part of it looks to be running on RTX 3060 Ti and RTX 3080 cards, which means that the development build can't be more than two years old at the very most. Other videos demonstrate enhanced user interfaces and animations, new interactions with NPCs, and even Rockstar's proprietary internal debug tools for Grand Theft Auto : vicy City -app on Google play.
We have contacted Take-Two, the owner of Rockstar, to ask for a comment on the GTA 6 gameplay leaks online in 90 videos, and we will keep you updated if we get a response. However, it looks like Take-Te is issuing takedown requests for some of the ideas published on YouTube. In addition, the message "This video is no longer accessible owing to a copyright claim by Taking 2 Interactive" has been added to specific videos. In contrast, the video may still be seen online on many others.
GTA 6 news , official Rockstar updates, and all the rumours
The videos include armed robberies, gunplay, driving in an open environment, and discussions with full-voice acting. The video seems to support a recent story by Bloomberg's Jason Schreier, which said that the game will take place in a fictitious version of Miami (perhaps the Grand theft Auto: vice city) and that it would have a playable female character. The game is still in development since there are apparent on-screen debug code components, but it includes many operating features.
They were of a magnitude and intricacy that would be very difficult, if not impossible, to manufacture, so there was never much of a question about the validity of the movies from the very beginning. Schreier later stated on Twitter that Rockstar sources had verified that the leak of an an "early and incomplete" video was accurate. He added that the situation was a "nightmare" for Rockstar. Schreier also indicated that the leak of "early and unfinished" footage was authentic.
Even though Rockstar's parent company Take-Two Interactive has started to issue copyright claims against videos on YouTube and social media networks to remove them from view, the videos can still be downloaded from links that were included in the original post on the Grand theft auto community updates. It was the case at the time this article was written. The tapes have already been sent to so many people that the attorneys for Take-Two may be waging a lost battle in their attempt to remove them off the internet.
There is around fifty minutes' worth of film in all. The majority of the video is just a few seconds long. One of the lengthier movies, which is almost three minutes long, shows the female player character robbing a restaurant, threatening employees and customers, and seeing how they respond in panic at having a pistol drawn on them. After that, she and her male companion are involved in a firefight with the police, after which they escape in a police patrol vehicle by climbing in and driving off. The visual approach is quite realistic while yet adhering to the general aesthetic of GTA6 6 leaks reveal return to vice city.
Frequently Asked Questions
Where will GTA 6 take place in?
According to rumours, Grand Theft Auto 6 will take place in a made-up metropolis that is modelled by Miami. In addition to a great deal of other information, a report from Bloomberg in July stated that the protagonists of GTA 6 will be modelled by Bonnie and Clyde. That announcement also included the fact that the next Grand Theft Auto game would take place in Miami.
What is GTA vice city?
Rockstar North is responsible for creating the video game Vice City. It is the fifth game in the Grand Theft Auto series and the second game in the Grand Theft Auto series to take place in the 3D Universe timeline.
How was GTA vice city created?
This Unreal Engine 5 remake of "Grand Theft Auto: Vice City" is a work of art. The Unreal Engine 5 is capable of fantastic things, but it already seems like we've reached our maximum potential in terms of producing lifelike images.
What is your review of Grand Theft Auto : vice city? Lest us know please comment.