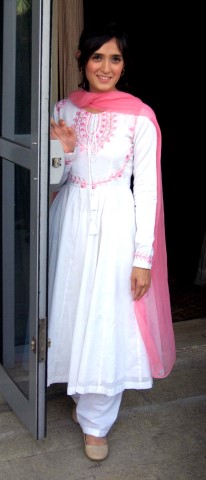 newznew (Chandigarh) : An adaptation of a Turkish show, Fatmagul, that has been winning hearts of viewers worldwide, Kya Qusoor Hai Amla Ka? tackles an extremely sensitive subject of violation of the innocence of a woman. The show depicts the story of a young innocent girl from Dharamshala, Amla, whose hope and faith in humanity is shattered by the heinous crime of sexual assault. Amla is a young girl from Dharamshala – an innocent, simple girl, with wide eyes but small dreams. Although naïve, she radiates genuineness and overall positivity. The show is about her journey of realizing that despite her world being shattered with a heinous incident, all is not lost and there is always hope.
The show is set in scenic Dharamshala and is being remade with Indian sensibilities by Purnendu Shekhar, Nandita Mehra and Bhairavi Raichura (24 Frames). The cast ensemble portraying these challenging roles comprises Pankhuri Awasthy as the protagonist and many well established faces like Rajveer Singh, Anant Joshi, Rajesh Khattar, Akshay Anand and Kasturi Banerjee.
A lighthouse brand, Star Plus has always endeavored to tells stories which inspire change keeping the progress of the women at the heart of every initiative. Though the story, the show gives a social message of society breaking their tolerance of how victims of sexual assault are treated. Kya Qusoor Hai Amla Ka urges people to foster a safe and supportive environment for the victims of sexual assault who seek refuge from people such as authority figure, families and society at large. The campaign advocates that society needs to place the guilt rightfully with the perpetrators by putting them on trial instead of shaming the victims. The objective of the campaign is is to sensitize audiences and society at large, to the trauma of the victims of sexual assault. Television has the power to spark meaningful change and Kya Qusoor Hai AmlaKa ?is an effort in the same direction.
Portraying one of the most challenging role of her career, show's protagonist Pankhuri Awasthy says, "The show is a huge responsibility as it reflects the biggest fear of every woman. As a woman, I am moved by Amala's sheer unimaginable strength to live through the trauma and conviction to fight for justice after the same. The portrayal of Amala's character as a woman of substance in the show is what sets the show apart from any other piece of content on the subject. Amla's uphill battle to conquer these demons of society and her refusal to back down in the face of all hurdles will make viewers pause, reflect and think 'Kya Qusoor Hai Amla Ka?