Pansari Group unveils "Pansari Chai" At India International Trade Fair 2023: The Leading FMCG brand, Pansari Group has launched their new tea range, Pansari Chai, at the India International Trade Fair 2023.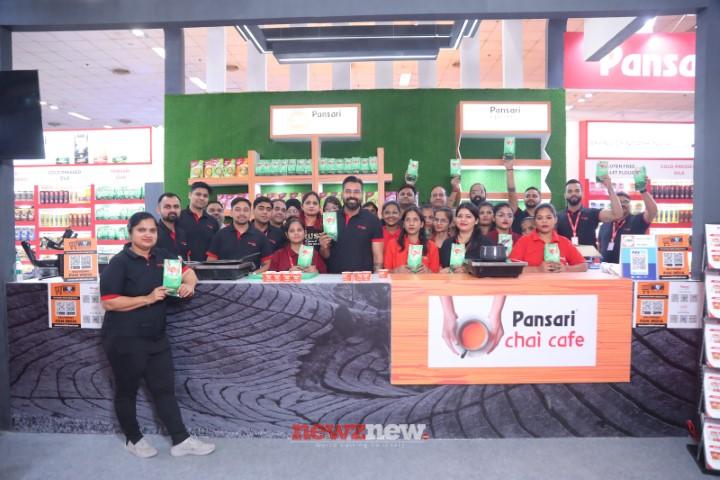 This year, the brand is exhibiting its products at stall no. (10-04) B in Hall no. 10 at Pragati Maidan, New Delhi, from 14th November to 27th November.
The primary attraction of this year's Trade Fair at Pansari Group's stall is the new launch. The newly introduced Pansari Chai reflects the brand's consistent commitment to quality and innovation. The tea was introduced with the tagline "Ek aur ho Jaaye," and it comes in four distinct varieties, each of which delivers a unique and exquisite tea-drinking experience. Pansari Chai offers a premium selection of blends rich and delicious with an aromatic fusion of 10% long leaf. These are presented in four varieties that are offered to tea lovers.
Following the establishment of a successful footprint in the western and southern markets, this is the brand's second launch of the year. Pansari Chai is their newest launch at the India International Trade Fair 2023, meanwhile, Pansari introduced its "Mojee" syrup brand earlier this year at Asia's largest International Food and Hospitality Fair, "AAHAR-2023." The brand believes in keeping innovating and adding new products to its range to bring more choices for its consumers.
Expressing his excitement about the new product launch, Shammi Agarwal, Director of Pansari Group, said, "We're excited to bring you Pansari Chai, adding to our special product segment after the successful launch of Mojee syrup at AAHAR 2023. This launch at the India International Trade Fair reflects our dedication to innovation. With our consumers' support, we look forward to introducing more exciting products in the coming months, enhancing your Pansari experience. We heartily invite you to visit our stall anytime between 9:30 AM to 6:00 PM at the trade fair, savor the various flavors, and enjoy the comforting embrace of Pansari Chai – a true expression of our commitment to bringing you unique and delightful options."
Know More About Pansari Group
From Humble Beginnings to Healthy Success- The brand's vision is to lead a health-centric food products company for home cooking with products ranging from edible oils to instant mixes. Their mission is to create customer delight through safe, healthy, and nutritious food cooked at home with ease and joy. Pansari Group is a continuous learner, who doesn't shy away from embracing new possibilities. They are always striving to achieve more through technology and innovation, keep a close eye on the consumers' ever-evolving needs, and adapt readily to changing circumstances.