Popular necklace designs for Indian Wedding : No Indian bride's wedding outfit is complete without gold jewelry. Bangles, necklaces, headbands, waist-bands, anklets; you name it, and you'll find it in an Indian bride's wardrobe. Gold necklaces, in particular, are an important part in the Indian solah-shringar.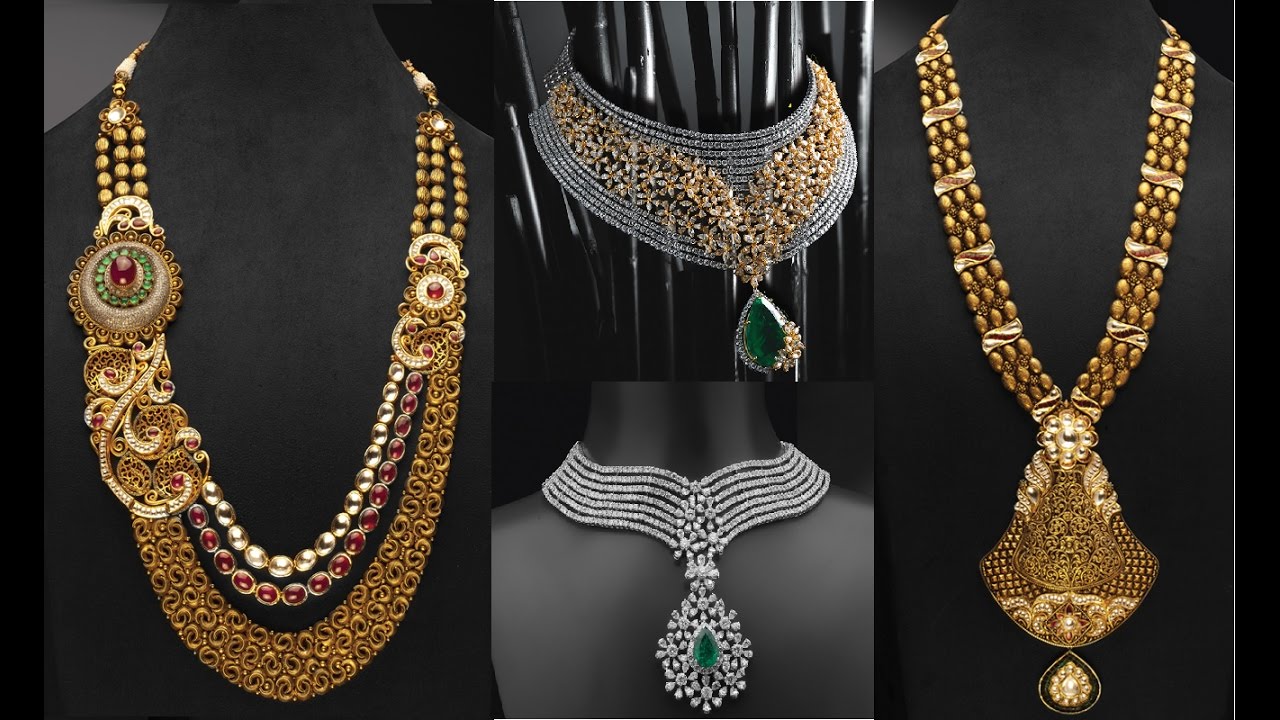 However, Indian jewelry can be confusing. The number of necklace designs available in our country is astonishing. Long, short necklaces, wide-band, narrow band; each category of necklaces has a huge number of subcategories. A mind-boggling variety of just long necklaces in different weights- gold long necklace designs in 30 grams, 100 grams, just about every weight category imaginable- are available in the market.
So if you're planning to go wedding shopping, you should probably be familiar with the kinds of designs of bridal gold necklaces also gold ring price below 6000. Here are some of the most popular necklace designs that you can shop to wear at your wedding-
Gulbandh- This is the quintessential Indian necklace design, one you often get to see in TV serials. It is also called the "Princess necklace" because of its quaint craftsmanship. It generally has pearls dangling from its base and sometimes has diamonds embedded on it. This necklace best compliments blouses with closed, high necklines.
Rani Haar- This queenly necklace is long, which gives it a regal look. Rani haars usually comprise of long chains (single or multiple) of gold with a heavy gold locket at the end studded with pearls and gemstones. These necklaces look best when paired with another Necklace- especially chokers or collar necklaces. A Rani haar is a popular choice to jazz up any plain wedding attire, and is a typical attention-grabbing wedding ornament.
Choker- A choker necklace looks exactly like a choker, just that it's made of gold. You can get this necklace in varying widths and sizes. Choker necklaces look great with all kinds of wedding outfits, be it a traditional lehenga or an indo-western outfit. These necklaces go well with both high neck blouses and low-cut blouses. There are many varieties of choker necklaces in the Indian market. A Persian choker necklace has strings of pearls dangling from it, while a Jadvi laccha choker has precious stones embedded on it.
Bib Necklace- It is named so because it resembles a baby's bib. This necklace covers almost the entire area from your collarbone to your chest and is often quite heavy. A bib necklace may be purely made of gold, or embellished with precious stones or pearls. You can opt for this design if you are planning to wear a blouse with a low neckline, or if the rest of your attire is not too flashy.
Collar Necklace- This necklace is like a combination of bib and choker necklaces. The necklace starts from or above the collarbone and flares out like an actual collar. Collar necklaces are a really good choice if your outfit and other jewelry is flashy. You can flaunt your collar necklace by pairing it with a round neck low-cut blouse.
Aadh Necklace- This traditional Rajasthani wedding ornament is truly one of its kind. An Aadh necklace comprises of a choker necklace made with a block of gold with intricate work on it and has strings of golden triangles dangling from it. These necklaces are regal, quaint, traditional, and cover almost the entire neckline. This necklace looks best with blouses having a low-cut square neckline. Sport an Aadh necklace and make a statement as the most beautiful bride anyone will ever see.
Now that you know more about traditional Indian necklace designs, take your pick and get ready to look like a queen on the most special day of your life.
south indian bridal jewellery sets with price, traditional south indian wedding jewellery, indian bridal jewellery names, ndian bridal imitation jewellery sets, indian bridal gold jewellery sets with price, indian bridal jewellery sets online, north indian bridal jewellery online shopping, traditional indian jewellery names