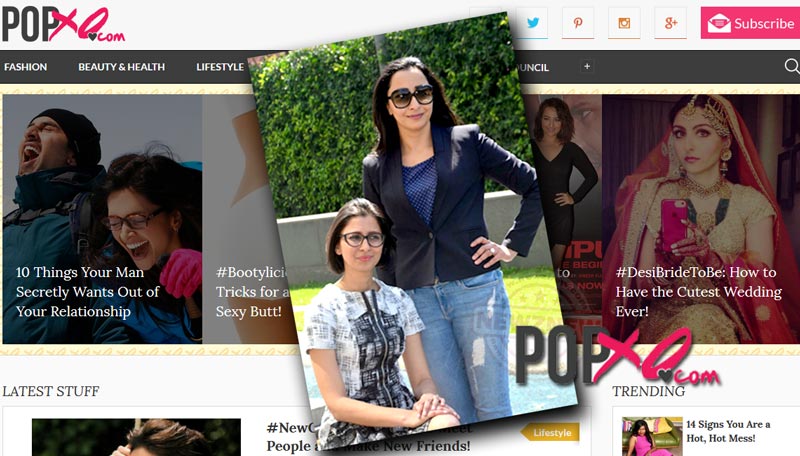 NewZNew (Chandigarh) : India's fastest growing digital publishing house, POPxo.com, reaches a key milestone with 1.4 million loyal and engaged readers per month. Just 1 year after launching, POPxo.com has become India's fastest growing fashion, beauty and lifestyle website for women.
[blockquote author="Priyanka Gill, Founder and Editor-in-Chief, says, " pull="pullright"]"There are millions of young women in India who wake up every morning and reach straight for their phones, not for a newspaper or a magazine. They want to read about the things they care and worry about: relationships and friendships, fashion trends, shopping steals, life hacks, beauty DIYs. We talk to #RealWomen through fun, practical and witty content in a tone that they can relate to. And we deliver it in an easy and accessible way, through POPxo.com obviously, but also on the networks our readers are obsessed with: Facebook, Instagram, Twitter, WhatsApp."[/blockquote]

POPxo's audience is highly engaged – over 40% of readers return within a month. And it's very focused – 90% of readers are women between the ages of 18-34. While 54% of readers are from Delhi, Mumbai and Bangalore, there are also impressive audiences in cities such as Chandigarh, Pune, Kolkata, Chennai, Ahmedabad, Indore, Jaipur and Kochi.
Co-Founder and CEO, Namrata Bostrom adds, "Brands love how focussed and loyal our audience is, particularly in their engagement with POPxo on social media. We take a data driven approach to everything we do, relentlessly optimising our content and _guring out the best ways to get our stories to readers. Brands see the impact of the campaigns we run for them. The results are measurable, transparent and immediate."
Story
With over 1.4 million loyal and engaged readers per month, POPxo.com is a dynamic digital media startup and India's fastest growing fashion, beauty and lifestyle website for women. Growing rapidly since launch in March 2014, POPxo has become the go-to lifestyle resource for young women (18-34) across the country, from Delhi to Kochi.
Publishing 6-8 new stories daily, POPxo is about relationships and friendships, the clothes you wear, the brands you love, and all your health and beauty questions. It's about POP culture, it 's POPular, it 's fun, dynamic and energetic – all that the modern Indian woman needs. And it's brought to you with love – xoxo!
With 480,000 highly engaged Facebook fans and a strong presence on Instagram, Twitter and Google+, POPxo reaches readers where they live their lives: on social media and on mobile. It has a _nger on the pulse of the digital generation.
Founder and Editor-in-Chief Priyanka Gill, an angel investor and writer for prestigious Indian and UK publications, leads editorial for the site, informed by her sense of style and publishing experience. Co-founder and CEO Namrata Bostrom brings commercial expertise gained working as a management consultant in London for the world's largest banks and retailers.
POPxo combines witty, practical stories written by in-house writers with content curated by the POPxo Style Council, a collective of fabulous, successful women who are editors, artists, designers and entrepreneurs. Style Council members like Sujata Assomull Sippy, Roohi Jaikishan and Nonita Kalra advise and inspire, helping readers add a little more style to their everyday lives.
The recently launched POPxo Blog Network has brought together 30 of India's most prominent fashion, beauty and lifestyle bloggers. Prominent names on board include Bombay Bubble, Fuss, Guilty Bytes, Republic of Chic, Big Hair Loud Mouth and Ms. Coco Queen.
POPxo has partnered with brands such as Fendi, Swarovski, Lakmé, TIGI BedHead, Wills Lifestyle, Caratlane, Westside, Vero Moda, MAWI and Van Heusen. These commercial partnerships – covering native advertising, events and blogger activations – have generated high levels of engagement, customer acquisition and social media buzz.
With a dedicated Street Style section to decode the looks of #RealWomen, POPxo was chosen as the street style partner for Lakmé Fashion Week for two seasons running (SS14 & WF14). POPxo pioneered the innovative 'Wall of Style' to document the best on the-ramp fashion.
Founders
Priyanka Gill leads content strategy and all aspects of editorial production for POPxo. Combining her experience in lifestyle journalism with a flair for fashion, she created POPxo as a platform for intelligent, varied, and engaging content, with stories told in a vivacious and compelling voice.
She combines her editorial expertise with entrepreneurial smarts, keeping the brand ahead of the curve with initiatives such as the POPxo Style Council and the POPxo Blog Network.
After graduating with honours from Lady Sri Ram College in Delhi, Priyanka went on to contribute to Vogue India, The Guardian, Travel + Leisure and Grazia.in. She is a Contributing Editor to Harper's Bazaar India and guest-edited the India special issue of the Mayfair Times magazine in June 2013.
Priyanka works with early stage tech start-ups and food concepts, such as Bea's of Bloomsbury, Campanja, Yieldify and Raptor Supplies, as an investor, board member or advisor.
She extends time and support to several charities. She co-chaired the Pratham UK gala in 2009-2010, raising over GBP 2 million for the charity. She also advises Akshayapatra UK, and the Savitri Waney trust as an advisory board member.
A busy mother of two young children, Priyanka juggles a demanding family life with her passion for work and travel. Founding POPxo is her biggest challenge yet – it's an expression of her love for fashion and all things digital. Her goal is for POPxo to become India's largest digital media platform for women. She also hopes to complete her first book, which has been commissioned by Harpercollins India.
Namrata Bostrom drives the commercial aspects of the company.
She combines a background in management consulting with a love for fashion and a flair for marketing and branding. Namrata's vision is to grow POPxo into India's largest digital media platform for women, helping readers learn about new trends, identify the best merchandise, and make informed purchase decisions. She also wants to help kick-start the emerging field of native advertising in India, offering to brands a range of innovative digital advertising formats that are both engaging and cost-effective.
Namrata has lived and worked in 4 cities around the world, growing up in Delhi, attending University in Oxford, and working in London and Singapore. In London, Namrata worked with EDITD, an innovative fashion data analytics start-up, helping them grow sales.
She has a Masters in Economics from Oxford, where she was a Rhodes Scholar, and an MBA from London Business School, where she was a C200 scholar. Namrata also led London Business School's flagship entrepreneurial leadership series (the TELL Series).
Namrata is an incessant traveller, hopping across continents in a bid to discover local cultures through hidden cafes, restaurants and bars. She's been known to attempt to recreate those local cuisines (with limited success) in her own kitchen.