NewZNew (Chandigarh) : All India Ayurvedic Congress (Akhil Bhartiya Ayurved Mahan Sammelan) is being held at Panjab University Chandigarh on March 14. The President of India Sh. Pranab Mukherjee will inaugurate the 58th plenary session of the Congress on March 14 with the AYUSH Minister Government of India Sh. Shripad Nayak.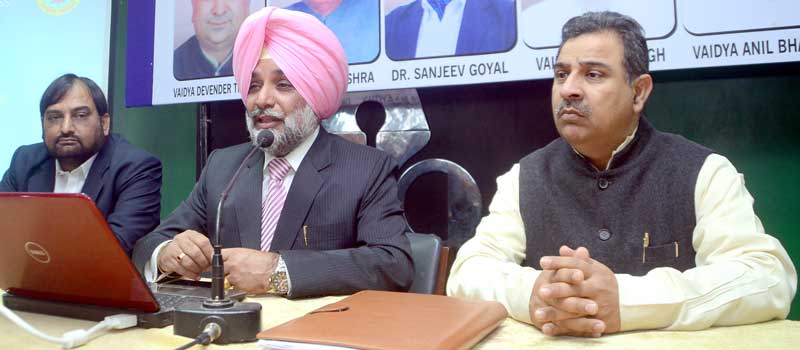 Announcing this here today at a website launch of 58th Plenary Session of Akhil Bhartiya Ayurved Mahasammelan, Vaidya Jagjit Singh from All India Ayurvedic Congress stated that the Health Minister Punjab Sh Sujit Kumar Jyani will inaugurate the Arogya Expo, while the officers of the Ministry of Health AYUSH Government of India will also participate in it.
With more than 1000 delegates and dignitaries from India and abroad expected at the event, it would see stellar gathering of leading personalities in Ayurveda, academicians, researchers and experts from India and abroad. It shall also include organizers, gurus and shishyas under Guru Shyshia Parampara, Ayurvedic teachers, writers and students.
Dr. Sanjeev Goel  added that the theme of plenary session is Ayurveda In Holistic Health. This session is being held after five years when the Sammelan had held its centenary celebrations in New Delhi in 2009 and the then President of India Mrs. Partibha Patil had inaugurated it.
He added that Akhil Bhartiya Ayurved Maha Sammelan has been working for protection, propagation and promotion of eternal science of Ayurveda in service of mankind and has been headed by stalwarts of Freedom movement like Mahamana Pt. Madan Mohan Malviya ji who has recently been conferred with Bharat Ratna.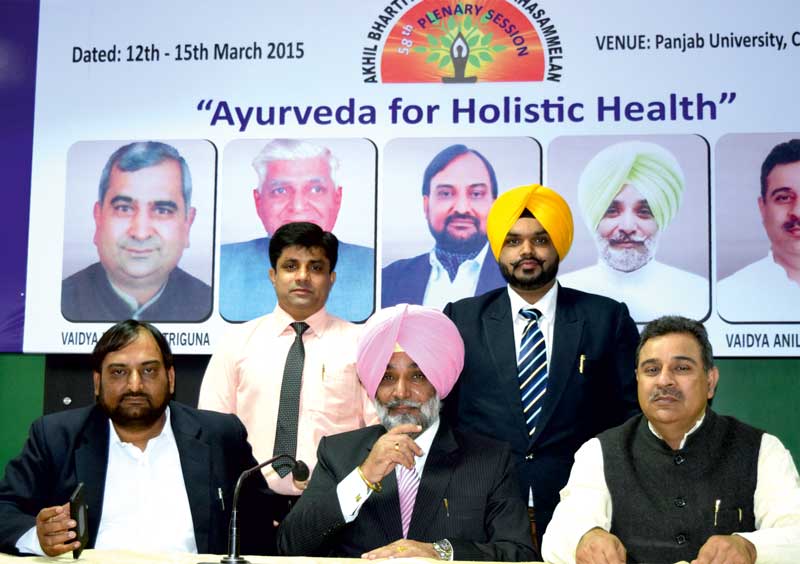 The plenary session activities shall include a mix of academic, clinical and research aspects of Ayurveda in service of humanity all over the globe and same shall be held from March 12 to March 15.  Another main attraction for public, particularly students, would be Arogya Expo being held in association with Department of AYUSH Government of India.
National organizing committees have been constituted with PadmaShri Ved Triguna ji, Vaidya S. K. Mishra ji and Dr. Sanjeev Goyal the Mahan Mantri of the Samelan. The local organising committee is headed by President Chandigarh branch Vaidya Jagjit Singh and general secretary Vaidya Anil Bhardwaj.
The logo and theme of 58th All India Ayurvedic Congress was earlier released at New Delhi. A word about the Akhil Bhartiya Ayurved Mahan Sammelan…. It is an all India organization of the Ayurved, working for the past 107 years education, research, training and development of ancient Indian art of healing under Ayurvedic System of Medicine. Activities of sammelan shall be coupled with promotion of academics and research activities in Ayurveda in this region.