Punjab becomes first state to approve highest number of applications under AIF scheme: Punjab has achieved the numero-uno position in the country for approving the highest number of applications under the Agricultural Infrastructure Fund (AIF), established for the welfare of farmers of the state.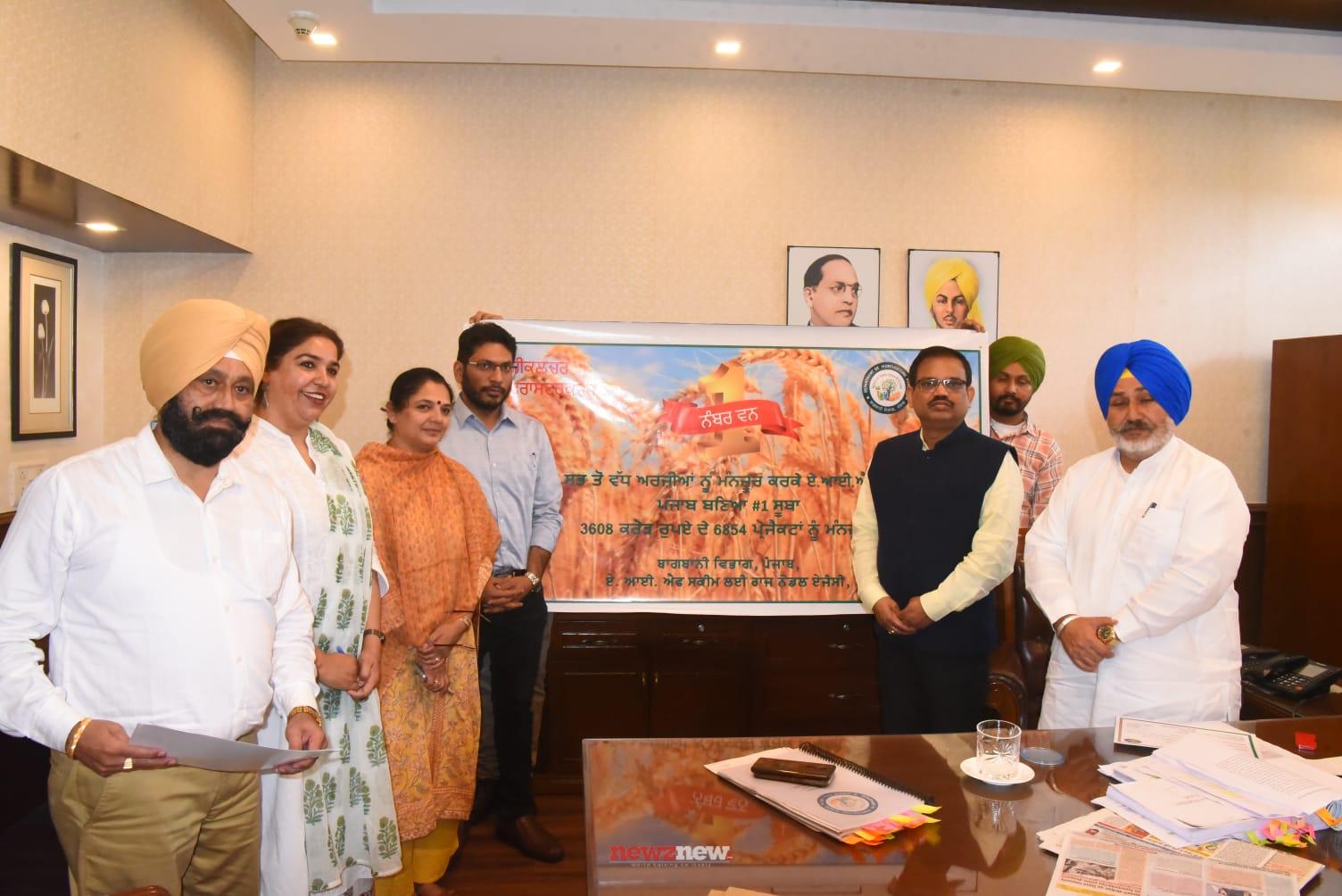 On this achievement, Horticulture Minister S. Chetan Singh Jauramajra honoured the entire dedicated team along with the scientists of agro-innovations, in his office at Punjab Civil Secretariat.
Giving further details, S. Jauramajra stated that total 11,831 applications have been received for projects worth Rs.6040 crore under the AIF scheme in Punjab, with a loan amount of Rs.3430 crore. He informed that Rs.2006 crore have already been sanctioned for 6854 projects, while Rs.463 crore projects are under verification process.
The Cabinet Minister revealed that the 6854 approved projects placed Punjab at the top spot in India, with Madhya Pradesh securing the second position with 6751 applications. Similarly, Maharashtra, Tamil Nadu and Uttar Pradesh are ranked third, fourth and fifth with 4629, 4569 and 2777 applications, respectively.
The Cabinet Minister mentioned, Punjab holds the third position in the country by utilizing 42.56 percent of the approved funds under the scheme, highlighting that Patiala, Ludhiana and Sangrur districts in Punjab, where the AIF scheme benefits are maximized, account for approximately three-quarters of the loan amount from the entire state.
A total of Rs.1571 crore was disbursed till the second financial quarter ended on September 30, which is 96.67 percent higher than the first quarter ended on June 30, 2023, he added.
The Cabinet Minister honoured the entire AIF team for their excellent performance, which included; Nodal Officer Assistant Director Dr.  Harpreet Singh, Ravdeep Kaur (Team Leader), Yuvraj Singh Aulakh, Mani Mittal and Nitya Tiwari (Team Member) from KPMG (PMU).
Notably, under this scheme 3 percent interest subvention on loans of up to Rs.2 crores is provided to the beneficiaries for setting up post-harvest management and primary processing infrastructure for agricultural & horticultural crops. In addition, credit guarantee fees for eligible loans are also paid by the government. It also allows convergence with all other central and state schemes, he added.
Cabinet Minister felicitates Scientists
During this event, S. Chetan Singh Jauramajra honoured scientists Dr. Rakesh Sharda and Dr. BVC Mahajan, who have made significant contribution in agricultural research and the development of beneficial schemes for the farmers.
Dr. Rakesh Sharda, Head of the Soil and Water Engineering Department at Punjab Agricultural University, Ludhiana has developed one kanal poly house scheme for the farmers under PPP mode and so far, 49 poly-houses was set up for farmers with the joint efforts of Dr. Sharda and department's Nodal Officer Assistant Director Dr. Daljeet Singh Gill during the years 2022-23 and 2023-24. This scheme benefits farmers who earn an income of around one acre from the one kanal land, which is further encouraging crop diversification in the state. The Horticulture Department has developed this model to encourage farmers for adopting crop diversification.
The Cabinet Minister also honoured Dr. BVC Mahajan, Director of PHPTC, for inventing setting up of On-farm cold room for farmers to further promote direct vegetable marketing.
With the technical expertise of Dr. Mahajan, the department has set up a demonstration on-farm cold room at Center of Excellence for Vegetables, Kartarpur. After two-three years of testing, the scheme has proven to be beneficial for Punjab's farmers. A total of 91 low-cost cold rooms were set up in the state, with each equipped to serve farmers for direct marketing of produce.
Farmers directly involved in marketing operations can use these facilities to store perishable produce overnight and sell them the next day. The scheme has been very successful in storing different varieties of produce and has gained immense appreciation from the farmers. These cold stores are located on the farmers' fields/farmhouses. These cold storage systems are built as transit stores and it's proven very successful in Punjab.