12 Multi Skill development centres across Punjab soon

NewZNew (Chandigarh) : "Punjab Govt is fully geared up to utilise the fund allocation of Rs 200 crore i.e, Rs 2.5 crore per ITI given by Director General of Employment & Training (DGE&T), Ministry of Labour & Employment, Government of India (GoI) for upgrading its 76 ITIs under PPP mode. It is even more heartening that, out of these, 45 are women ITIs and a major chunk of funds would be provided to 29 women ITIs in the first three years", said Mr Madan Mohan Mittal, Minister of Technical Education and Industry & Commerce, Punjab while addressing an Orientation Workshop organised by Confederation of Indian Industry (CII) and Punjab Govt at CII NR headquarters in sector 31 A here today. It aimed to draw a roadmap for upgrading the 76 Punjab Govt ITIs.
"The scheme: Upgradation of 1396 Govt ITIs under PPP Mode of (DGE&T), GoI wherein GoI gives interest free loan to ITIs which is repayable only after 10 years in instalments spread over next 20 years is very significant, considering the immense skill requirements of the country. Various positive changes brought out in the scheme to enhance the freedom of Institute Management Committees (IMCs) of the ITIs, led by industry members are a welcome step. Our Govt is fully committed to support the IMCs of ITIs in producing the best talent from the state", he added.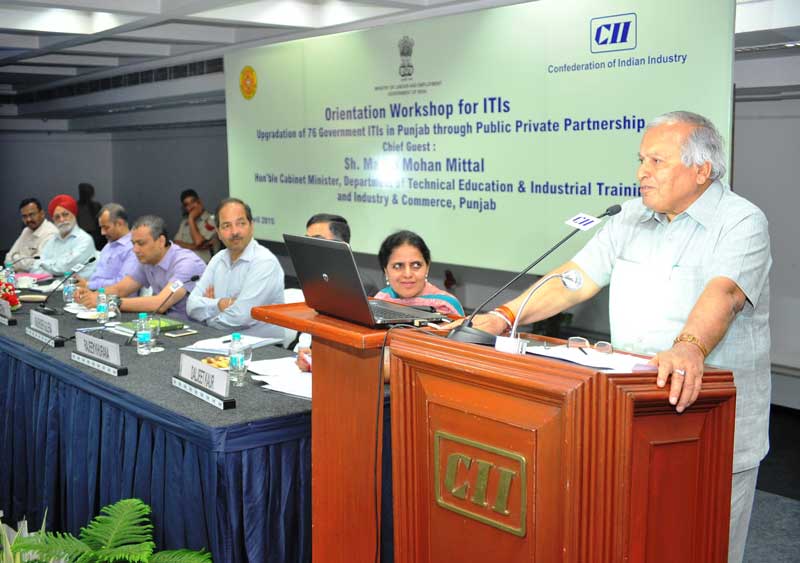 "Since industry is the best judge as to what kind of skills they require the most from time to time, hence industry – institute collaboration to develop curricula, suggestions on courses, trades and machinery to be promoted and ITIs overall upgradation is very critical to empower the unskilled pool of youth", he emphasised.
"The ITIs upgradation is the top most priority of our Prime Minister as Make in India campaign can never be successful if our ITIs do not produce the right quality and quantity of skilled youth in desired trades", he added.
"We would soon come up with 12 Multi- skill development centres across the state which would cater to modern skilling requirements as per latest industry needs", he announced.
"These centres would provide cutting edge vocational training with latest gadgets and machinery based on the feedback received from the industry after intense consultations on the trades which are in high demand", he shared.
Informing about state's efforts, he said that "To achieve our aim of meeting industry's skill requirements and providing seats to each and every student interested in skill training, we have adopted a four pronged strategy in Punjab. We have launched a web portal especially for skilled youth where industry and candidates can enrol themselves regarding various jobs. Till now, 5 lakh people have visited the portal and 10, 000 students have got placements through it.  In addition, we also arrange numerous campus visits and job fairs in association with various companies and associations like CII. These initiatives placed 25,000 students across Punjab last year. Further, we charge a minimum fee of Rs 3,000 per year from ITI students to ensure that there is no monetary burden on the poor youth willing to undertake skill education".
"Based on CII's recommendations, we have decided to provide adequate financial administrative powers to IMC Chairmen of these respective ITIs. The upper limit of civil works for development of ITI has been enhanced from 62 lakhs to Rs 1 crore per ITI while manpower cost limit has been increased to Rs 50 lakhs from previous Rs 25 lakhs earlier. A minimum salary of Rs 14,000 has however been made mandatory for the contract teachers to improve the quality of education", announced Mr Ramesh Babu, Deputy Director, Director General of Employment & Training (DGE&T), Ministry of Labour & Employment, Government of India.
Mr M P Singh, Principal Secretary, Technical Education & Industrial Training, Government of Punjab and Mr B Purushartha, Director, Technical Education & Industrial, Training (DTE&IT), Government of Punjab, called for voting rights for the Principals of the ITIs in the IMCs.
They were of the view that "Since a Principal is actively involved in all day to day activities and aware of all developmental works, faculty, administrative, financial and infra requirements of the ITI, he should certainly have voting rights in the IMC".
Mr Rajender Guleria, Chairman-IMC, ITI Nalagarh & Co Chairman, CII NR Special Task Force on Skills, Education & Entrepreneurship Development shared that "Skill development is the top priority of CII as well. CII members have adopted 131 ITIs in north India and 14 in Punjab. CII is very concerned about the quality of skill education being provided. Hence we organise a lot of faculty development programs and meets to train the trainers and share the best practices".