Punjabi Jokes In English (2023): Top 10 Punjabi Jokes: Jokes are the display of humor that makes people laugh around. It helps a person to blend and mix with other people socially.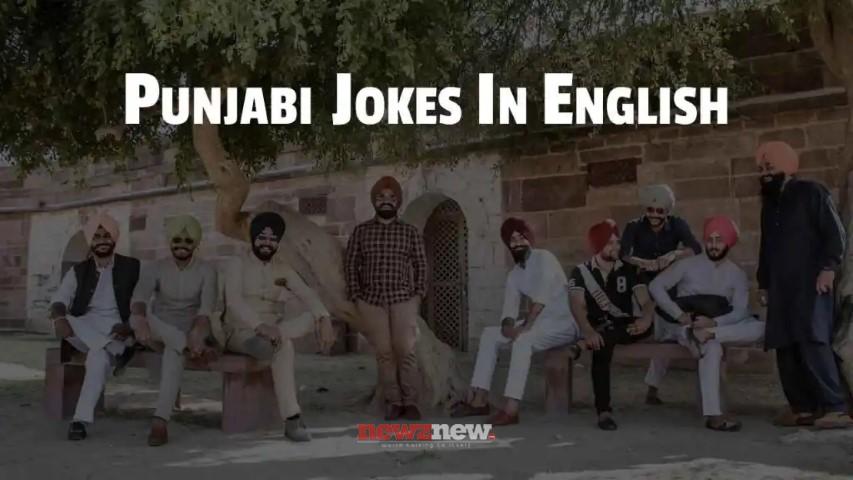 It doesn't belong to any culture or religion, it is a universal emotion that makes other people happy. Jokes play a big role in relieving stress and there are other health benefits too. In other way, jokes help people to make their lives a little better.
India has a number of regional languages, While Punjabi jokes are famous among them. In this article, we have collected some of the best Punjabi Jokes in English.
Short Punjabi Jokes in English
Punjabis are funny, loving, and hospitable. Their Pop albums are famous because they show their culture, habits, and more. Here are some of the famous short Punjabi jokes.
Jado me savere Uthda haan, taan mehsoos karda haan ke bahar ja ke mainu job mil gyi
Fer mildi h ke nhi?
Bed te lete mehsoos karda haan
Papa mainu ik baja iya do?
Fer taan sab nu tang karega
Nahi paper jado sare so jange bue use time bjwanga
Eho jihe janwar da naa daso dharti te pain dona wich rehnda h?
mendak
isto mild 2 hor naa daso
mandak da papa, te mendak di maa
Jado asman wich bijli kadakdi h, taan roshni pehlan te awaz bad ch Q aundi h?
Tenu ena v nhi pta, saadiya aankha age te kan piche hai, islyi
Oye eh kutte poonch Q hilande h?
Tenu ena nahi pta
Hun poonch taan kutte nu nhi hila sakdi na
Tuhadi biwi nu khun di jarurat h, ki tuhada te biwi da khun ik hi hai
Haan ik hi hona 20 saal toh mera hi khun pi rahi hai
Tusi dove taan brother ho, fer tusi paper wich apne papa da naa alag kyu likhiya h?
nahi taan tusi fer kehna si, nakal kiti h.
Samosa wichon aaloo aaloo kha riha si te bahar da hisa sut riha si,
Puchada hai ke tu samosa cho sirf aaloo aaloo Q khan riha hai?
Dr. ne mainu bhar di chezan khan to mna kita hai
Pyar te ishq wich ki farak h
Sir pyar oh hai jehda tusi qpani beti naal karde ho.
Te ishq>
Jehda me tuhadi beti naal karda haan.
Nu ik nigro naal pyaar ho gya, nigro nu vekh ke gana ganda h, aaj din chadiya tere rang verga.
Taan hi me kahan aaj savere toh hi andhera kyun h.
Top Punjabi Jokes in English
Here are some top Punjabi Jokes in English,
Going on a bike, I passed Banta on the road and asked him, want a lift?
He said No, my house is on the ground floor only.
I think you should go to the doctor today
Yes, my health is not good today, I will see if it gets better tomorrow, I will go tomorrow
Pappu First Time Plan te Beta…
Jidda E Plane Da Agla Tire Uthe Uthiya
Pappu Pilot Nu Kuttan Lag Giya Te Usnu Kiha…
Saaliya Main Pelah E Dariya Piya Te Tu Stunts Mar Riha!!!
Ik Jameendar Apne Ristedar Te Fukri Marda Hoya kehenda Hai:
Jad Main Savere Savere Car Ch Apni Jameena Dekhan Layi Janda Han Tan
Sanjh Tak Vi Poori Jameen Nhi Dekh Paunda
Tusi Theek Kehende Ho 3 Saal Pehlan Saade Kol Vi Eho Jehi Ik
Khantara Car Hundi Si, Assi Kabadi Nu Bech Dittti Si.
Me lord, Qanoon di kitaab de safa numbr 15 de mutabiq mere mowakkil nu ba-izzat bari kita jaye
"Kitaab Pesh Kiti Jaye" (Kitaab pesh kiti gayi) Judge ne safa numbr 15 kholiya taan us vich 1000 de 10 note si
"is tarha de 2 saboot hor pesh kite jaan"
American college principal called the students and asked them to jump in the sea full of sharks
They jumped
Principal said to see the guts
Indian Principal called the students & told them to jump
student replaid pagal ho gaya hai kya takle??
Principal said see the guts
Pappu aur uske dost Ne do Ghode khareede.
Baat Ye hui ki kaunsa Ghoda kis ka hai?
Pappu: Main Apne Ghode ki Dum
kat deta hon! Ye Nishani Hogi.
subha dekha to Doosre Ghode ki
Dum bhi Ne kaat Di.
Paapu: aaj Main apne Ghode Ka
Kaan Kaat deta hum.
Agli subha dosre Ghode ka bhi
Kaan kata hua tha
Dono bade pareshan ki Ab Kya Kiya
Jaaye!
Bahut Soch Vichar ke baad Paapu
bola: Chal chhor yar Safed ghoda tera
Kala ghoda Mera.
Boy: Mujhe Dog Food lena hai.
Sales Girl: Kya apke pas kutta hai?
Boy: Ha ghar pe hai
Sales Girl: Sorry! Store policy hai ke zarort dekh kar item sale karo.
Next Day
Boy: Mujhe cat Food lena hai.
Sales Girl: Sorry Sir pehle Billi la ke dekhao.
3 din bad boy bag le ke store aya aur bola:
Bag me hath dal ke sabot dekh lo.
Sales Girl hath dal ke boli: Koi Garm, Geeli aur Mulayum chez hai. Kiya hai.
Ye meri Tatti hai, or Mujhe aaj "Toilet paper" lena hai
How can Santa kill a lion?
Santa thinks and thinks hard and comes to a conclusion: I'll drink poison and let the lion eat me. O bolo ta ra ra.
Santa goes to see an astrologer.
Astrologer: You are the father of three children.
Santa: Oye Khote! I have four children
Astrologer: That's what you thinks!
Conclusion
Here are some of the Punjabi Jokes in English that can be shared with your friends and colleagues. In our routine life, we often fail to laugh and enjoy moments, which builds negativity within us.
Negative thoughts cause a chemical reaction in the human body, increasing stress levels and lowering immunity. But Laughter promotes good thinking and the production of neuropeptides that aid in the battle against stress and perhaps more serious disorders.
Share these funny and hilarious Punjabi Jokes with your family.