NewZNew (Chandigarh) : A press conference on Dr. M.S Randhawa Utsav 2016 was held today at the UT Secretariat, Which Was presided over by Sh. Anurag Agarwal, IAS, Home Secretary cum Secretary Cultural Affairs, Sh. Jitendar Yadav, IAS, Director Cultural Affairs Smt. Navjot Kaur, PCS, Director Public Relations, Bibi Harjinder Kaur, Chairperson Punjab Arts Council, along with other senior officers from the administration and the council.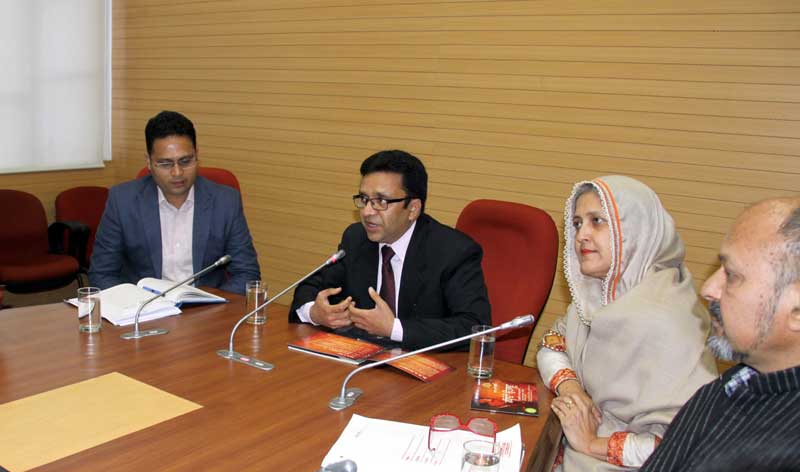 The conference was to bring forth the achievements and work of the legendary Dr. M.S. Randhawa, and to introduce the media about the festival that is going to be held from 2nd February to 3rd March 2016. As an IAS officer, Dr. M.S Randhawa's contribution towards the city is commendable, and this Utsav would prove as a perfect platform to enlighten the citizens about his contributions and achievements.
This initiative will help in making Chandigarh an Art and Cultural hub. On the curtain raiser i.e. on 1st February 2016, the citizens can relish Gazals, Folks singing, Theatre plays, Haas Kavi Samelan, Jugalbandi- Flute and Sarangi,  Sitar Vadan, Youth festival and much more. Daily exhibitions of painting, Visual Arts, Folk Arts etc will be conducted to engage the citizens. A lifetime achievement will be conferred to Dr. M.S. Randhawa by the Chandigarh Administration for his outstanding contribution towards the city.
As per the request of the Punjab Arts Council to waive off the entertainment tax from the auditoriums of Chandigarh, the Chandigarh Administration has accepted their request to waive off the tax in Tagore Theatre as of now. The administration also plans to introduce awards in the memory of Dr. M.S. Randhawa in the field of Public Administration, Horticulture and Arts.