23 companies save Rs. 25 crore through Quality Management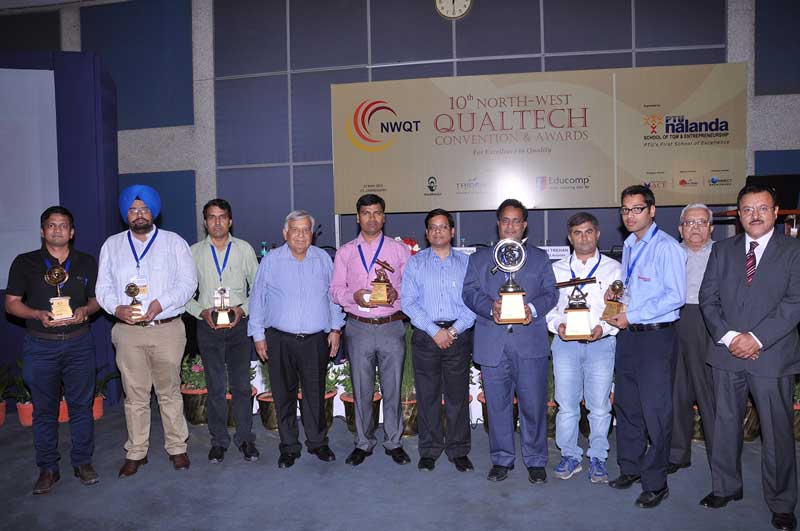 NewZNew (Chandigarh) :  The 10th North-West QualTech Convention concluded with 23 companies competing for the North-West QualTech Awards.  PTU Nalanda School of TQM and Entrepreneurship, the first school of excellence of Punjab Technical University Mohali, instituted these Awards in 2004.
For large business category of manufacturing units with turnover of over Rs.500 crores, Hoshiarpur based Reliance Industries won the Vardhman Quality Navigator Award, while Philips India were first runners-up, Johnson & Johnson and Mondelez India Foods shared the second runners up position.
For industry in Rs.150-500 crore turnover category, Trident Quality Pioneer Award was won by Mahavir Spinning Mills, with Winsome Textile Industries as first runners up.
In less than Rs.150 crore companies, Hella India Lighting Ltd, won the Winsome Quality Pathfinder Award, and SKG Engineering were the runners up.
In the service sector category, Globe Toyota won the Educomp Quality Innovator Award whereas Quadrant Televentures Ltd were awarded the runners up prize.
Rakesh Verma, Secretary Technical Education Punjab gave away the awards to the participating companies and complimented PTU Nalanda School of TQM & Entrepreneurship for their unique initiative to engage industry in the total quality management movement.  He said that quality has to be adopted in every quarter including the government which has to deliver service to the public.
Manish Trehan, CEO of PTU Nalanda informed that out of the 38 nominations received from Punjab, Haryana, Himachal Pradesh and Uttar Pradesh, 23 were shortlisted as finalist who made presentation to the jury showcasing the best quality practices.  These companies were able to save over Rs.25 crores for their respective organizations in last one year by improving quality alone, he added.
Chairman of the School's Governing Council, Padma Shri Chandra Mohan, said that the onus of building a great nation lies on engineers and entrepreneurs by ensuring high quality in our production and services.
Earlier in the morning, Srinivas Kamisetty, Managing Director of Claas India, emphasised constant product and service improvements to adapt to the changing consumer needs.
PTU Nalanda's NWQT Convention also hosted a panel discussion on "Zero Defect: Mantra for 'Make in India'", which was chaired by Maj Gen (Retd) N.K. Dhir, former Director of Defence Institute of Quality Bangalore, with Nectar Life Sciences CEO Dinesh Dua, Mahindra & Mahindra's COO Viren Popli, and Max India Group's Senior Director for Quality Prashant Hoskote, as panelists.