'Priyanka Chopra: The Incredible Story of a Global Bollywood Star' by Aseem Chhabra, was released at an event organised by the well known Chandigarh based not for profit organisation which promotes art & literature-Adab Foundation. The unveiling of one of the first books to capture the phenomenal journey of Priyanka Chopra in Bollywood and her rise to stardom in Hollywood, was done by the Author , Chairman of Adab Foundation Mitul Dikshit and Madhav Kaushik, Chairman, Chandigarh Sahitya Akademi & Vice Chairman Central Sahitya Akademi. The book has been published by Rupa Publications.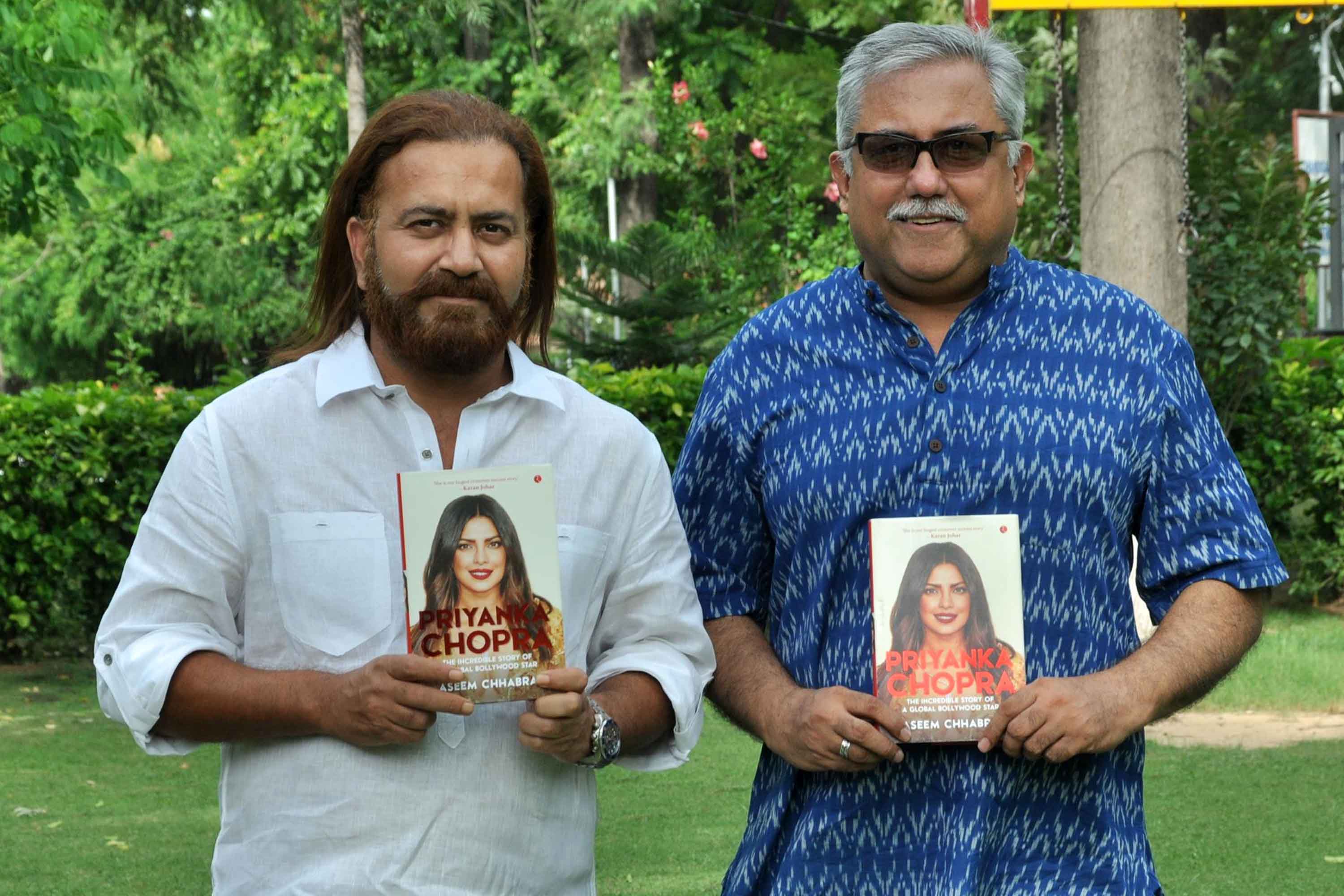 The biography of Priyanka Chopra explores everything that led to her success—in Bollywood and Hollywood. Peppered with anecdotes and events from her life behind the screen, her real story is too a blockbuster. This aspect has alos bene presented well in the book. This is her incredible story, told with much flourish and detailing by Aseem Chhabra.
"She came from a small-town middle-class family in North India. During the Miss India contest, she was grilled by none other than Shah Rukh Khan. She prevailed and won the hearts of millions. There was no looking back after that. Bollywood happened; and years later, she crossed over to America, as a pop singer, as a television star and as a Hollywood actress. Soon, New York City was plastered with posters of her from Quantico, a major television show in the US. Films likeBaywatch followed." Said Aseem.
It is noteworthy that Aseem Chhabra is the author of the bestselling and critically acclaimed book Shashi Kapoor: The Householder, the Star (2016). A well knowm film writer, he  is the festival director of the New York Indian Film Festival and the Silk Screen Asian American Film Festival in Pittsburgh.
"I congratulate my friend Aseem for working hard , researching every bit of Priyanka's life and coming out with this extremely pertinent biography of the actress. We at Adab have been promotinh teh arts & literature through different means and it is an honour to host this book's launch evnt." Said Mitul Dikshit.
"Priyanka as girl used to say , 'In India, real people don't become movie stars.' The same girl became the biggest crossover star. That very girl can't walk around in New York City now 'without being mobbed'. That's Priyanka Chopra for you. The quintessential 'Girl Uninterrupted'." Sums up  Aseem.
SOME QUOTES:
'She is our hugest crossover success story… Today the sky could be her limit.'—KARAN JOHAR
'She is always stretching to do better….'—VISHAL BHARDWAJ
'Priyanka is an amazing actor…even if you give her a flawed character, she will find humanity in it. That's who she is.'—ZOYA AKHTAR
'Priyanka Chopra…an absolute go-getter.'—SUNEEL DARSHAN, who gave Priyanka her first Hindi film
ABOUT THE AUTHOR
Aseem is a film journalist, freelance writer, and film festival programmer in New York City, he has been published in The New York Times, The Boston Globe, The Philadelphia Inquirer, Outlook, Mumbai Mirror, and Rediff.com; has a regular column in The Hindu; and has been a commentator on Indian cinema and popular culture on NPR, CNN, BBC, as also ABC's 'Good Morning America', Associated Press, and Reuters.
He is also the voice of Shadow Puppet #1 in director Nina Paley's award-winning animated  film, Sita Sings the Blues.
Aseem is from Delhi, lives in New York, and visits India often. He can be followed on Twitter @chhabs.