Sandeep Marwah Five times World Record Holder in Media and his association with 145 countries and formation of 100 social and cultural organizations has already brought him another award in the Bavarian Parliament of Munich.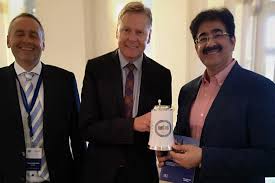 Member of Parliament Dünkel Norbert presented him with the souvenir after meeting H.E. Markus Soder, Minister President of the Government of Bavaria.
"Marwah deserves the highest awards for his contribution to international diplomacy. He works like global minister. We are today feeling honored to honor him," said Hannes Schurger a renowned social worker.
 "Today we have opened another window for India," said MsReseri Sem member Parliament appreciating the visit of Marwah to Bavaria.
Dr. Deepak Narwal European Economic Senator, Ulrich Rieger of Ministry of Economic Affairs and Sugandh Raja Consulate General of India also met Marwah.