Satyug Darshan Trust (regd.) organized 4th International Humanity Olympiad
International Humanity Olympiad conceived and promoted by by "Satyug Darshan Trust" to evaluate the Humanity Quotient (HQ) in individual and to bring forth the innate Human Virtues is finding appreciation and encouragement from all walks of society. This examination expanded its reach by switching to Digital Platforms this Year, introducing new Format of Multiple Choice Questions with supporting Graphics for better understanding of Concepts, immediate result and Online Certification makes this 15 minutes introspective test resonate with likings of students, teachers and Parents.
This unique concept of the Humanity Olympiad received a warm welcome from M.L.A Gyanchand Gupta ji, Mr Milkha Singh ji, also Mr. Vivek Atray (renowned Advisor and author & former IAS) appreciated the initiative of Satyug Darshan Trust & also Mr S.S. Ahluwalia (MoS, Ministry of E & IT, Govt of India) said that "Our Moral Character is the most important aspect of our life. We may run around and achieve a lot on materialistic front but it is human values that give worth to our lives".
This Olympiad has touched and enhanced the lives of more than 30 lakh individuals in past 4 years. Schools and Coaching Centers from all over India are in regular touch with Trust through www.humanityolympiad.org to regularly observe progress of their respective students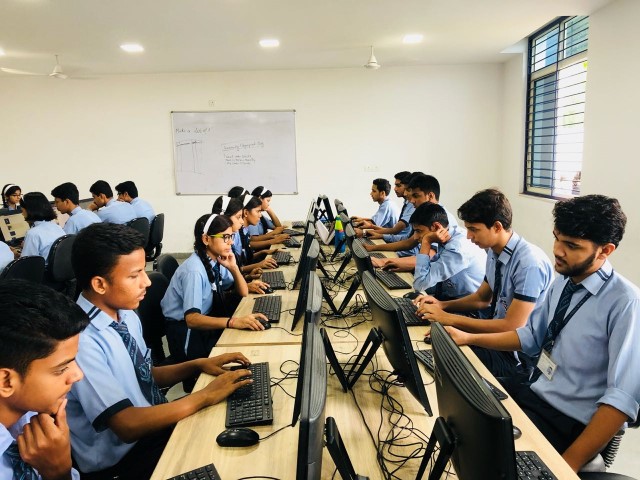 Mr. Gyanchand Gupta, MLA Panchkula attempted the Olympiad with Volunteers of Humanity Development Club and emphasized that "Upcoming generation under the influence of contemporary environment is missing on greatness of human values and reiterated the importance of such Olympiad to develop the same in modern generation".
With this intent of reaching out to broader Spectra of fellow humans, going green and following the path of modern Technology – The "Humanity Olympiad" has gone digital this year. The Olympiad is free of cost and anyone can attempt this 15 min online test uptill 30 August 2018 irrespective of age, caste, creed, religion by visiting our website www.humanityolympiad.org .
Realizing the gravity and importance of this initiative – The Education Department for Secondary Education in State of Haryana, Assam, Chandigarh, Rajasthan have issued a directive to schools to  ensure that 4th International Humanity Olympiad should be conducted in their respective districts.
A student after taking the exam said that "Me and My friends are always running behind marks and courses to opt for future. But now we realized that being a Good Human is quintessential to become a good professional.
More than 5 lakh students from 3500 Schools and Coaching Institutes have got  registered uptill with this moral values based Olympiad and more than 3 lakhs students have already attempted  ensuring that their students should benefit from this opportunity. Bhawan vidyalaya Panhkula, Dc Model & Cl Dav Panchkula, Jawahar Navodya Vidyalya, Moti Ram Arya Panchkula and Chandigarh, Shishu Niketan school and almost all the government or non Government Schools of Tricity are conducting this exam in their respective schools.
Perpetual availability of well curated content, interesting graphical questionnaire, multiple attempts, instant result and certification makes this 15 minute examination highly introspective and great fun at the same time. Ubercool prizes like laptop, tablets, Smartphones et al wiil be distributed to winning Students and Schools on Equanimity Day – 7th September 2018.
The exam can be taken through "Awake Humanity" app is available on both Android and Apple store or on www.humanityolympiad.org .For more details contact Mrs Jaya Ahuja, senior Coordinator at 9216512515 .