Save the saviour- nationwide protest for violence against doctors: Doctors are increasingly coming under physical mental and psychological assault by errant patients and their relatives which is causing extreme stress amongst medical fraternity.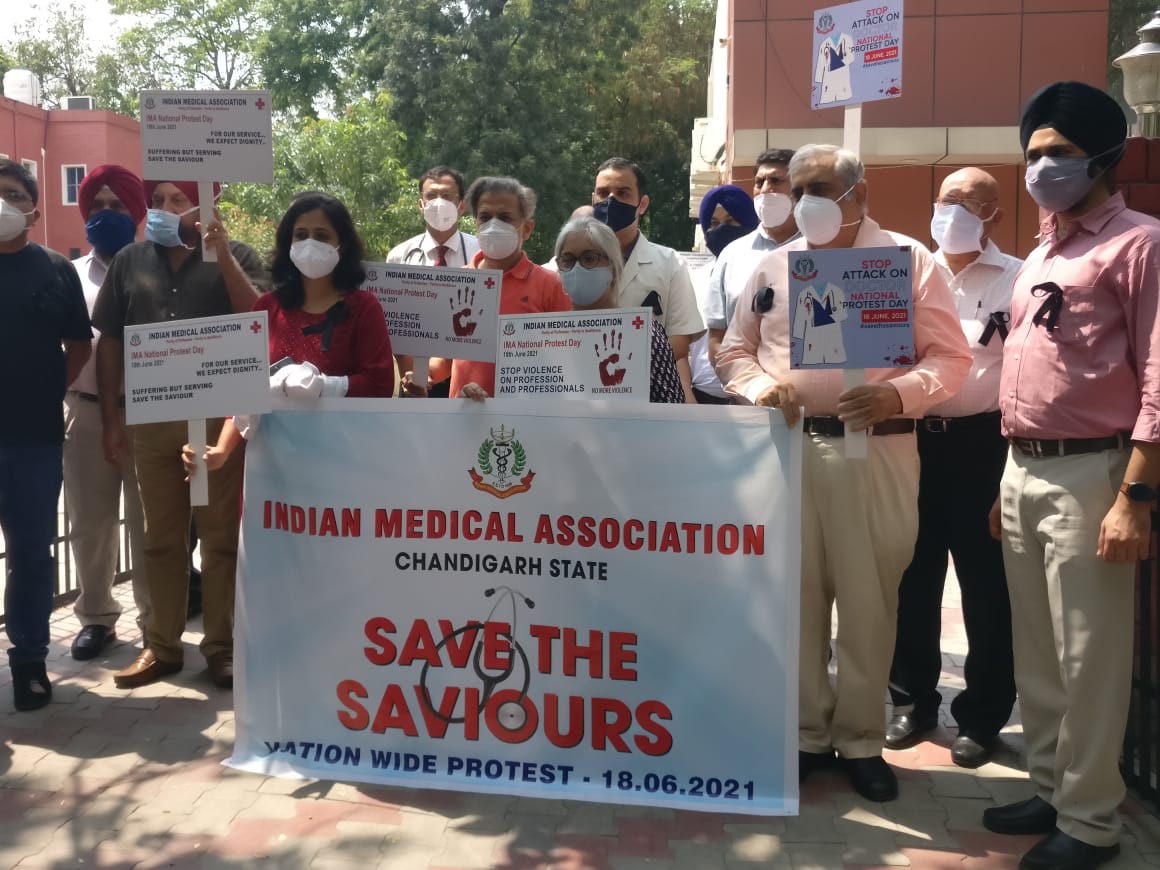 Young doctors are reluctant to undertake emergencies and serious patients because of fear of violence. This will severely effect genuine patients needing emergency and critical care.
Indian medical Association has been constantly demanding  central violence act with IPC and CrPc provisions under the act. Some States have promulgated this act, but is toothless and ineffective.
Dr V  Kappal, president, IMA, Chandigarh said that we have written a representation to honorable Prime minister, urging him to enact this law. Doctors in Chandigarh are  also protesting symbolically with black badges and through public awareness during this pandemic time, as we do not want any  disruption in  health services.
He further said that, Private sector, specially small and medium health establishments are providing 75% services to the citizens across the country. They are subjected to violence in vast majority of cases 
Dr Nitin Mathur secretary IMA Chandigarh said that a non bailable act should be in place  to deter the miscreants. There are enough laws to deal with alleged negligence, violence is not a solution. 
Dr  R. S.  Bedi, past National vice president said that incidence of violence against doctors in india is the highest in the world.
He urged people to go for family insurance, to avoid sudden out of pocket expenses, studies have shown that this sudden expenditure is the main cause of anger and frustration leading to violence.
When Government of India could enact this law during pandemic, there is no reason why it should not be extended in normal times, added Dr. Bedi. 
Doctors from private sector, government Instituitions and corporate sector collected at IMA house to sensatize people and urge the government to enact this law as soon as possible.
Doctors also paid  homage to more than 700 of their colleagues who have died during the second wave of pandemic and saluted them for exemplary services to mitigate Covid disaster from the front line.
The doctors also condemned that Mr. Ramdev, a Yoga Instructor with substantial following in public domain and having vested interests in his business fortunes, choose to spit out acerbic language on our evidence based modern medicine professionals at a time when the country is passing through a medical emergency. He should be dealt with under the pandemic ACT for causing confusion, misleading people and spreading misinformation about vaccine and treatment protocols.