'SHIRDI SAI BABA' film fame AUSHIM KHETARPAL's another historic epic BABA RAMSAA PEER: After producing and acting in the epic feature film 'SHIRDI SAI BABA' which was awarded with President of India's national integration award, Aushim Khetarpal comes up with another  historical epic    'BABA RAMSAA PEER' produced by Aushim Khetrpal.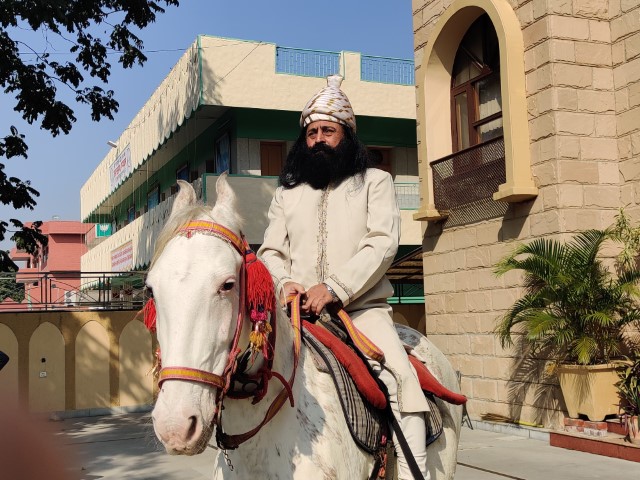 Rajasthan Parishad  Chandigarh President LakshmiKant Swami and General Secretary Ram Pansari  said Baba Ramdev did exemplary work for boh Hindu as well as Muslims thereby promoting national integration in various communities . Baba Ramsa Peer   will remind us of great work by Baba Ramdev and Actor Aushim has performed role of Baba ji as he did in another historic epic Shirdi  SAI BABA . We appeal for President of India  National Integration Award for him in this film too.
The film depicts the life History of the most revered princely saint from the western coast who was the first to spread the message of Hindu-Muslim unity in the 14th century.
Hindus lovingly called him 'BABA' and Muslims called him 'PEER' , the name given to him by five Persian peers who had visited India in that era and hence the name 'BABA RAMSAA PEER'
The film boasts of a strong star cast with   Sai Bhakt Aushim Khetarpal whose popularity today has spread World wide as the preacher of Sai Baba's commandments, essaying the key role Baba Ramsaa Peer along with Gracy Singh ( Lagaan and Munnabhai MBBS fame).
The film has been shot extensively in Mumbai, Jodhpur, Jaipur and Roncha village at the actual Samadhi of Baba Ramsaa.
The language of the film is Rajasthani and Hindi which depicts the era of the film. Special attention was given to the costumes and dialect. The music has been given by Surider Bachan with the integeration of Gujarati and Rajasthani folklores.
The film captures the magic of the period when Baba Ramsaa Peer gave humanity, peace, love and healing.
"These days we do not give much time and attention to the generation next. Thus there is a lack of values on culture and civilization. We filmmakers should make such kind of films which will educate the younger generation. I will try making such kind of films in the near future too said Aushim while interacting with media persons at Rajasthan Bhawan Chandigarh.