Shoolini University has become the first university in the country to offer research programme at undergraduate level in professional courses. It will also be the first university in North India to start job oriented programme in Yoga.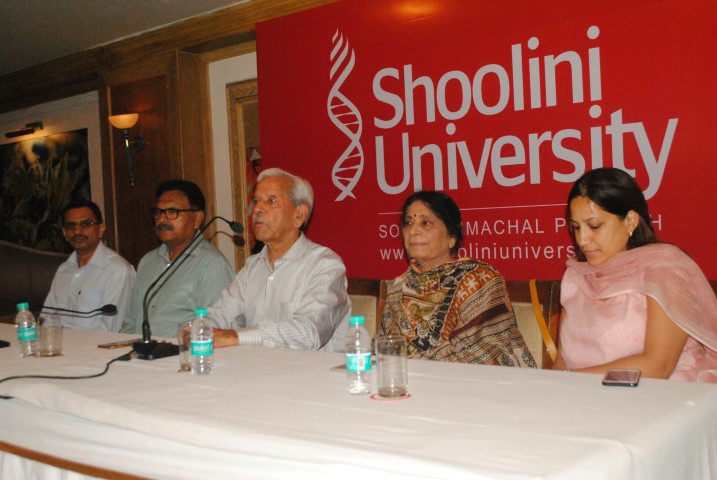 The University which happens to be India's 1st Biotech University with a proven high-impact research model, today announced that students will have the advantage of taking up research from first year onwards.
Addressing the media, Prof. P.K. Khosla, Vice Chancellor, Shoolini University, said, "It will be possible under a unique undergraduate (B.Tech.) program in biotechnology where selected students have the opportunity to pursue the Summit Research Program. This program, which is based on the Harvard and Stanford model provides first-hand exposure to high quality research in state-of-the-art global research environments, experience with writing and publishing papers, and personal interaction with acclaimed research practitioners/experts from around the world. The Summit Research Program is fully integrated with the regular engineering curriculum.
He said, "The University is committed to seek the best candidates without limitations of their financial backgrounds. University provides support, even up to full scholarship, based on each individual's specific financial need. If you are passionate about research and life-sciences, the University will ensure that your finances do not come in the way of your joining our program."
Yoga been introduced keeping in view the importance being given to Yoga in India and abroad. The programme will be mentored by Prof P.K.Khosla who is a practicing Transcendental Yoga practitioner for over two decades. The programme has been started keeping in mind the fact that every school, college, university, hotel, resort and hospital etc will employ yoga teachers both in India and abroad. The programme holds great job opportunities.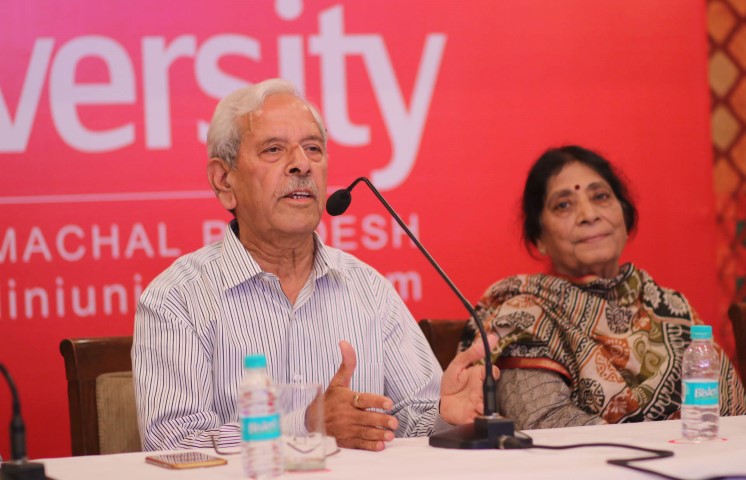 The University also announced unique and skill driven programmes in eight new fields, which includes the Summit Research Program and Yoga, which would be mentored by leading professionals with top industry leaders forming the Visiting Faculty. Students would be given practical on hands training to prepare them for job opportunities with top companies.
Prof. Khosla said, "The framework of these truly distinctive job oriented courses has been designed to compete with the top schools of the country. These courses will have best in class full time and visiting faculty, and mentors to provide a truly enriching learning experience."
The new courses besides Summit Research Programme for B Tech (Biotechnology including Food Technology), include Legal Studies: BA LLB (5 years) and LLB (Hons) of 3 years, Journalism: Young Journalists' Programme in Digital Journalism (11 months), Management: PG Diploma in Business Management (12 months), Agriculture: Four years B Sc (Hons), Yoga: Three years B Sc, Hotel Management:  B Sc Hospitality and Hotel Administration (3 years), Pharmacy: Two years B Pharmacy (Practice).
BA LLB & LLB (Hons) programme will be at par with the National School of Law supported by living case histories by top legal lumaniries of the country. Young Journalists' Programme in Digital Journalism is designed at imparting practical experience to budding journalists and would be mentored by Mr Vipin Pubby, a nationally acclaimed journalist, who served as Editor of the Indian Express for 18 years and an experience in journalism spread over 37 years.
PG Diploma in Business Management will be a year-long programme is specially designed on the lines of the Indian School of Business (ISB) for working professionals. The proramme will be mentored by Prof Atul Khosla, an eminent Senior Executive with an illustrious career in the corporate sector. With B Tech from IIT Kanpur and MBA from JBIMS Mumbai, Prof. Atul has worked as a management consultant for over 19 years and served clients in North America, Europe, Asia, Australia and India. He has held senior position with some of the world's leading consultants like McKinsey and Company USA, Everest Group (world's leading outsourcing advisory), Towers Watson, Oliver Wyman and Financial Services at a-connect ag. Switzerland. Prof Atul was the founding project manager and helped conceptualise the Indian School of Business (ISB), Hyderabad.
Dr. R.S.Paroda, former Director General of the Indian Council for Agricultural Research and Secretary Deparment of Agricultural Research and Education, GOI will be the Agriculture BSc. (Hons)  programme mentor. B Sc Hospitality and Hotel Administration programme has been instituted as per the norms of National Council for Hotel Management and Catering Technology, under the Ministry of Tourism, GOI. The programme will be mentored by Pratip Majumdar in association with the managers of country's top Hotel chain of Hotels with huge job opportunities.
Two years B Pharmacy (Practice) programme is especially designed for diploma holders working in chemist shops or elsewhere to earn B.Pharma degree enabling them to improve their professional skill. This Pharmacy Council of India approved course, would be mentored by Koushik Das Sarma, who hold a doctorate from Indian Institute of Science (IISc).
Shoolini University is the winner of 10 National awards in the fields of technology and engineering. The 200 member-strong faculty from leading US & UK Universities offer multi-disciplinary learning, opening a wide range of job opportunities in industry and research organizations to students. Shoolini University has 45 patents, both Indian and International patents, to its credit, which happens to be the highest number of patents in the region.