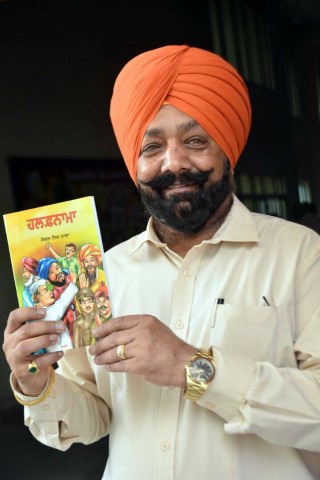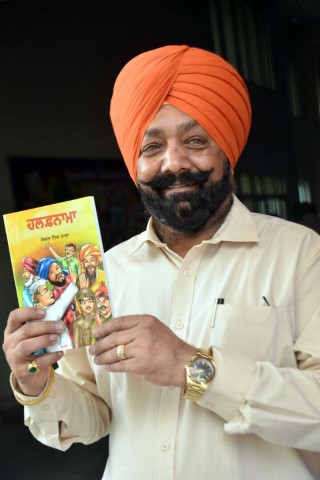 newznew (S A S Nagar) : 'Halafnama', a short story collection in Punjabi, authored by senior journalist Kewal Singh Rana, was released here at Shivalik Public School. Mr Uma Shankar Gupta, Additional Commissioner, Chandigarh Municipal Corporation, was the chief guest of the programme. Bibi Jagjeet Kaur Kahlon, Chairperson, Hari Singh Memorial Trust, Mohali was the guest of the honour.
"I have written 90 short stories taken from real life incidents, on Corruption in different walks of life in our society. These cover corruption in Politics, Religion, Legal field, Police, Health sector, Government departments etc. The 116 pages book in Punjabi is a must read for those in power so that they use their influence to correct things before it's too late." Said Rana.
Dr Gurdarpal Singh discussed few of the short stories from the newly released collection, while Mr Deepak Chanarthal appreciated the reality touch of the stories. Chief guest Mr Uma Shankar Gupta said that people like Mr Rana were a 'boon to the society'.
The book was released at a literary event where a brief poetry session was also held. A battery of poets participated in this. Prominent among them were Darshan Teuna, Daljeet Kaur Daun, Manjeet Kaur Ambalawi, Hari Singh Maujpuri, Sukhvir Singh Dhami, Prof Balwinder Singh, Prof Sukhvir Kaur, Dhyan Singh Kahlon, Darshan Banur, Narinder Singh Kang, Kulbir Saini and Gurinder Kalsi.  
A large number of local journalists and members of literary community also took part in the book release ceremony. It turned out to be a memorable event.