SODEFA honours women achievers on International Women's Day: The Society for Development of Films & Arts (SODEFA) celebrated the International Women's Day, in association with Indian Media Welfare Association, at Mahatma Gandhi State Institute of Public Administration, Sector 26, Chandigarh.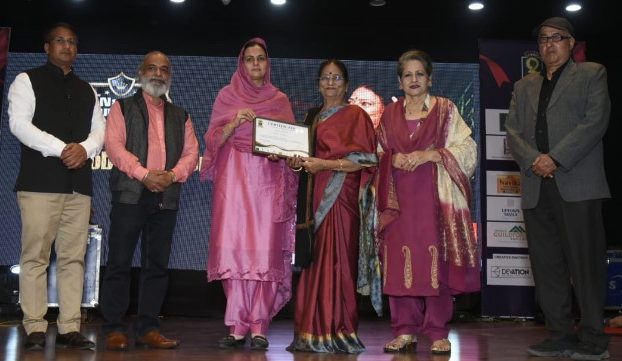 On the occasion the SODEFA honoured women with the 'NAARI SANMMAN' Women's Achievers Award for their extraordinary contribution to the field of Art, Theatre, Films, Literature, Journalism, Social Works, et al.
These award-winning women were primarily shortlisted from North India, comprising Chandigarh, Punjab, Himachal Pradesh, Haryana and Delhi.
Those who got the coveted 'NAARI SANMMAN' Women's Achievers Award included Shobha Koser, Dolly Guleria, Rani Balbir Kaur, Rita Sharma, Savita Bhatti, Manjit Indra, Sunaini Sharma, Dr. Daljit Kaur, Alka Kansra, Inu Sharma, Gurmeet Goldie, Vandana Shukla, Nirupama Dutt, Mini Puri, Rajinder Kaur, Dr.Sadhana Lal, Prof. Pamela, Roop Kaur Kooner, Yojna Rawat, Kashish Rikhi, Smriti Rana, Meenakshi, Arti Sharma, Kandla Nijhowne, Anjali Bhatia, Reshma Afridi and Shweta Arora and others.
Out of the total number of awardees, as many as 30 awardees attended the impressive award ceremony.  
Ms. Sarbjit Kaur Dhillon, Mayor, Chandigarh Municipal Corporation, who was the chief guest at the function, gave away the awards to the winners.
In her address, she lauded the role of the organisers for holding such theme functions in various parts of the city, which, she said, offered a welcome breather to our lives full of stresses and strains.   
Other distinguished guests present on the occasion, included Ms. Renu Goyal, Judicial Magistrate, Chandigarh, who was the Guest of Honour.
The programme started with the invocation of Lord Ganesha, offering Ganesha Vandana by disciples of Samira Koser, Director Pracheen Kala Kendra, which was quickly followed by a traditional wear show by Sui Dhaga. A pulsating musical show, envisioned by Sunaini Sharma, Director, DoReMe Creations, kept the appreciative audience enthralled for hours. The live band presented by female artistes stole the show.  The entire gamut of events was managed by professionals from Team Solutions and The Sensational Group, supported by Navika Kacchi Ghani Mustard Oil. 
On the occasion, event organizer of  Mr. Naval Kishore, Team Solutions and Mr. Parveen Goel Sensational Group while giving details of the programme, said, "Women are the foundation of a progressive society and it is our prime duty to provide her a safe and secure environment besides ensuring equality in every field. The purpose of organising this event is not only to recoganise the significant contribution of women in the society but also to motivate others to become independent and self reliant."