SPEAK's seminar  on 'Use and Abuse of drugs and India's pharma conundrum' held: The Society for Promotion of Ethical and Affordable health Care organized a seminar 'Use and Abuse of drugs and India's pharma conundrum' at Press Club, Sector 27, Chandigarh.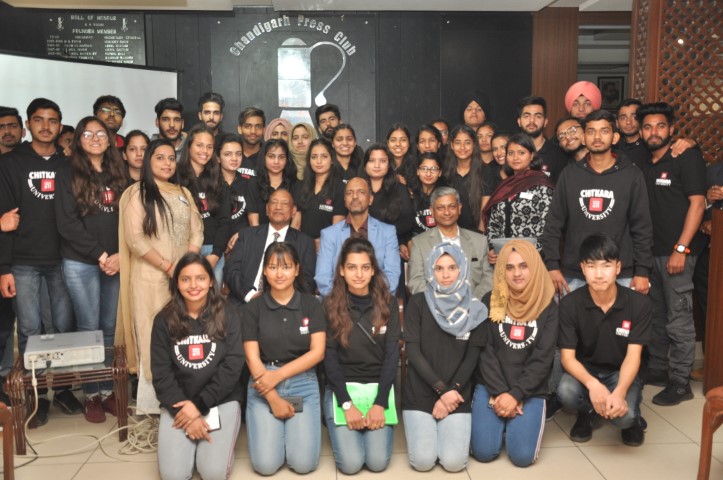 The seminar witnessed presentations by eminent speakers from Postgraduate Institute of Medical Education and Research (PGIMER), Government Medical College & Hospital (GMCH), Panjab University (PU), Media fraternity, Administration and civil society.
Dr. R.Kumar President (SPEAK) India while explaining the theme of the seminar said, "The focus of this seminar is on assuring the availability, cost and quality of prescription drugs, besides eliminating the abuse of drugs by patients and doctors.  Most ailments can be prevented through healthy life style and clean environment."
On this occasion, Ajit Singh Chatha former chief Secretary Punjab and Justice J.C. Verma President High Court daily Lok Adalat were the guests of honour.
The seminar also saw lively interaction in the Panel discussion among the panelists on the one hand and the panel versus distinguished gathering on the other.
While opening the discussion Dr. S.K.Jindal Director Jindal clinics clarified as to what is use and what is abuse of prescription drugs.
Dr. Shankar Prinja from PGI dealt with issues like medical debt and poverty and how drugs can be made affordable, while Dr. C.S. Gautam from GMCH spoke on rational use of medicines and the need for medical audit to eliminate abuse of prescription medicines.
Drifting forward at session, Prof Rajinder Kaur from PU outlined the existing laws that are supposed to control the pricing and quality of drugs and how they have failed to do the needful.
Adding to this, Harvinder Khetal from the Tribune spoke on that how community can be saved from prohibitive and un-necessary cost of medicines.
In the concluding, Chatha and Justice Verma dwelt on governance and legal aspects and how the government can have better control on drug administration in the interest of the patients.
Others who participated in the discussion and made valuable comments included R.K Taneja IAS, Prof Keerti Pradhan Dean Chitkara University, Arundeep Ahluwaia professor emeritus Panjab University  and advocate Namish Sodhi.