Spooky Twist!! Treasure hunt begins in Sony SAB's Jijaji Chhat Parr Koii Hai: Sony SAB's Jijaji Chhat Parr Koii Hai is entertaining its audience with its full-on madness and quirkiness.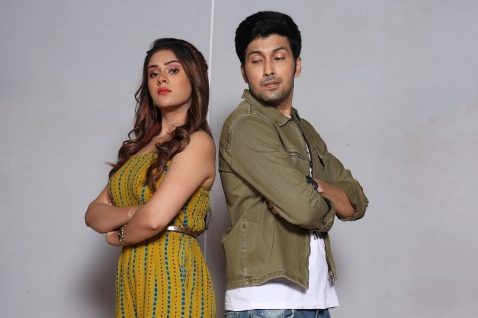 The new and fresh on-screen chemistry between CP (Hiba Nawab) and Jijaji (Shubhashish Jha) is amassing a lot of love and appreciation by the audience.
Now that fresh episodes of show are back on-air, the upcoming episodes are expected to be an intense affair as both Jindals and Sharmas compete to find the map and begin their treasure hunt with mystery and lots of excitement coming forth. The viewers will also witness the powerful and agile Saaya as she is being challenged by another spirit.
Get ready for an eventful week of exciting sequences as Saaya is furious about CP and Jijaji coming together and working to find the map as the duo begin with a treasure hunt. Now that another spirit challenges Saaya, she cannot let either the Jindals or Sharmas get to Khazana. On the other hand, CP adds sleeping pills in the food and drinks of Jindals, so that she can have the map and keep the treasure to herself and her family.
Both the families try to fool each other by giving the wrong maps and finally compete to find the real map. The dynamic Sharma family then finds the map and decodes it to know that the treasure is hidden near the tree. Jijaji, following them finds that the Purana Kamra (locked room) has the Khazana, and both the families decide to enter the room and take what is theirs.
Will Jijaji and CP find the treasure inside the Purana Kamara? Or, the Saaya has some other plans for the two of them?
Hiba Nawab, essaying the role of Saaya and CP said, "It feels good to be back on the sets and I am enjoying it with every moment as an exciting track is coming up named Treasure Hunt, where we will be searching for Khazana in the Haveli. There will be a lot of nok-jhok between the two families, and it will be fun for the viewers to watch that who finally gets to have that treasure. It was enthralling shooting for this track as I got the opportunity to show my acting skills and explore myself as an artist playing the double role."
Shubhashish Jha, essaying the role of Jijaji said, "I have been waiting to return on the sets as acting gives me great joy. This exciting track will leave the viewers spellbound. Amidst the treasure hunt set by Saaya, Jijaji is also doing his trick of winning over CP's trust to get the Haveli. It will be interesting for the viewers to witness an engaging twist in the story with each passing episode and we hope our audience keeps enjoying what we bring for them."
Keep watching exciting episodes of Sony SAB's Jijaji Chhat Parr Koii Hai, every Monday to Friday at 10:30 PM