NewZNew (Chandigarh) : Inviting the industry from Chandigarh and Punjab region at a session organised by Confederation of Indian Industry (CII) on trade & business opportunities between North India and Sri Lanka, H.E. Prof Sudharshan Seneviratne, High Commissioner of Sri Lanka emphasised that "There is an immense untapped potential for stronger trade cooperation, collaboration and business ties between industry from north India especially Punjab, Chandigarh and Haryana region and Sri Lanka in the sectors of Pharmaceuticals, tourism, livestock management, light engineering and healthcare.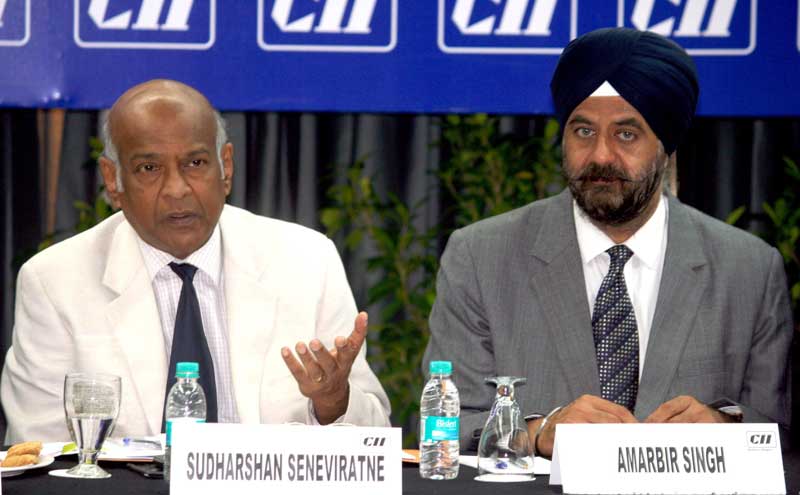 "Considering the huge amount of trust and cordial reciprocity with India, we hope to consolidate our relations and work actively for the benefit of industry of both countries. We are fully committed to facilitate industry from Punjab and Haryana region to enter into Joint Ventures or agreements with their counterparts in Sri Lanka in these sectors. We would offer you best working as well as managerial labour, especially with 95 % of our population being literate. I would soon discuss possibility of holding roadshows across Indian states to enhance B2B ties. Our vision is now to go beyond Delhi. We are focusing on north Indian states primarily because of immense production capacities here for which we can offer perfect production distribution facilities in Lanka", he added.
"Further, by collaborating together, Sri Lanka can act as an ideal trans-shipment Centre for Indian goods to be further exported throughout the world through our harbours across the Indian Ocean. This would save a lot of your transit costs and time", he shared.
While inviting the SMEs from the tricity to invest and forge partnerships in Sri Lanka, he added that "We hope that 'Comprehensive Economic Partnership Agreement' (CEPA), with which we have some reservations, would be signed soon and would greatly heip the two countries.
He also announced that "To attract tourists from North India, we are planning to start a Guru Nanak Trail in Sri Lanka blended with heritage and excursion trips across the voyages of the guru. The Ramayana Trail would soon have improved infrastructure facilities and a lot of other facilities like tourist info centres, guides, proper trains, across beautiful beaches, golf ranges and hotels blending both the entertainment and spirituality together".
"I am overwhelmed to be in north India as a lot of population in Sri Lanka belongs to north Indian community. We are offering a lot of support to SMEs and startups to set up their businesses in services and light engineering sectors", he added.
Mr Amarbir Singh, Chairman CII Chandigarh Council shared that "India's relationship with Sri lanka is mutually beneficial and wide ranging; covering- development, regional stability, trade and investment, agriculture, minerals, railway etc. India emerged as the largest trading partner in 2012 by accounting for nearly 20 per cent of Sri Lanka's imports and 5.6 per cent of its total exports. But the potential is even more. Today's session was an initiative to boost this bilateral trade.
Mr Pikender Pal Singh, Regional Director, CII NR said that "CII has set up a CII International Policy and Trade Council. The primary goal of the Council is to undertake activities to connect Indian business with global businesses. In Sri Lanka, CII has institutional partnership with the Ceylon Chamber of Commerce. To promote greater Indian investments in Sri Lanka, CII has signed a MoU with the Board of Investment of Sri Lanka. It is CII's endeavour to take the trade ties between the two countries farther.