NewZNew (Chandigarh) : SsangYong Motor Company (SYMC), a part of the US $ 16.5 billion Mahindra Group, today announced the launch of its eagerly awaited 'Tivoli compact SUV model in Seoul, South Korea. The Tivoli offers innovative styling and remarkable product competitiveness to customers and was launched at the Dongdaemun Design Plaza (DDP). The new SUV was developed over a period of four years, boasts trend setting style and best in class product competitiveness.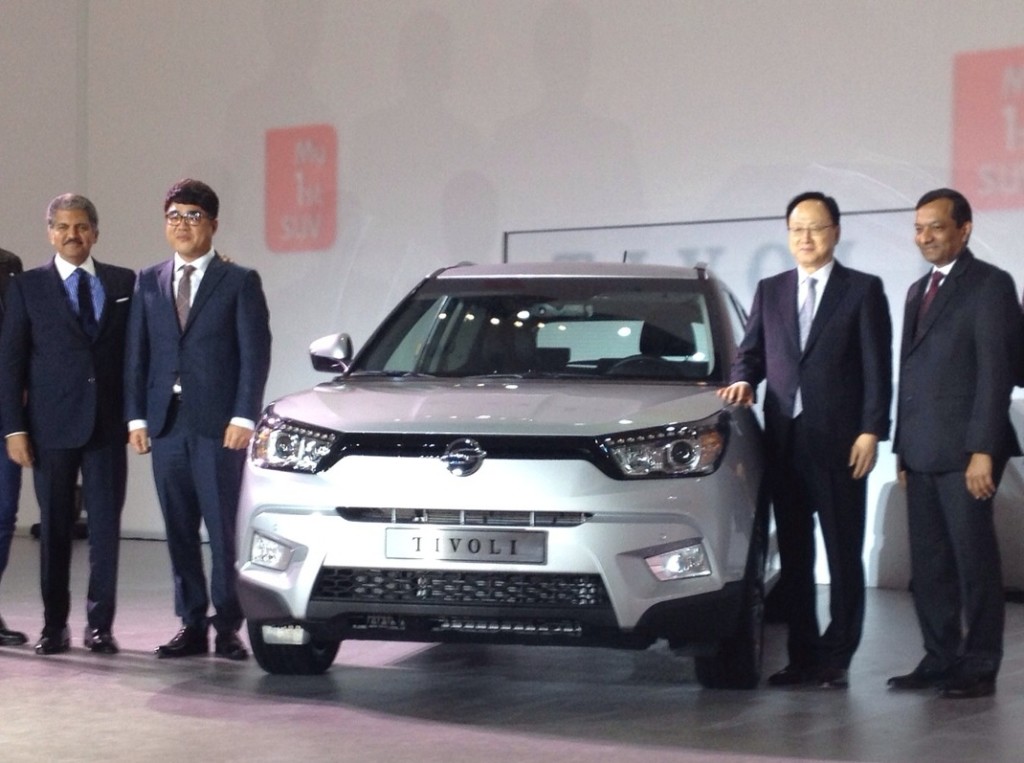 Commenting on this new model, Anand Mahindra, Chairman, Mahindra Group, said, "The Tivoli marks a significant new milestone in the growing partnership between Mahindra and SsangYong. This new SUV epitomizes the spirit of 'Korea Can Do' and reflects Ssangyong's rich legacy of innovation in product development. We are confident that the Tivoli is poised to drive SsangYong's growth in the future".
[blockquote author="Speaking at the launch, Dr. Pawan Goenka, Executive Director, M&M Ltd, said," pull="pullright"]"The launch of Tivoli marks a significant milestone as this is the first all new product post SsangYong's association with Mahindra. It is a proud moment in our journey together which has been one of mutual admiration, respect and learning. I am sure that with the launch of Tivoli, SsangYong will straddle the entire product spectrum in the SUV segment with diverse offerings at distinctive price points and value".[/blockquote]
The Tivoli which is SsangYong's first compact SUV model is powered by a 1.6ℓ engine – an apt choice for style seekers who desire a seamless driving experience in cities and outside city limits. The company plans to sell up to 100,000 units of the new model annually of which 40,000 units are planned for the Korea market while the rest would be exported.
Competitively priced at Korean Won: 16.3 million (approximately Rs. 9.31 lacs) for the TX (M/T) version; 17.9 million (approximately Rs. 10.22 lac) for the TX (A/T) version; 19.9 million (approximately Rs. 11.36 lacs) for the VX version and 22.2~23.7 million (approximately Rs. 12.68 lacs – Rs. 13.53 lacs) for the LX version, the Tivoli is all set to be a game changer in its segment.
SsangYong has invested KRW 350 billion and 42 months, to develop the Tivoli while
ensuring strong product competitiveness in terms of performance, design, safety and convenience among B-segment vehicles.
With an increasing number of global consumers favouring compact SUVs that offer high performance, great fuel economy, practicality and price competitiveness, SsangYong plans to tap into this segment with its new model in order to strengthen its position as a leading SUV manufacturer.
ABOUT TIVOLI
Unmatched Trendy Styling
When it comes to styling, SsangYong's new model blends the beauty of youth, energy and robustness in its overall design, making it an aspirational 1st SUV for young people around the world. Further, as a starter of "Nature-born 3Motion", SsangYong's new design philosophy, it expresses modern and urban images through "Urban Dynamic Style" based on the motive of "Rhythmical Motion".
Rhythmical elements such as the harmony of tension and composure, the whole and details are fully expressed on the front of Tivoli. And the reversed-trapezoid bumper, which underscores the air intake, contrasts with crisp hood lines, maximizing tension.
The stable and balanced rear completes the design language of SsangYong Tivoli. While the rear, which resembles muscular shoulders, symbolizes confident youth itself, it also emphasizes rhythmical features through style lines. The cheerful, clear-type, rear combination lamps unleash liveliness.
SsangYong provides dual-tone body and roof options in Tivoli for the first time to maximize the expression of drivers' personal tastes. By applying colours (black, white, silver, red) that are different from the body to the roof, wing mirrors, and rear spoiler, it reveals an urban and dynamic look.
Luxurious Interiors
The interior design of the new model pursues "Compact Deluxe Style" which creates smart and practical space and lends a distinct feel of a modern, luxury lounge. Most notably, it is a futuristic SUV, which uses the theme of "Moving IT Space" through bar-type switches and expanded use of touch screen controllers, which analyze user behaviour.
Tivoli's optimized spatial design provides excellent passenger convenience and storage. With an overall width of 1.795mm (widest in the class), roomy two-row cabin maximizing riding comfort, and 423ℓ (largest in the class) of storage, the Tivoli is the only car in its segment that can carry up to three golf bags.
Moreover, the full-flat folding second-row seats, not seen in compact sedans, provide enough storage for multiple-use, maximizing the original features of SUVs.
A D-cut steering wheel, mostly used in sports cars, together with a cylinder-type six-color
cluster not only satisfies drivers' emotional needs but also boosts their pride. Further, the six-color cluster with 3.5 inch display, which projects various information, is intuitive to use.
The interior comes in three colors: black, beige, and red. The red interior, in particular, is expected to be favoured by customers who usually want a unique and sporty look, as it blends beautifully with the D-cut steering wheel, a standard feature.
Semi-bucket seats, which are ergonomically designed, provide superb comfort and postural stability during driving and cornering, while the quilt stitch design applied to the seats makes them exclusive and luxurious.
Dynamic Performance
The Tivoli's powertrain, which SsangYong unveils for the first time is remarkably efficient and reliable. And the e-XGi 160, a new engine developed over a period of three years, delivers 126PS of maximum power and a maximum torque of 16.0kg·m. Combined fuel economy is 12.0km/ℓ for the A/T version and 12.3 km/ℓ for the M/T variant.
Aisin's 2nd-generation A/T, which is widely used by global automakers, is fitted on the Tivoli. Recognized for its quality and performance this transmission delivers dynamic driving performance with shifting response that is as fast as a Dual Clutch Transmission.
Every trim level of the Tivoli crossover includes Smart Steer, which controls steering effort in three modes (Normal, Comfort, and Sport.) depending on the driver's tastes. Also, the NVH performance is much improved by applying dual-structure dash panels to the engine bay, resulting in minimized engine noise, thereby effectively blocking noise from intruding into the cabin.
For a highly rigid body, SsangYong Tivoli uses high-strength steel (HSS) for 71.4% of its body, and ultrahigh-strength steel (UHSS) for the remainder, which makes it unique in its segment
Best in Class Safety
To improve the safety of passengers, 10 major areas use ultra-high-strength materials, manufactured by the hot press forming process. The materials are two times stronger (1500Mpa) than the usual UHSS (600Mpa), therefore minimizing the possibility of deformation of the car body in a crash.
Moreover, various state-of-the-art safety technologies along with seven airbags which also protect passenger's knees guarantee top-class safety performance.
Further, big-sized disc brakes are fitted to the front and rear wheels for quicker braking performance, and multiple safety features are used such as multi-functional ESP (Electronic Stability Program), TPMS (Tire Pressure Monitoring System), and LED daytime running lamps. Tivoli's excellent safety is proven by its near-perfect ratings in the AE-MDB (Advanced European Mobile Deformable Barrier) test.
State of the art Infotainment and Convenience Features
The core of Tivoli's infotainment system lies in maximized usage of smart devices. The
HDMI connection allows passengers to enjoy clear images and sound from smart devices, on the seven-inch display screen which is connected to the rear camera. Furthermore, the six-speaker sound system provides excellent audio quality.
The new compact SUV is the only vehicle in the segment which offers a fully-automatic dual air-conditioning system. The AC system not only maintains the optimal temperature in the cabin, but also offers a memory function which remembers the preferred air volume, air direction, and temperature in three modes, thereby guaranteeing pleasant driving all year round.
Some first time features in the segment include the ventilated driver's seat, heated steering wheel and heated second-row seats. Moreover, thanks to the obstacle detection system with six sensors (two in front / two at the rear) the Tivoli is safer while parking. Finally, the luggage screen, automatic washer switch and automatic hazard lights make the car unique in its class, offering great convenience.
Customer Contact
To celebrate the launch of Tivoli, SsangYong Motor Company has offered a News Year Trial Ride to its customers. In particular, SsangYong offers premium services to customers who join "Smart Membership"; Total Care (five inspections for five years); First Oil Support (engine oil change, one time within three years); Loyalty Program (invitation to events such as new model launches).
For customers who purchase "Smartcare Warranty Extension" the warranty period will be extended from 3 years/ 60,000km to 5 years/ 100,000km (body & general parts); and an engine oil change set (engine oil, oil filter, air cleaner/once) will be provided.
More information about Tivoli's launch events are provided on SsangYong website (www.smotor.com), official Facebook page (www.facebook.com/ssangyongstory), and microsite (www.gotivoli.com)