NewZNew (Chandigarh) : Global Social India Foundation to host an event for startups in association with Accelerate Korea, Indian Angel Network and IIT Delhi's Foundation for Innovation and Technology Transfer
The Global Social India Foundation (GISF) has announced that it will host a special event for start-ups during the  to be held on September 25-29 in Seoul, Republic of Korea. The start-up event will be held on September 27 at Seoul Global Start-up Centre and is being organized in association with Accelerate Korea, Indian Angel Network (IAN) and IIT Delhi's Foundation for Innovation and Technology Transfer (FITT). Start-ups from India, Korea and Singapore will take participate in the event and will stand a chance to secure on-the-spot funding from international investors.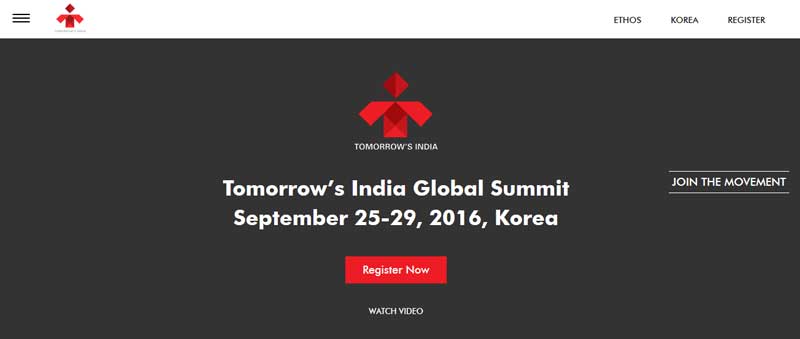 Mr HP Singh, Founder and MD, Tomorrow's India, says, "Besides promoting India's strengths in business, knowledge and culture, we want to make Tomorrow's India a platform for budding entrepreneurs to pitch their ideas on a global stage and contribute to the success of Prime Minister Narendra Modi's 'Start-up India, Stand-up India' campaign. At our Seoul edition later this month, we are offering start-ups a chance to meet international investors from India, Korea, Mauritius and Singapore and secure on-the-spot funding."
Accelerate Korea acts as a catalyst within the entrepreneurship ecosystem across international borders by developing opportunities between Asia, Europe, and North America. Besides developing custom programs for public and private sectors, it also runs its own programs and supports late stage seed, early Series A and SME funding and provides consulting and education for fundraising and global market expansion.
Ms. Alina Gratschner, Managing Partner, Accelerate Korea, says, "We believe the Tomorrow's India event coming to Seoul, Korea this year is a testament to how entrepreneurship is growing and becoming mainstream in the two countries. Both countries have for many years now, shown their strength within the ICT sector as their products and services are increasingly supplied to the world. From our exposure to the two markets as Accelerate Korea, we believe that both countries are fast becoming global leaders in terms of their ability to produce new out-of-the-box ideas now giving rise to much original innovation as their skilled talent learn to tap into their creative sides. We look forward to the Tomorrow's India in Seoul to see what opportunities will come from this conference as these two developing countries build bridges for collaboration between their ecosystems."
Indian Angel Network (IAN) is India's first & Asia's largest angel investor network with more than 350 investors across 10 countries, and a portfolio of over 100 companies across fifteen sectors.
Foundation for Innovation and Technology Transfer (FITT) is an industrial interface organization established at the Indian Institute of Technology Delhi (IIT Delhi). FITT will be showcasing four member start-ups including Omnia Technologies Pvt. Ltd., Gurgaon, Faros Simulation System, Gurgaon; Cardea Biomedical Technologies Pvt. Ltd., New Delhi, and NanoSniff Technologies, a biomedical company incubated at IIT Mumbai.
Some of the other start-ups participating at the Summit include uber Diagnostics, The Beacon Services, OnSpon Services, GoStartApp and We Travel Solo. Singapore-based Media Plus Services Pte Ltd will also be showcasing at the event.
Tomorrow's India Global Summit is being supported by the Embassy of India in the Republic of Korea, and will have participants from India, Korea, Ethiopia, Finland, Singapore, South Africa, Taiwan and Zimbabwe. Some of the speakers at the Summit include Sangeeta Reddy, Executive Director, Apollo Hospitals Group; Arun George, Founder & CEO, Avant Garde Innovations and the Focal Point Kerala Chapter for the UN Global Compact Network India; Padmaja Ruparel, President, Indian Angels Network; Shailesh K. Pathak, Executive Director, Bhartiya Group; Prakash PK Menon, Global Partner, Thought Leaders Global; and, Devita Saraf, CEO & Design Head, Vu Technologies. The Summit will also showcase keynotes, presentations and talks by the Indian Embassy, Seoul Metropolitan Government, Incheon Metropolitian City, Incheon Chamber of Commerce & Industry, Korea Plus (Invest India) and Gyeonggi-Do Provincial Government. The Summit will also include Oorja Cultural Performance & Dinner at Floating Island (Sevit), golfing event, and visits to N Tower, Itaewon Market, Samsung Electronics, Suwon, and Myeong-Dong Market. The registration for Tomorrow's India Global Summit includes airfare, expedited visas, stay and meals, Summit access, intra-city travel and site visits.