Strengthening MSMEs Ecosystem: Haryana exchanged MoAs with RBI-approved TReDS Entities: In a significant step towards strengthening the Micro, Small, and Medium Enterprises (MSME) ecosystem in Haryana, the Industries and Commerce Department exchanged Memorandum of Agreements (MoAs) with three Reserve Bank of India (RBI) approved TReDS (Trade Receivables e Discounting System) entities.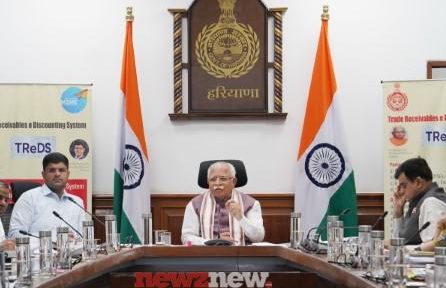 The MoAs were exchanged in the presence of Chief Minister Sh. Manohar Lal and Deputy Chief Minister Sh. Dushyant Chautala here today. The MoAs were exchanged with Receivable Exchange of India Limited (RXIL), Mynd Solution Private Limited (M1xchange), and A.TReDS Limited (Invoicemart).
Speaking at the occasion, Chief Minister Sh. Manohar Lal said that Haryana primarily relies on agriculture, but the scope of this sector is limited due to decreasing land holdings. Consequently, there is a pressing need to diversify into industries and other sectors. The government is actively pursuing various schemes to promote and nurture the growth of Micro, Small, and Medium Enterprises (MSMEs).
He also emphasized over the current need of boosting the MSMEs ecosystem through active participation of Suppliers, Buyers, Bankers and NBFCs over the TReDS platform, promotion of digital lending and offtake among MSMEs. He also emphasized over the Government of Haryana gradually directing and onboarding their Departments and PSUs over the TReDS platform thus ensuring timely and transparent payments to the MSME suppliers.
Deputy Chief Minister Sh. Dushyant Chautala said that the industries in Haryana have experienced significant growth in recent years, fostering various forms of industrialization. He highlighted the increasing number of MSMEs in the state and assured that the government is committed to providing enhanced security and support for these enterprises.
TReDS, a Reserve Bank of India initiative, is a critical tool for ensuring working capital for MSMEs. It is a bill discounting mechanism through which MSMEs can get their invoices cleared through financers before their due date of payments, by forgoing a miniscule fraction of the invoice amount, i.e., discounting. TReDS is also a critical focus area for the Raising and Accelerating MSME Performance (RAMP) Programme and requires concerted efforts from the Government and bankers to make it the go-to payment channel for MSMEs. According to RBI, the factoring transactions on 'with recourse' basis shall be eligible for priority sector classification by banks. The TReDS entities have developed their platforms to suit the requirements of participants while keeping the transactions safe, secured, and confidential. Effective security measures are taken at the infrastructure and application level to ensure that the customer and transaction data are not compromised.
This MoA signing is seen as a welcome step in creating liquidity infusion among the cash strapped MSMEs. This step shall boost the MSME ecosystem in Haryana by providing low cost, no recourse, no collateral funding to the MSME sellers who were earlier facing the brunt of delayed payments and acute working capital crunch.
Minister of State for Labour Sh. Anoop  Dhanak, Chief Secretary Sh. Sanjeev Kaushal, Chief Principal Secretary to Chief Minister Sh. Rajesh Khullar, Principal Secretary to Chief Minister Sh. V. Umashankar, ACS Industries and Commerce Sh. Anand Mohan Sharan, ACS Medical Education and Research Smt. Sumita Misra, ACS Finance Sh. Anurag Rastogi, ACS Public Health Engineering and other officers, Bankers and MSME Associations were also present in the meeting.