Sukhna Interpretation Centre inaugurated on Pierre Jeanneret's 52nd Death Anniversary: The sculptural Pump House of the Sukhna Lake was recently repaired and restored and an interpretation Centre dedicated to the Sukhna Lake has been established in this landmark structure of the Lake.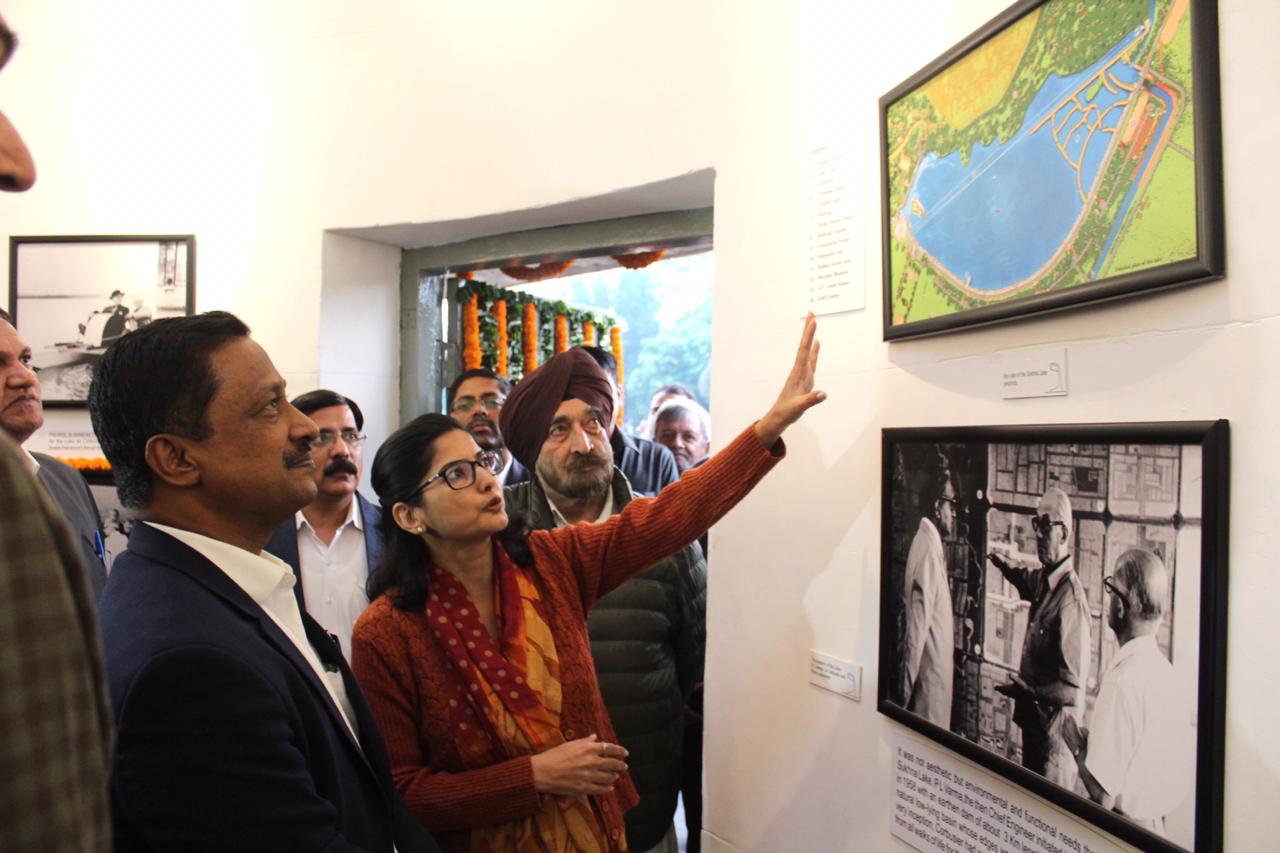 Sh. Manoj Parida, Adviser to the Administrator, Chandigarh inaugurated the centre in the presence of senior officers and eminent architects of the city to commemorate the 52nd Death Anniversary of Pierre Jeanneret.
The proposal for setting up this centre was mooted by Deepika Gandhi, Director Le Corbusier Centre in May this year during a presentation to the Mr Manoj Parida, Adviser to the Administrator, Chandigarh on the various issues that need to be addressed at the Sukhna Lake and its precincts.
The Adviser fully endorsed the idea and on his directions The Engineering Department took up the restoration and repair of the brick structure.
The structure is another example of the innovation and creativity of Corbusier and Pierre Jeanneret which transformed what could have been an eyesore to merely pump water to the Golf course and greens of the city into a sensitively designed circular brick structure with the sculptural ramp to the roof adding lyricism against the backdrop of the Sukhna and Shivaliks beyond.
During the restoration a skylight which was closed some years back was opened up to let in natural light in the room. The ventilators were very interestingly designed and were the starting point for conception of the display of exhibits.
Director Le Corbusier curated the images and text for display in consultation with Prof Rajnish Wattas. The exhibits attempt to capture the essence of the lake in around 30 panels starting from the creators of the lake to its lesser known components like the light fixtures and entrance gate.
The display is an interesting mix of vintage pictures, drawings and sketches to highlight the thought that went behind each element. The display was a challenge due to the circular shape and small size of the room.
The Adviser to the Administrator expressed his pleasure at another successful venture at preserving the heritage of the city and  hoped that the centre shall become another landmark in the city and sensitise citizens and tourists about the Sukhna as an important part of the city's legacy.
Present among the officers were Sh. Arun Kumar Gupta, Principal Secretary Home-cum- Secretary Tourism, Sh. Vinod Kanvle, Secretary Culture, Sh. Rakesh Popli, Director Tourism, Sh. Mukesh Anand, Chief Engineer Chandigarh, Smt. Deepika Gandhi, Director Le Corbusier Centre.