Taiwan Expo 2019 to Strengthen India-Taiwan Business Relations!: Bureau of Foreign Trade (MOEA) and Taiwan External Trade Development Council (TAITRA), Taiwan's foremost trade promotion body announced the second edition of 'Taiwan Expo' at Pragati Maidan in New Delhi, India to be held on May 16-18, 2019.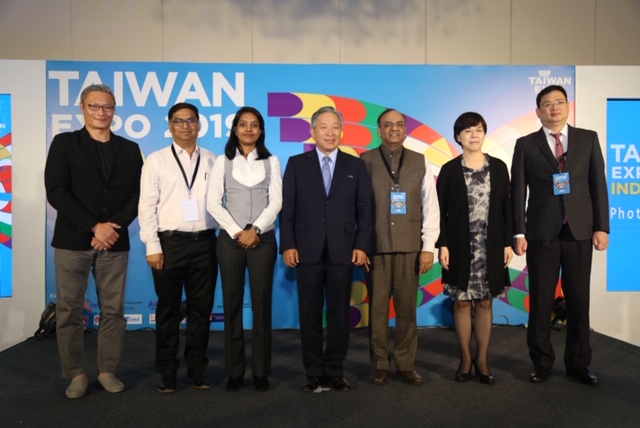 The announcement was made during the press conference that took place in New Delhi today. There will be series of activities that are scheduled to take place in New Delhi to mark the beginning of the event which includes a series of industry forums, trade meetings, Taiwan cultural performances and other range of exciting events such as Taiwan day tour via AR and lucky draw.
The press event was attended by Ms. Karen Pai, Deputy Executive Director of Taitra, Ambassador Tien Chung- Kwang, Taipei Economic and Cultural Center in India (TECC), Manish Singhal, Deputy Secretary General and Head International of FICCI, Deepak Kumar, Executive Director (ITPO), and Ms. Madhumitha Ramanathan, Vice President of Invest India.
While addressing the media delegates,Ms. Karen Pai, Deputy Executive Director, TAITRA, said, "Looking at India from a Taiwanese perspective, we see a vibrant country that is full of possibilities. In addition to India becoming the most populous country in the world, in 2028, New Delhi is set to overtake Tokyo the most populous city in the world. India's future is full of possibilities and is an incredible place that Taiwan simply cannot miss! I also want to tell everyone here that Taiwanese companies, products, technologies, and tourism channels are ready to reveal their strengths, create new links with India, and generate mutual progress and prosperity together."
Talking about their plans for India market, she further shared, "IIn recent years, bilateral trade between Taiwan and India continues to grow, with India being Taiwan's 16th largest trading partner. In 2018, Taiwan and India's total bilateral trade volume reached US$7 billion, a 5-year high and an 11% increase from 2017. Bilateral trade investments are also on the rise. Such growth illustrates the successful combination of Taiwan's New Southbound Policy and Act East Policy from India, the benefits of synergy, and the increasingly strong interaction between the two countries' people and businesses."
TAITRA has come up with an interactive activity to increase the number of visitors attending the expo. Visitors can download the app: Marq+ and play interactive games in the expo. One of these game is to scan the butterfly image of Taiwan expo and add the butterfly wings to it. Visitors can win exciting prizes by participating in these activities.
There will be 10 theme pavilions in the expo – Taiwan Excellence Pavilion, Taiwan Green Products Pavilion, Taiwan IoT Smart Living Pavilion, Taiwan Healthcare Pavilion, Digital Commerce Pavilion, Taiwan Bubble Tea Pavilion, Taiwan Agricultural Pavilion, Taiwan Tourism Pavilion, Hsinchu Science Park Biotech Hub, Six Senses of Taiwan, Education & Tourism, ICT Product & Electrical Equipment, Medical Devices, Health & Personal Care and Taiwan High Quality Product.
This year the Taiwan Expo is focusing on six areas – Smart Cities, Smart HealthCare, Taiwanese Lifestyle, Taiwanese Agriculture, Taiwan Green Tech and Education, Culture, and Tourism.
In addition to the Expo, Taiwan Expo 2019 will also see a host of industry forums like Taiwan-India Medical Cooperation Forum and Air Quality Management and Pollution Control Forum, covering topics such as air pollution control and health care during the course of the expo. The forums will offer the audience an opportunity to learn about Taiwan's current industrial development and the areas in which the two countries can co-operate in the future.
The rich exhibition content and professional seminars offered by Taiwan Expo 2019 means that the Indian visitors can learn about Taiwan in a comprehensive and in-depth manner.
Taiwan Expo 2019 will see participation from 130 exhibitors showcasing their state-of-the-art products through 230 booths. The show will be open between 10:00 AM to 6:00 pm.