NewZNew (Chandigarh) : Imagine your thoughts to feature in a song by famous artists? Tata Sky Music+ brought a unique musical online activation where a diverse set of bands and musical talent from The Yellow Diary (@tydtheband) to Kanchan Daniel and The Beards (@KanchanDaniel1), Hriday Gattani to Sharma and The Besharams, lyrically portray your thoughts. Held live from 18th to 22nd October, across Twitter and Facebook, all the viewers had to do is answer the questions asked on the Tata Sky handle (@TataSky) with the hashtag #MyKindOfMusic.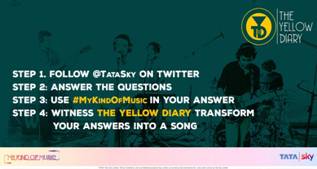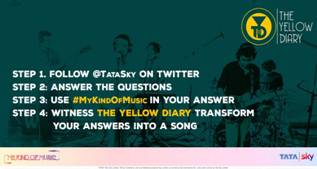 Based on responses, the selected bands and artists created the song from scratch in real time along with videos and uploaded online within 8-9 hours. Only the best responses were selected for the tailor-made songs.
In response to Tata Sky's daily dose of questions, a total of 10 songs were created in the last four days amongst the 4 bands. These music videos have garnered over a million engagements. The most popular of the lot was the Day Dream song by The Yellow Diary which has crossed the 50,000 views mark.
It was a 4 day-social marathon, 4 bands, 10 music compositions, real time music & video production, live behind the scene videos, 8 genres and 4 never been done 360 degree videos!
Some popular comments that made it to become songs were:
1)      Question: Games you have played in your childhood?
Answer: Hide and seek, Long jumps, Song by The Yellow Diary: Games we played
2)      Question: The funniest nickname you have heard?
Answer: Golu, Chintu, Song by Sharma and The Besharams: Nicknames
3)      Question: What are the things you do in the rain?
Answer: Jumping in the rain, Romance, Play with my friends, Song by The Yellow Diary: Things we do in the rain
These original albums in audio and video format will be available across Tata Sky's social handles (YT, Twitter, FB), TataSky.com, Hungama website, apps and the recently launched Music+ service. #MyKindOfMusic comes immediately after Tata Sky's recently launched its interactive service 'Music+', which offers Tata Sky subscribers exclusive access to a rich trove of music content (ranging from classics to latest launches) including music videos, concerts and artist interviews spanning a breadth of genres from international pop, country, rock and Indie music to jazz and blues, sufi, folk, nazms and ghazals. Subscribers of Tata Sky Music+ are now able to watch some of the biggest on-ground music events and festivals in the country from the comfort of their homes.
Wasn't this a Jingalala idea!!
Credits for Music Videos:
Agency: Chimp&z Inc
Agency Head: Angad Singh Manchanda & Lavinn Rajpal
Production Head: Pulkit Sharma
Director: Parasher Baruah