Thakkars and Gokales compete to celebrate Krishna's birthday on Sony SAB's Bhakharwadi: The tiff between the Gokhales and the Thakkars is set to take a new turn as their grandson, Krishna turns a year older.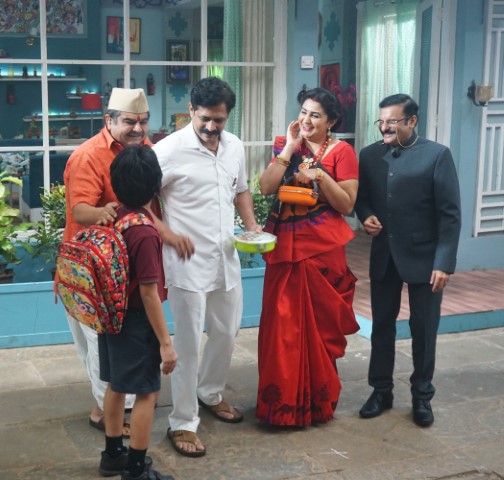 Sony SAB's slice of life show, Bhakharwadi will soon be celebrating the birthday of their youngest member, Krish aka Krishna, portrayed by little Harminder Singh.
The upcoming episodes will not only witness the families preparing for the D day but also discover Krishna's birthday turning into a battle of firsts between the families.
The 7-year leap introduced Abhishek (Akshay Kelkar) and Gayatri's (Akshita Mudgal) son, Krishna. While the viewers have enjoyed the beautiful love story of Abhishek and Gayatri so far, the leap revealed the changed dynamics between the two families. Although the relationship between both the families is now strained, everyone for the sake of Krishna paint a happy picture to raise him with utmost love and care.
On the other hand, Krishna, unaware of the dispute between his families, is a kid full of life and happiness. Excited about his upcoming birthday, he is thrilled to be celebrating the day with his families. Little does Krish know that his birthday has turned into a battle ground for Thakkars and Gokhales where each family wants Krish to cut the cake with them first. In a bid to defeat each other, the families have started plotting their plan to ensure Krish celebrates his birthday with them.
Who will Krish celebrate his birthday with?
Deven Bhojani, essaying the role of Anna said, "It is the ultimate battle of who does it first, be it anything. The Thakkar and Gokhale families, while posing as one big happy family are in reality fighting over their grandson, Krishna. The upcoming episodes are funny and heartwarming as the viewers witness the sheer love both the families have for the kid along with the hilarious banter on who Krishna celebrates his birthday with. So, stay tuned as Anna and the entire Gokhale family is ready for this challenge."
Paresh Ganatra, essaying the role of Mahendra said, "Krishna is everyone's apple of the eye. While he spends time with both the families but the tiff between the families always has an underlying competition regarding who Krish spends the most with. With his birthday coming up, it is the perfect opportunity for the Thakkars and Gokhales to mark their territory. The episodes are bound spread laughter at the same time showcase the pure love the families have for the kid."
#SwitchOnSAB and watch the khatti meethi kahani of Bhakharwadi every Monday-Friday at 9:30PM only on Sony SAB