The Wall Art Festival Returns with a Splash of Colour: The third edition of the Wall Art Festival took off at the Alliance Française in Sector 36 here today. For its third edition, the Wall Art Festival has invited four artists – two from France, one from India and one from Réunion Island.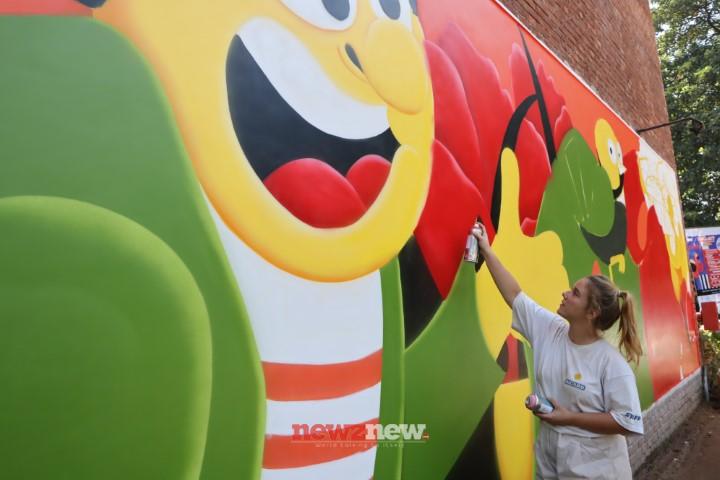 14 locations will be transformed by French artists, which includes Chandigarh, where the festival will be concluding. It took off from Colombo and other locations are Trivandrum, Ahmedabad, Lucknow, Mumbai, Hyderabad, Bangalore, Kolkata, Udaipur, Pondicherry, Pune, Bhopal, and Chennai.
The mural art performance in Chandigarh, is till tomorrow, 20th October, by the French artist Sandre and the closing ceremony will be on 21st October with three different artists – Sandre, Super Bab & Aashti Miller.
Sandre's work harmoniously blends bright colours of green, yellow and red, paying homage to Le Corbusier. At the heart of this creation is a lush garden, dotted with bright hibiscus. The bird in the centre evokes a peaceful scene full of life.
The inclusion of the croissant as a link between France and Chandigarh is a poetic touch. The bird, with its mischievous, playful look, invites the viewer to take part in the fresco and play with the different characters. The work conveys a message of optimism and unity, inviting contemplation and connection with nature, while celebrating the beauty of life.
Ophélie Belin, Director of Alliance Française Chandigarh informed, "The Alliance Française network across India is thrilled to announce the return of the Wall Art Festival, which took off on October 1. A fusion of colour, culture, and creativity awaits as we delve into India's splendid mosaic of cities, history, and natural landscapes. In the previous editions of the Wall Art Festival, cities brimmed with vibrant crowds, from students to grandparents. This exchange and shared passion for art created lasting memories. The festival's impact lingers on as murals, bearing testimony to stories shared and created."
"Mark your calendars for the 21st of October at the Alliance Française Chandigarh parking lot. From 2 pm to 9 pm, watch as Sandre, Millerink, and Super Bab culminate this festival with a grand mural. Experience urban culture like never before, with activities for every age. This festival is not just about art; it's about stories, passion, and bridging boundaries. Supported by the Institut Français, France Volontaire Réunion, and JSW paint, we invite you to be a part of this transcendent experience", she added.
Know More About Sandre
Sandre is a Breton artist based in Paris, France, whose work lies at the intersection of urban and technological practices. After studying animation, she ventured off the beaten path and sought to showcase her art for all to see by creating murals in the streets of Paris as well as in numerous countries such as Cambodia, Vietnam, and Belgium.
She also creates mappings for events and animations on immersive devices, such as at the Atelier des Lumières in Paris. Her style is situated on the border between naive, surreal, and ironic narration, composed of cartoonish characters that are highly colourful and nuanced. Working on large-scale curves allows her the freedom to fully express her movements while bringing her various characters to life.
Know More About Super BAB
Born in 1993, he created his first graffiti at the age of 13. In the following years, he honed his graffiti techniques and explored other avenues such as painting, drawing, watercolor, printmaking, and ceramics. While studying at the Beaux-Arts in Paris, he learned better academic techniques and developed his drawing skills as well as his personal style.
Starting with a conventional drawing, he adds an abstract touch, particularly influenced by famous surrealist paintings such as those by Miró and Picasso. He also incorporates elements from outsider art and tribal art.
Know More About Aashti

Miller
Aashti Miller is an architect, illustrator and graphic designer. She was born and raised in Mumbai, and studied Architecture at Cornell University in Ithaca, New York. She is the sole force behind MillerInk, an illustration and graphic design studio.
She constructs her drawings in an attempt to make sense of the unexpected collision of her two seemingly disparate worlds. As a result, her aesthetic and style have evolved into detailed drawings that tread the fine line between constructed and painted, digital and analog, two and three dimensional. Her work is heavily inspired by and explores spaces, places, and faces.