The White-Walled wonderland – The Olive Cafe & Bar opens in the City Beautiful: The Olive Café & Bar with a laid back, friendly vibe is a place where good food, laughter, culture and conversations come together in a delightful melting pot.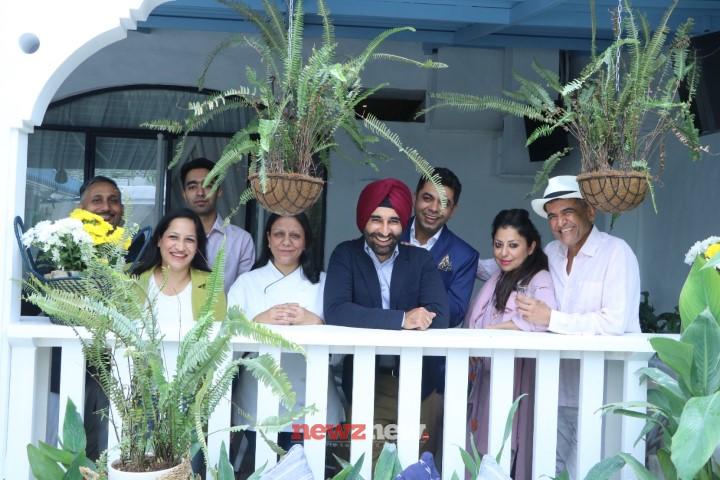 A gourmet café menu by chef Jyotika Malik and; freshly brewed coffee, bespoke drinks, hand-crafted cocktails and a robust wine list by lead mixologist Harish Chhimwal are some of its everyday elements. Come here for a leisurely lunch in the sun-dappled courtyard, a romantic dinner for two with live grills under the stars, or a raucous evening with friends at the bar.
We love how food and drink are at the core of Chandigarh. With two bars and one giant kitchen, Olive's feast-friendly! Come on by for signature Teq-tonics  (move over G&Ts), Sorbet Gin-Tos and our delicious Med-meets-European-and-the-world menu. Mmm!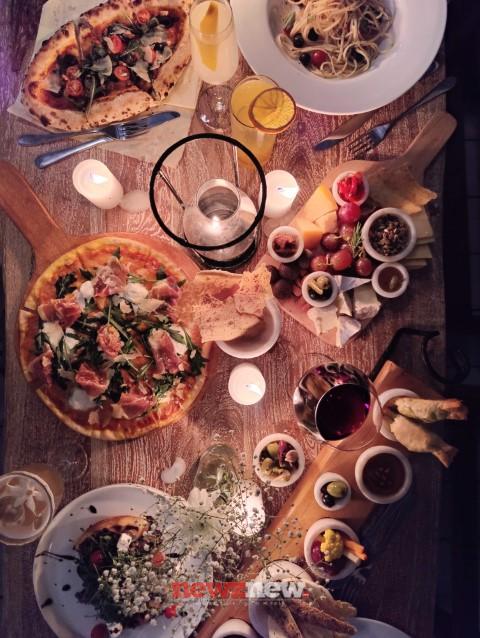 We love the love affair Chandigarh has with the outdoors, and we share it too! Come settle down for the day in our sunshiny, white-walled, open-to-the-sky courtyard. The signature Olive whites and blues are all in place and pull one into a mirage of being by the Mediterranean Sea. The natural light in the day and dreamy candle-lit mood at night; the coziness of soft arm chairs, the white pebbled courtyard, lush greenery and bougainvillea blooms, making Olive a warm, inviting and toasty space which instantly puts one at ease. Little coastal details are layered in every step of the way by Design director Sabina Singh & architect Vivek Popli
Olive loves its music. Tune in to our curated playlist of all-time-favorite jazz, classics as well as groovy retro tracks that set the vibe of a great night. Keep that Auto-Shazam on, we say.
The Olive Café & Bar carries forward AD Singh's and Olive Group's passion and commitment towards food that is of consistently great quality and high standards. We have a vision of balancing the cuisine between on-trend techniques and classic, unforgettable taste.
Says AD Singh, Founder & MD of The Olive Group of restaurants, "Olive is a way of life and an experience where we bring together good food, delicious & fresh cocktails, warmth, fun and hospitality as it should be. Now, we are really looking forward to bringing the trademark Olive experience to the sophisticated diners of Chandigarh. We are absolutely delighted to partner with Vishal Anand and Sampat Singh and thankful for their support."
"Olive is one of the most iconic restaurants India has seen. It has been on top of the charts for the last 20 years. Most importantly, it is a brand we grew up with and was always on our calendar during our visit to Delhi, Mumbai and more recently Goa. Hence, this partnership was only waiting to happen. We believe Chandigarh has an amazing audience for gourmet food and Olive will add to its flavors. What Chandigarh deserves is a quality restaurant with a vibe that does justice to its greens, taste buds and culture." say Vishal Anand & Sampat Singh.
Olive Cafe & Bar will open its blue doors to guests on 7th Aug at 7.30pm!

Gourmet Menu
The menu is made of soul satisfying, comfort food that is real, honest and unpretentious. Taking pride in its core ingredients, the Olive Café & Bar sources locally as much as possible.
Chef Jyotika Malik, a graduate from Le Cordon Bleu, London and with an incredible experience of working for Marco Pierre White at his Michelin star restaurant Mirabelle, and at The Dorchester Hotel in London lends her inimitable touch to the artfully curated menu.
All Day Menu
Settle down in the sunshine and take a day cruise through our light-hearted menu. Bursting with fresh produce and flavours, we have delicious small plates that will leave you wanting more, salads that pair surprisingly well with our award-winning pizzas and bowls filled with sunshine and goodness. Stay all day!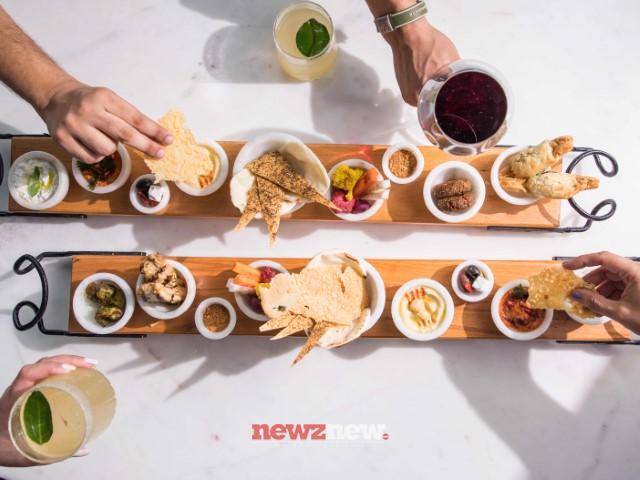 The signature dishes include Sweet Pots, Chunky Avo, Super Bowl Salad, Wild Waffles, Buttermilk Fried Chicken Bun, Burrito Bowl, Ginger Salmon, Prawn Pil Pil and Sun Dried Tomato Chicken Espetada along with timeless and classic desserts like the French Toast with toppings like blueberries, mango peaches, hazelnuts served with chocolate ganache and salted caramel which makes the perfect ending to a day meal.
Dinner Menu
Olive's dinner menu captures the Mediterranean by night. The menu is finer and is made using nifty ingredients beautifully paired together. You'll discover a treasure of dishes vastly diverse yet deliciously familiar. Led by chef Anubhav Moza, our kitchen turns gourmet ingredients into magical small plates, mains and desserts that take you on a culinary journey around the Mediterranean.
From bar nibbles, to Olive's wood-fired pizzas to a live grill there is a great selection which is likely to satisfy the most discerning palate. The signature dishes include Panzella & Burrata, Miso Roasted Eggplant, Grilled Tiger Prawns, New Zealand Lamb Chops and Prawn Ravioli.
The highlight for both lunch & dinner is the Mezze which comes in a beautiful long wooden platter (feast for the eyes too) with an option for vegetarians which includes falafel, goat's cheese & spinach borek, and non-vegetarians with shish taouk, chermoula prawns and lamb koftas. These are accompanied with muhammara, hummus, tzatziki, kalamata olives, feta cheese, pickles and lavaash
Olive's sweet offerings are a must-have. Our rendition of a Tiramisu; as a sweet reminiscence of family picnics in the park; a mascarpone trifle; cherry bombollini or Italian doughnuts, coffee gelato with caramel popcorn, baileys, palmiers and coffee ganache biscotti. You can also try the fire and ice Rum n Raisin Baked Alaska which is flambed on the table.
Signature Cocktails
The beverage menu comprises an array of fresh cocktails and bespoke drinks also inspired by seasonal produce.
Olive's perennial favorite Sorbet Gin-To makes its presence felt on the menu as well. It's a timeless gin & tonic twisted with a float of flavored sorbets like lemon, berry & passion fruit.
We are excited to introduce the city to our signature Teq-Tonics in which tequila is infused with herbs, fruits & flowers such as pimentos, hibiscus and grapefruit, and served with tonic water. We have a feeling you will love these!
Olive Group's lead mixologist Harish Chandra Chhimwal, who recently won Mixologist of the Year* has crafted a diverse and an eclectic cocktail menu that lets you take a sojourn to the scenic and charming Mediterranean. From Parisian Bling which is crafted from gin, and lavender to Turkish Delight made with Bourbon, Kahlua and espresso, there's also Morocco inspired Jack Rose which is a concoction of JD Old no.7 with pomegranate syrup and lime juice. Spaniard is realised from a heady quartet of gin and basil. Tripoli Punch, which is inspired by Lebanon and is made of tequila, we feel is going to be quite the showstopper.
You'll also find deliciously exclusive cocktails that pay homage to this wonderful city we now call home. Made with locally sourced  ingredients, our favourites include Chill Mango Tango where mango and bird eye chili complement each other in tequila. Popcorn Party, come together to create a heady cocktail which is a sublime union of fat-washed scotch with mustard oil, blended well with popcorn syrup.
Wine List
We love the wine drinking culture of the Mediterranean, and we decided to bring it all the way to Chandigarh. In this menu, you will find exciting, bubbly and rosé wines for the discerning drinker, and exclusive old-and-new-world labels from around the world. Order a glass, order a bottle. Either way, you are in for a good time.
Beverages
Beverages are concocted with equal love at the bar. Hearty shakes, freshly roasted coffee, hand-rolled teas (we love the lavender and lemongrass first flush blend!), freshly squeezed juices and Glow & Berry Kambucha – a fermented, lightly effervescent, sweetened black tea, are also the highlight of the menu.
Design Narrative 
Chandigarh, a creation of renowned architect Le Corbusier is known as the city of "sun, light & space." And as it turns out, it became a perfectly natural fit for Olive as well as its design philosophy directed by Sabina Singh and executed by architect Vivek Popli.
Says Vivek, 'With its simple au-naturel appeal, innovation and creativity were key to creating Olive in Chandigarh. The process began in line with Corbusier's affinity towards sustainability with the use of natural materials such as stone, wood, concrete and other locally sourced resources. Green architecture, another pillar of the city became an important part of the curation.'
As you enter Olive in Chandigarh, you will be welcomed by a spectacular marble-carved antique water fountain with cherubs. The walkway with a ceiling encased in bamboo baskets sets the tone to uncover the rest of the beautifully detailed spaces that serendipitously follow. The outdoor area with the light and shadow play of the sun and a white-washed pebbled courtyard embraces a Grecian aesthetic. It is seamless, elegant and airy while providing a sense of coziness that is added through textures and hand-finishes. Says Sabina Singh, The space is filled with plants in earthen pots and Bougainvillea flowers, all in sync with "breath of fresh air" Olive appeal. There is a swing suspended next to a date palm in the courtyard – perfect for the pose & post gang on Instagram.
The signature Olive whites and blues are all in place to reflect the open sky and lull one into a mirage of being by the Mediterranean Sea. (It's interesting to note that Le Corbusier also loved the Mediterranean, perhaps as much as we do.)
The indoor space is uncluttered with sheer white drapes on the arched windows. A lovely hand-finished terracotta tile covered patio held up by wrought iron carved columns showcases a true Corinthian aesthetic. Gilt edged mirrors, porcelain chandeliers, pastel prints and classic furniture are styled together to dress the area up. Candle lit at night, Olive's a romantic spot of dreams!
Olive Chandigarh is a perfect reflection of the wonderful people who call it home. We cannot wait to open in this beautiful city!
See you at Sector Mediterranean! It's time to party!
Fact Sheet
Address: SCO 3, Ground floor, Sector 26, Chandigarh – 160019

Timings: 12pm to 12am

Contact No: +91-8872300001

Website:

www.olivebarandkitchen.com

Facebook: @olivecafechandigarh

Instagram: @olivecafechandigarh

Average cost for two for food

1500++ for lunch

2200++ for dinner
Olive Legacy
The first white-walled Olive, opened by restaurateur AD Singh, found its home in a laid-back neighbourhood of what was then Bombay in November 2000. A chameleon of sorts, Olive's laid-back vibe turns high spirited with its longest running, iconic Bar Night on every Thursday. A favourite ever since it opened its signature blue doors, this flagship restaurant from the Olive Group has pioneered and revolutionized the city's flourishing culinary scene.
In 2003, AD opened the Olive Bar and Kitchen in New Delhi, which was listed as on of the 'best new restaurants in the world'. Soon, Olive became one of the most popular and best-loved restaurant brands in the country, winning numerous awards and accolades across Mumbai, Delhi and Bengaluru – where, in 2005, AD opened Olive Beach in a quaint bungalow.
In 2018, the much awaited Olive Bar and Kitchen launched in an alfresco space situated on the stunning Vagator beach of North Goa, with a casual, rustic ambience of signature all-white walls overlooking the Arabian Sea.
Olive Bistro & Bar, another brand embodies the spirit of Olive in a more affordable and casual avatar. In 2013, Olive Bistro opened in Hyderabad, and two years later in Goregaon, Mumbai.
Some of Olive group's successes include SodaBottleOpenerWala – a Bombay Irani Café & Bar that serves typical Parsi and Irani specialties and pearls from the streets of Bombay and its old-world clubs. Ek Bar – a New Indian cocktail bar serving a fresh, regionally-inspired modern menu and award-winning innovative cocktails. Olly at DLF CyberHub, Gurugram – Olive's all-day café and bar. Here, freshly roasted coffee, bespoke drinks and honest food blend with a laid-back vibe. The Hoppery, Hyderabad – The Olive Group's first microbrewery; nestled between lush foliage, boasting a gorgeous lake view, with seating spread across a quaint glasshouse, an alfresco space and a wooden deck.
Other notable names under the Olive umbrella are India's first gastropub – Monkey Bar, Guppy – one of India's first Japanese restaurants, The Grammar Room – an all-day cafe borne out of a mutual love for grammar, food and coffee; Serai, a culinary cocktail bar; The Fatty Bao – an Asian gastro-bar; and the East Village, NYC inspired and gastronomically curious – Toast and Tonic and Chinese Bar House – Cantan.