Chandigarh hosted a first of a kind Regional Conference on Environment, in Panjab University. The Conference was organised by 'Global Platform for Environment(GPE)' – an NGO made up of a dynamic  team of Advocates and Environmentalists. Hon'ble Mr. Justice Swatanter Kumar, Former Chairman National Green Tribunal(NGT) & Ex Judge of Supreme Court of India is the National Convenor, (GPE) & he was present along with  Reeta Kohli Senior Advocate- SIOLI( Serving in Organisations for Legal Initiatives ), which is working effectively for environmental awareness in the states of Punjab, Haryana , Himachal , J & K and UT Chandigarh.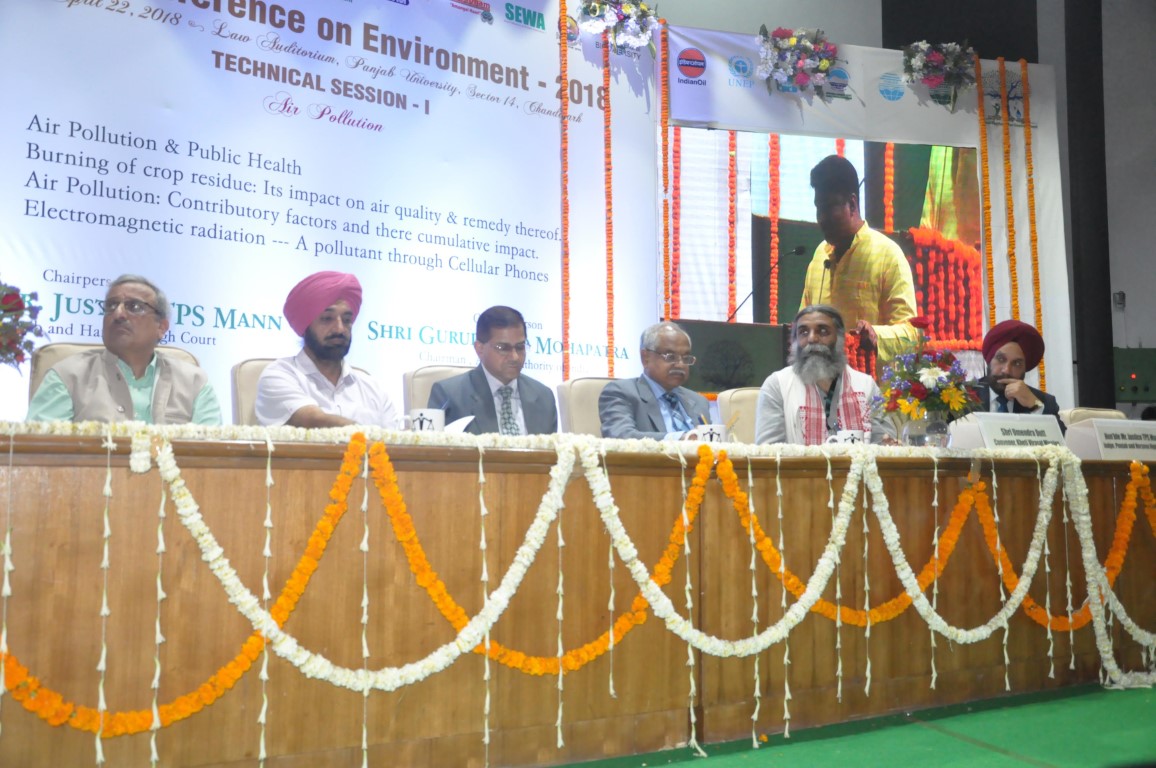 The conference saw a pertinent inaugural session, followed by 3 technical sessions & a valedictory session. Shri Kaptan Singh Solanki, Hon'ble Governor of Haryana was Chief guest for inaugural session.  Justice Swatanter Kumar delivered the welcome address. "Our team is planning to go to different regions especially rural areas to spread environmental awareness. We also plan to plant 10000 trees. We are going to hold confernces like this one in Shimla, Gurgaon, Amritsar & Srinagar." Said Justcice Swatanter Kumar.
A motivational address by Dr. S.V. Subba Rao, a Freedom Fighter, Founder of National Youth Project & who is known for effecting a Dacoits' surrender got a rapt attention from the audiance.Subba Rao started with a song dedicated to environment.  Justice Hemant Gupta, Chief Justice Madhya Pradesh High Court as well as Justice Shiavax Jal Vazifdar, Chief Justice Punjab Haryana Court was also present. Shri Kaptan Singh Solanki  gave the inaugural address followed by vote of thanks by Dr. Arun Kumar Grover, Vice Chancellor Panjab University.
Technical session 1 which was based on Air Pollution the Chairperson was Hon'ble Justice T P S Mann, Judge, Punjab & Haryana High Court and Co Chairperson was K S Pannu, Chairman, Punjab Pollution Control Board. The Key speaker was Umendra Dutt , Executive Director , Kheti Virasat Mission(KVM).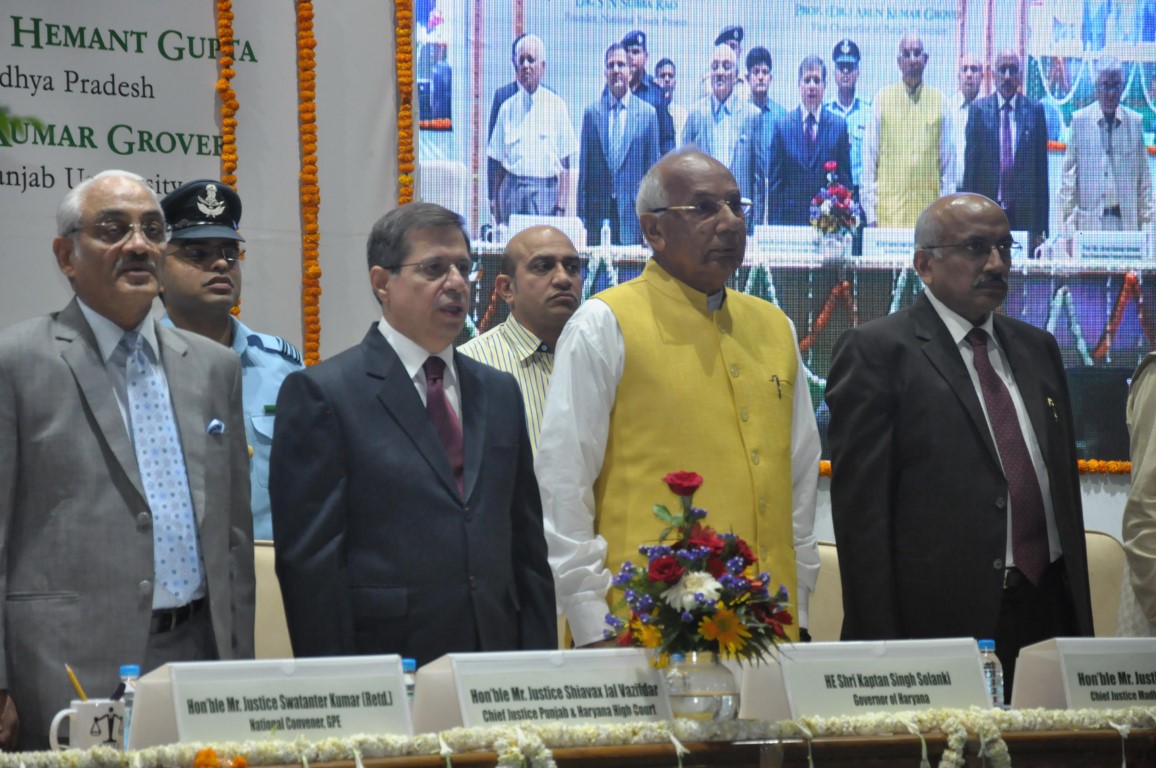 In Technical Session 2 on the subject of Water Pollution Justice Mahesh Grover, Judge, Punjab and Haryana High Court was Chairperson and Justice Dr Jawad Rahim, Acting Chairperson, NGT was co-chairperson the star speaker at this session was Rajendra Singh also known as Waterman- for his work done as a water conservationist in Alwar district, Rajasthan. He has also won the Stockholm Water Prize. He runs an NGO called 'Tarun Bharat Sangh', which was founded in 1975.       Rajendra Singh said, "The Beautification of Benaras has lead to direct draining into Ganga and that is from where pollution in the river started. Indian Urban Future is in danger and no water in any river is worth drinking or bathing with. Bureaucracy needs to find a way and implement it to deal with environment. Development should not be done by compromising on environment."
He added, "If we are extremely concerned about our human rights then why not the rights of river?"
He condemned corporate driven democracy. It is noteworthy that with his efforts, 11 rivers in past 35 years have started running in areas of Rajasthan, Maharashtra & Karnataka. He appealed that demarcation and identification of water bodies in different parts of nation should be done.
Sridhar Pabbisetty, CEO, Namma Bengaluru Foundation presented the grave situation of Bengaluru through a presentation. Dr. Vasundhra Singh – a professor from PEC emphasised on good use of solar technology which can be done in a country like India. She appealed to employ a way used in Singapore i.e. Reuse of complete sewage water.
The last technical session discussed management of solid waste. For this session,  Justice Ajay Mittal, Judge, Punjab and Haryana High Court was the chairman and  SPS Parihar, Chairman, Central Pollution Control Board was the co-chairman. Speakers who engaged the audience in this session included Dr. Krishna Rao, Director NIPER among others.
The Valedictory session had Justice Sanjay Karol- Acting Chief Justice, Himachal Pradesh High Court  as the chief guest. The session started with a welcome address by Justice Swatanter Kumar followed by an address by Dr. T.P. Singh, Deputy Regional Director, International Union for Conservation of Nature, Bangkok which included the details of environment conservation at a global level. He said " Freshwater ecosystem is of primary importance for water conservation. Asia has 47% of Global Freshwater Reserve with 65% of population and that is why Environment Conservation is important to maintain long term Asian peace and stability. We should do justice to water."
After this, the guest of honour- Justice Jawad Rahim, Acting Chairperson NGT and Justice A.B. Chaudhary, Judge Punjab and Haryana High court  also interacted with audience. Followed by a presidential address by Justice Surya Kant,& finally an address by the chief guest. Justice Sanjay Karol- Acting Chief Justice, Himachal Pradesh High Court  said, "Construction of dams had led to depletion of rivers in HP & Agriculture has also been affected. Rampant tree felling has led to soil erosion which has impacted Sukhna lake badly.In HP, 6 lakh students have been asked to plant and take care of at least one tree which they are doing." Mr. Umendra Dutt presented the vote of thanks.