Traditional & modern looks infused and inspired by the Lohri spirit at Cleopatra.: Traditional & modern looks infused and inspired by the Lohri spirit were unleashed at Cleopatra: The festival of Lohri celebrates harvesting and happy times with friends and family. Women and men alike take great pride in dressing up in traditional attire and flaunting the latest fashion.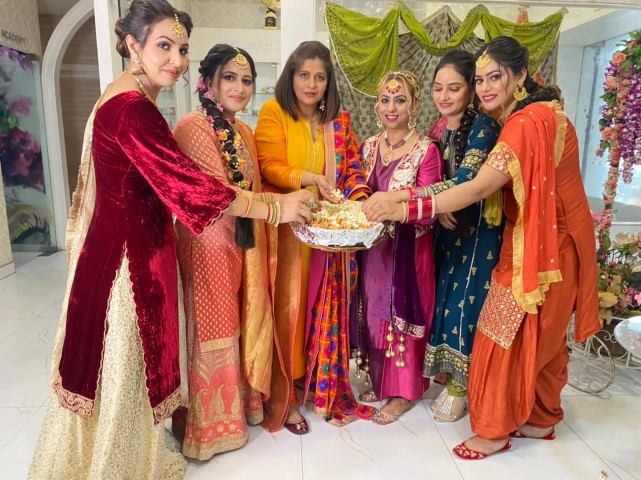 For newlyweds, the festival adds a new reason to deck themselves out in their best makeovers. In celebration of the occasion, Beauty Expert Richa Agarwal from Cleopatra Chain of Salons and Makeovers, created traditional looks and makeovers that set the tone for the season and defined new trends in fashion and makeup. Looks dedicated to Mother Earth as well as the deity of Lord Sun were characterized by hues of aurelian and golden colors.
These traditional looks carried the feeling of festivity and conveyed happiness and vibrancy. The women folks who joined the festivity were dressed up in traditional punjabi clothing, hairstyles with lots of stunning accessories and bold yet traditional makeup.
 In the tradition of using vibrant colours centered around gold, yellow and red, a rainbow of colors were used to create a medley of looks. " We are in the middle of a difficult time and have gone through a period of dullness, but now the new year has begun and specifically Lohri is a festival of prosperity and harvesting, so we have chosen this occasion to highlight fashion and make-up in a vibrant way. We also used silver and gold glitter for this look to give it a more traditional elegance and charm.
Despite being traditional in look, they were very young and fresh in appeal, offering a way to connect youth with the richness of our culture and fashion that remains vibrant while remaining royal.
Harveen Kathuria, Beauty Expert, joined the occasion and said, This time we have made special effort to launch a photo-friendly makeup because women and even men love to share their looks and styles on social media, thus we also shared some photo-friendly makeup tricks with women to shine on during the Lohri festival.
As women of Chandigarh gathered at Cleopatra to celebrate the festivity, they danced around the bonfire while relishing popcorns, rewari, gazaks, and peanuts.