NewZNew (Chandigarh) : Celebrating India's uniqueness of culture, heritage and ancient traditions on the auspicious occasion of Akshaya Tritiya, MMTC-PAMP, India's first and only internationally accredited gold and silver refinery, today unveiled the first preview of its much awaited Vedic gold offering titled "The TOLA".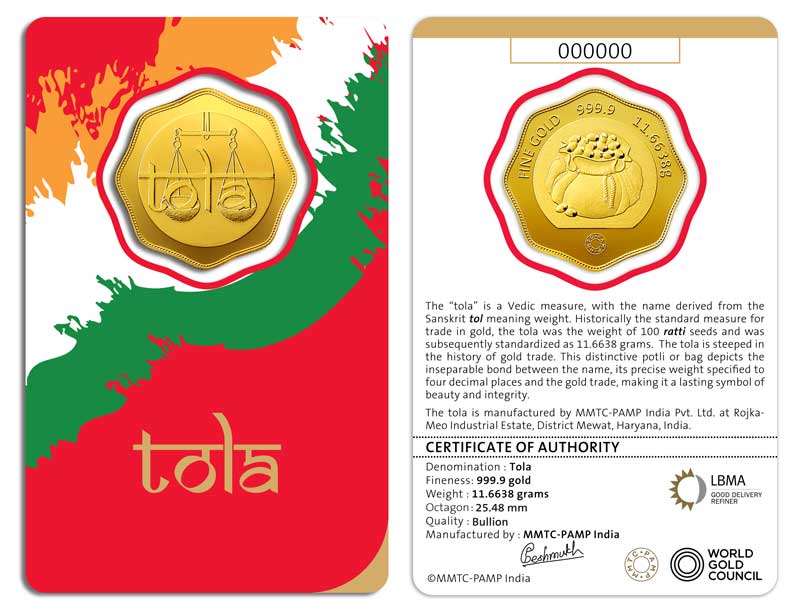 Conceptualized and designed as a unique and  historical product  for the first time in India, as an epitome of  our ancient legacy, "The TOLA'' has been resurrected and reimagined  in a modern design of the same exacting weight to four decimal points, precisely retaining its intrinsic value, worth its weight in gold of the finest purity. MMTC-PAMP brings to the market a brand new dimension to the term "tola", which continues to be one of the widely used standardized units of gold measurement across the world.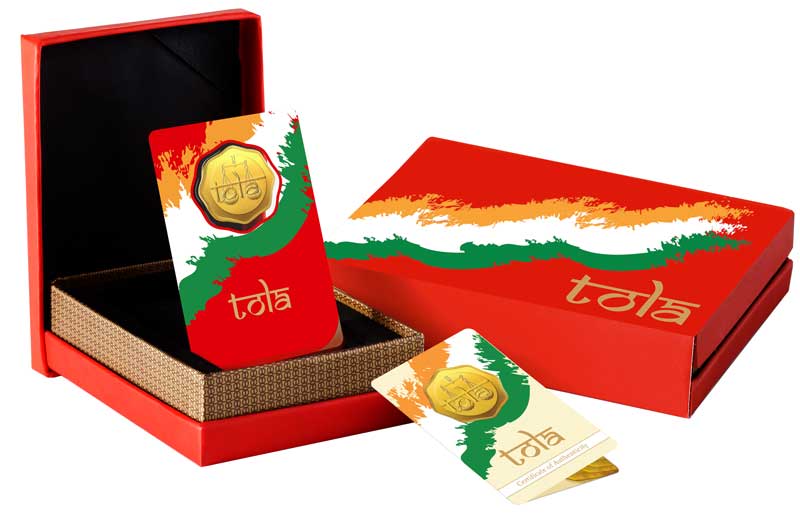 Based on a concept of over one thousand years old Vedic measure of gold, one tola in entirety was the weight of one hundred ratti seeds, traditionally carried by bullion merchants in a cloth bag. Encapsulating the concept of the tola and redefining the original in feel and look, MMTC- PAMP's "TOLA" is an octagonal shaped coin with distinctive knurled edges and an intricate finish, weighing precisely 11.6638 gms in 999.9 pure gold. The obverse depicts the classic design of a traditional weighing balance; the reverse features the "potli" containing one hundred ratti seeds.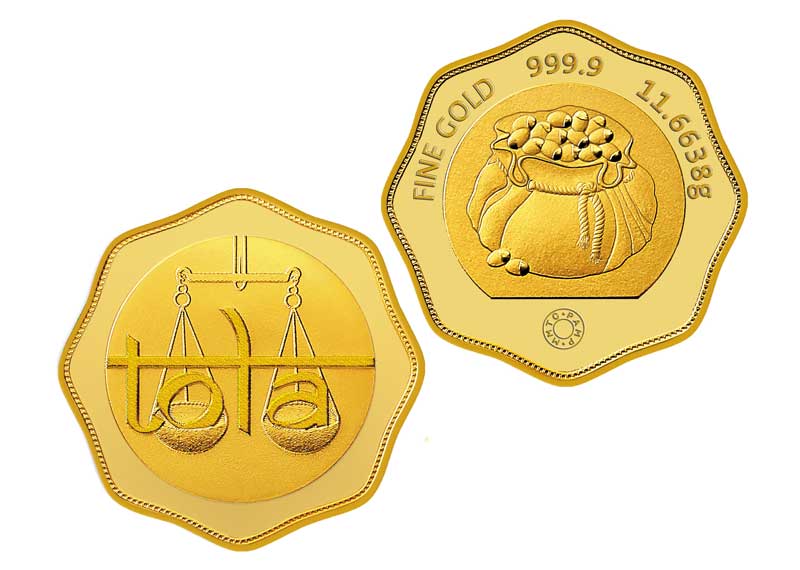 Speaking to the media on the occasion, Rajesh Khosla, MD, MMTC-PAMP India Pvt. Ltd said "For centuries trade in gold was inexorably linked with the tola, a measure of weight when dealing in gold, with India having its pride of place as the gold hub of the world. The advent of the metric system overtook this historical association, and the tola as a unit of weight was fast becoming a wistful, romantic memory, consigned to the sands of time.
This traditional Vedic measure, a treasure house of history and wealth has been resurrected in product form, showcasing not only our master craftsmanship but also edifying the pride of our cultural heritage."
In its initial phase, "The TOLA" will be available for purchase at select outlets of Stock Holding Corporation of India (SHCIL), Indian Potash Limited, MMTC-PAMP retail outlets as well as reputed jewellers in cities like Ahmedabad, Allahabad, Bangalore, Baroda, Chandigarh, Chennai, Coimbatore, Delhi, Dharwad, Faridabad, Gandhidham, Gandhinagar, Ghaziabad, Gurugram, Hyderabad, Jaipur, Jodhpur, Kanpur, Karkala, Ludhiana, Mangalore, Mumbai, Nagpur, Noida, Palwal, Raipur, Salem and Secunderabad.
"MMTC-PAMP also integrates a buy back option at prevailing market price of gold that can presently be availedat its company-owned retail outlets in Bangalore,Chennai, Coimbatore, Delhi and Hyderabad. By transforming our rich cultural heritage into everlasting prosperity with the finest purity, MMTC-PAMP believes this historic product, "The TOLA", will enrich the lives of all its valuable customers and restore the glory of India." added Khosla.