TOP NATIONAL & INTERNATIONAL SURGEONS TO CONVERGE AT  CONGRESS
MEDICAL HISTORY TO BE CREATED AT CONGRESS: ROBOTIC HAND HELD & ARM ASSISTED JOINT REPLACEMENT TO BE UNVEILED
NATIONAL LAUNCHES OF CUTTING EDGE KNEE & HIP REPLACEMENT TECHNOLOGY ON ANVIL
9 LIVE SURGERIES TO BE TELECAST
6 NEW TECHNOLOGIES IN JOINT REPLACEMENT TO BE LAUNCHED FOR THE FIRST TIME IN INDIA
NewZNew (Chandigarh) : The Elite Arthroplasty Congress 2016 being organized by Max Elite Institute of Orthopaedics & Joint Replacement is all set to roll out from 8th   to 9th October at Hotel JW Marriott, Chandigarh. The Congress which is themed on 'Human Care Built on Complex Primary & Revision Arthroplasty' will showcase path breaking technology created by Designer Surgeons, in the field of knee replacement & hip replacement, through live surgeries.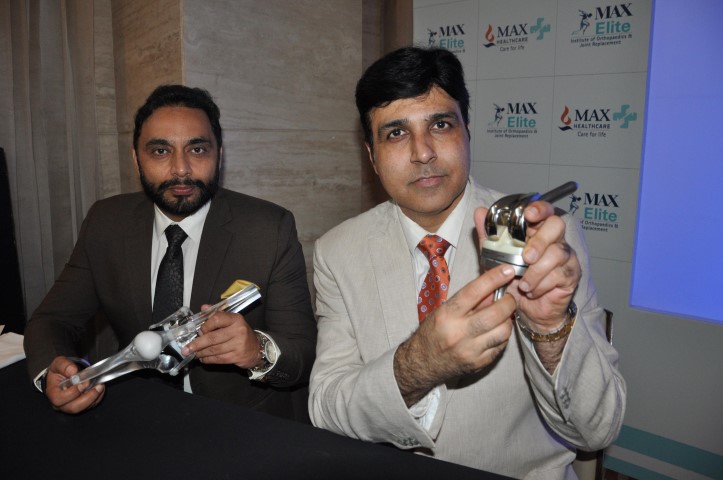 According to Dr Manuj Wadhwa, Course Director, "We at Max Elite Institute have been working hard to innovate technologies in Joint Replacement for better clinical outcomes. In this direction we are putting up a Congress that promises to be a watershed in the medical history of India. The reason: some of the best brains in Orthopaedics & Joint replacement will showcase latest techniques & best practices being followed Globally." Sandeep Dogra, Senior Vice President and Zonal Head, Max Hospitals Punjab added, "A revolutionary stride is being taken at the Congress — unveiling, at a National level, of Robotics—which will make Multicompartmental Knee Replacement & Hip Replacement, by use of Robotic Science, a reality, in India."
It's noteworthy that in Multi compartmental knee resurfacing options, only the damaged portion of the knee joint will be replaced & remaining surfaces of the joint and ligaments can be preserved.
Cutting Edge Technology – the Mako Robotics Arm Assisted Joint Replacement Surgery which will be conducted by Dr Frederick Buechel Jr – a Robotic Surgeon from USA, & will be beamed live, to an expert audience, at Hotel J W Marriott. And the second Robotics Surgery through Hand held Navio Robotic instrumentation is by Dr.Jeffrey Geller from USA, this will be conducted at Max Hospital & again will be shown live to delegates at the Congress.
The Congress over 2 days will see around 8-10 live surgeries that will be beamed live from Max Hospital, Mohali to JW Marriott; where over 400 delegates attending the Congress will witness these. After the real time demonstration of latest techniques & technology used, there will be panel discussions, debates & insightful brainstorming sessions amongst International & National experts in the field. Controversial issues in the field of Arthroplasty and revision surgeries will be taken up and discussed to arrive at conclusions.
What's more, for the first time Chandigarh will be home to, National level launches of different cutting edge Orthopaedic innovations. The Pan India launch of Anthem Total Knee system will be a breakthrough. The system has been devised by Designer surgeon Dr Manuj Wadhwa who is also the Course Director & is tailor developed for an Indian & Asian population.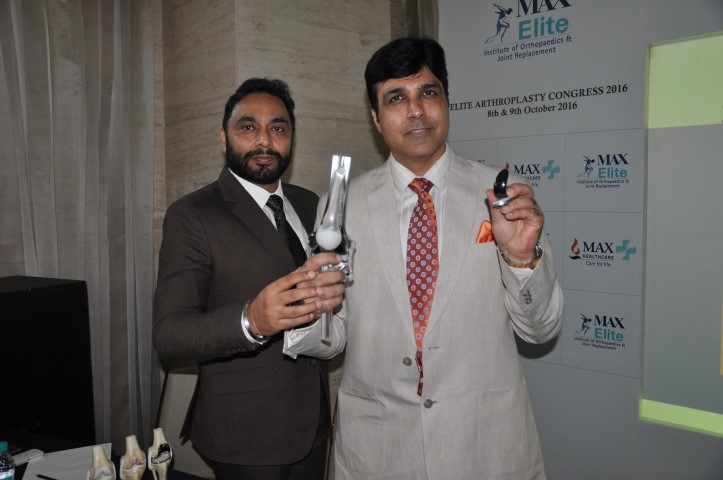 Many respected names in Orthopaedics, from the World, will participate. Dr Jeffery A. Geller, who is a Robotic Surgeon & a Board member of American Association of Hip & Knee Surgeons, will be doing a Multicompartmental knee system surgery with hand held robotic technology. Dr Ross Crawford a professor of Orthopaedics research at Queensland University of Technology, a fellow from Oxford & a master of hip replacement will be performing Total Hip Replacement surgeries during the 2 days. Dr Daniel Saris from Netherlands, a Designer Surgeon, Dr Dick Van Der Jagt (SA) who is the implant developer for Femoral Neck Extender; Dr Duncan Whitwell (UK), a European Surgical demonstrator on high end revision Arthroplasty systems, are few more well known names who will be present.
The Congress will be a boon for patients. The Robotics launch will help in increasing surgery accuracy & reducing trauma. What's more, single day hospital stays in Joint Replacement procedures, will become a reality.