20 + participating countries  & over 300 brands showcase Smart Security for Emerging India
Launched a whitepaper on 'Maximizing benefits of Command Control Center' developed by  Knowledge Partner -PwC India for IFSEC India
To witness the second IFSEC India Awards
One-day high impact conference focussing on Homeland Security
UBM India today launched the 11th edition of International Fire & Security Exhibition and Conference (IFSEC) India, a three day show between December 6-8, 2017 at Pragati Maidan, New Delhi. IFSEC 2017 was inaugurated by Shri Gopal K Pillai, Chairman, Data Security Council of India & Former Secretary, Ministry of Home Affairs, Government of India; Shri Shiv Charan Yadav, President, Asian Professional Security Association (APSA), Mr. Anil Dhawan, Co-Chair, ASSOCHAM Homeland Security, Commander Deepak Uppal, Director, Pricewaterhouse Coopers, Mr. Yogesh Mudras, Managing Director, UBM India and Mr. Pankaj Jain, Group Director, UBM India amidst an august industry gathering.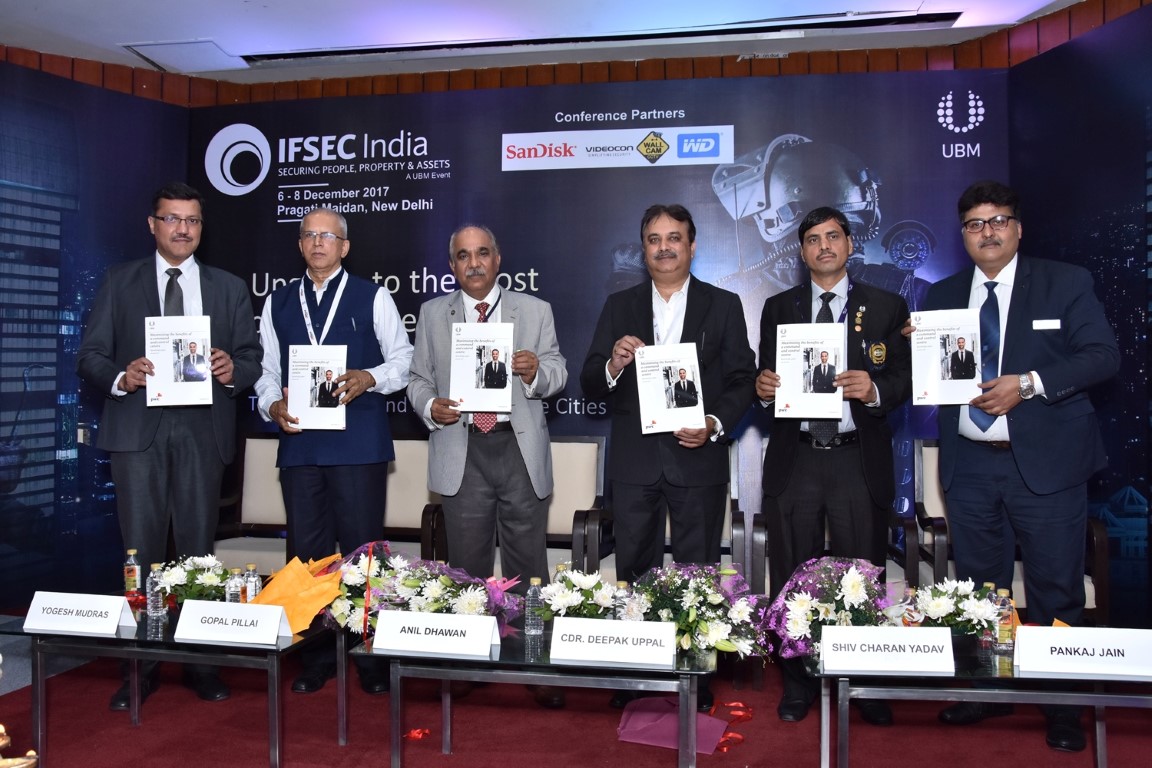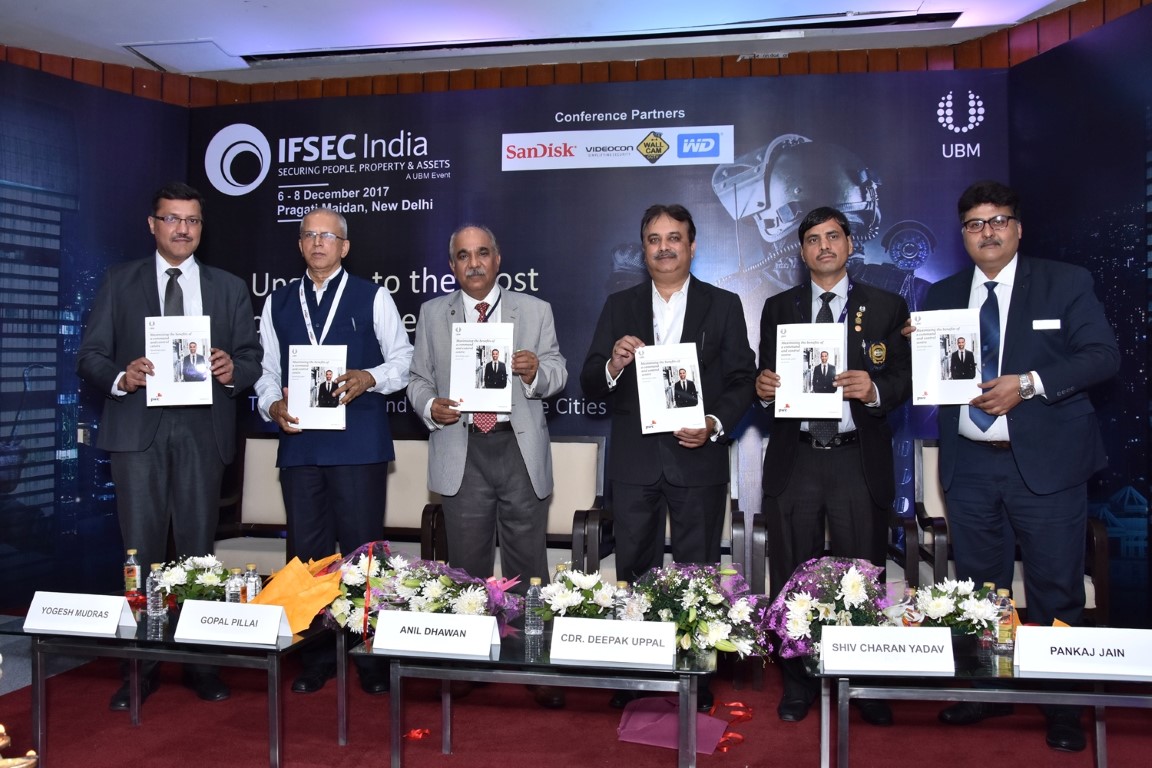 The show was a convener of internationally renowned exhibitors, consultants, business experts and key government officials under one common platform, to discuss global best practices and seek solutions to some of the most pressing challenges in the security and fire domain. It provided high-impact informative demos and a wealth of opportunities for the visitors to network and learn about cutting-edge technologies, industry trends, challenges, market insights and discover the best solutions to keep their business and clients secured.
This year, the expo saw participation from countries such as UK, USA, China, Taiwan, Malaysia, Australia, Canada, Singapore, Lithuania, South Africa, Russia and Turkey to name a few from the security and fire domain.  It is well-supported in its endeavours by associations such as Asian Professional Security Association(APSA), American Society for Industrial Security(ASIS) , Electronic Security Association of India(ESAI) , Central Association of Private Security Industry (CAPSI) and Overseas Security Advisory Council(OSAC), along with Assocham as Strategic Partner and PwC as knowledge Partner.
The expo has over 300 participating brands which include — Aditya Infotech, Dahua, eSSL, Globus Infocom, Hanwha Techwin, Hikvision, Mark Electronics, Realtime,Roadpoint, Secureye,Techsmart, Tenda, TVT, Uniview,& Zkteco as Premier Plus partners. Premier partners include — Advik, Axestrack, Biomax, Delta, Dlink,Face ID, Hifocus, Idemia, Mantra
Softech, Orbit, Panasonic, Seagate, Slingshot, Tansa, Timewatch,Unique Electrovision and Western Digital amongst others.
With the increasing focus on Homeland security in India, IFSEC India, 2017 discussed relevant insights gained in the global security market by conducting a one day conference with the  theme 'Secure Nation and Safer Environment' alongside the exhibition. The conference witnessed eminent personalities delivering special address and key note, to name a few — Shri G K Pillai – Members of the National Security Advisory Board, Ministry of Home Affairs and Shri Nagendra Nath Sinha, Managing Director, National Highways and Infrastructure Development Corporation. Some interesting topics that were discussed at the conference are — Smart Border Management – Comprehensive Strategies for Challenges and Threats to Land Borders, Coastal & Maritime Security Challenges.
This year, IFSEC India is all set to bring back the 2nd edition of IFSEC India Awards on the night of 6th December at The Lalit, New Delhi. The Electronic Security Industry in India is proliferating and the awards are crafted to specially get the minds behind electronic security in various industry verticals like BFSI, Retail, Manufacturing, Energy, Healthcare, PSUs, IT & ITES and Infrastructure in the limelight. The awards will recognise the excellence and innovations of CSOs & Security officers who continuously work behind the scenes to ensure robust security. The process advisors for the IFSEC India Awards will be Ernst and Young.
Industry Speak at IFSEC India 2017:
Mr. Robin Shen, Managing Director, India & SAARC Region, Dahua Technology India Pvt Ltd said, "The security industry landscape in India has been positive, promising and progressive. The recent initiatives taken by the Indian Government and the growing awareness among the Indians on the importance of security needs bode well for the industry. India is a huge market with immense potential and its size, geography, demographic dividend, diversity, and dynamism and this attracts us to cater to the growing security needs of the people. IFSEC India brings together many national and international brands in the security, safety, and fire industries under one roof to address the sector's growing needs and urges them to act in a concerted manner for the benefit of all stakeholders."
Mr. Ashish P. Dhakan, MD & CEO, Prama Hikvision India Pvt. Ltd said, "IFSEC is one of the most coveted exhibitions related to the security Industry in India. We are participating in it with unabated interest to showcase Hikvision's latest products and innovative technologies like Deep Learning, Artificial Intelligence (AI), AI Cloud, Big Data & IoT. The Indian security market is currently moving towards a mature stage. In the next 10 years, India's security market will experience a boom like never before. The government's Smart City Mission and Digital India initiative are creating new opportunities for the security Industry."
Mr. Jaidev Singh, National Sales Manager, TimeWatch said, "The most important factor for security industry is to remain present, active and look for the business opportunities. At
present, the security industry in India heavily relies on the imports and nearly 70 per cent of the securities forming equipment required in the country are imported. By bringing together product and solution providers with both channel partners and senior decision makers from government and private sectors, the IFSEC India provides the perfect platform for our clients to meet their objectives through thought leadership, product & solution showcases and year round networking."