Understanding No Medical Exam Life Insurance: In theory, buying life insurance is an easy process, but in practice, it can be difficult and complex. Buying life insurance should be easy, in theory, because there are tons of websites that offer free quotes, so it stands to reason that once you get a free quote, you can move on to the next logical step and purchase a policy. However, due to a long and arduous application process, actually getting approved and purchasing the policy can take 1-2 months. That's a long time to finalize a single transaction.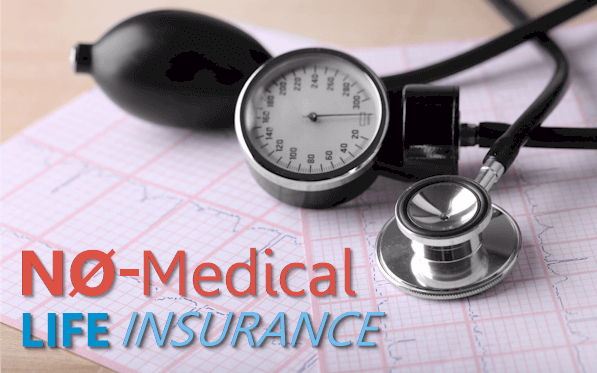 More than just the annoyance of having to wait at least a month to finalize your life insurance purchase, the fact is that many people can't wait that long. Some people find themselves in a situation, such as going through a divorce or seeking a small business loan, in which they need life insurance now, not two months from now. 
No Medical Exam Life Insurance
No medical exam life insurance is the answer for people who can't wait a long time to get life insurance. As opposed to waiting weeks or months to get approved, many no exam life insurance policies offer approval within days. 
How does it work?
Traditional life insurance policies take a long time to grant approval because of the underwriting process. This process compares health and other information from each applicant against millions of statistics. In this way, underwriters assess the risk that each applicant poses to the company and determines the amount they will pay in monthly premiums. 
For example, people who smoke are always considered a bigger risk than people who don't smoke. Therefore, their premiums are higher. But underwriting doesn't just consider one aspect, it considers many, which is why the approval process takes so long.
No exam life insurance doesn't require a medical exam, which means that the underwriting process is much quicker. Some policies do require some health information, so there is a little underwriting involved, but many don't require any information and offer guaranteed approval. In these cases, approval can be instant. 
Due to its nature, no exam life insurance is also a great option for people who don't want to undergo a medical exam. Some people simply don't want to be poked or prodded, undergo blood tests, or give urine samples. Others aren't in the best health, so if they opt for a medical exam, they may be denied traditional coverage. And yet others don't have time to take off from work and spend half a day at the doctor's office. No exam life insurance is the solution for all of these people. 
Things to Know About No Exam Life Insurance
If no exam life insurance sounds too good to be true, hold on. Fast approval and convenience are indeed terrific benefits, but there are some drawbacks as well. These include:
Limited coverage – Usually up to $500,000 but in some cases, only until $50,000.
Age limits – While age limits vary by insurer, they typically go until 60 or 70.
Higher Cost – Because there is little to no underwriting for no exam policies, insurers don't have an accurate way to assess their risk. Therefore, premiums are typically higher. Today, however, as no exam policies become more popular, many insurers are offering more competitive prices, especially for people who are in good health. People who aren't in good health can still get life insurance, and it's up to them to decide whether the higher premiums are worth the coverage. In most cases, they choose the higher premiums, since having a life insurance policy offers relief and peace of mind. 
Types of No Exam Policies
Just because no exam policies don't require a medical exam doesn't mean that you don't need to provide any health information. While there are some that will grant approval with no health questions asked, there are still others that do require various information about your health.
The 3 main types of no exam policies are Accelerated Underwriting, Simplified Issue, and Guaranteed Issue. Each type has its own requirements and benefits.
Accelerated Underwriting Policies
These policies are very similar to traditional policies. The main difference is skipping the medical exam. Everything else is the same — applicants must answer detailed questions about their health, family medical history, finances, driving history, and lifestyle. At the same time, insurance companies collect data from third-party sources and use data modeling to assess how much risk the applicant poses to the company. This is how monthly premiums are calculated. 
While Accelerated Underwriting is considered a no exam policy, if an insurer cannot accurately assess its risk based on the information given and gathered, it may request the applicant to undergo a medical exam in the end. This typically happens with older applicants, not applicants who are young and in good health. 
Because the risk assessment for Accelerated Underwriting policies is similar to traditional policies, so is the cost. The only other difference is that coverage is limited to $1 million, whereas traditional policies offer higher coverage. If you'd like to compare quotes of traditional policies with Accelerated Underwriting policies, you can do so here.
Simplified Issue Life Insurance
Simplified Issue (SI) requires applicants to answer a few basic health questions, usually regarding hospital stays, HIV/AIDS, cancer, and other illnesses. Finances, driving history, and lifestyle are also taken into account.
For SI policies, insurers don't collect much information from third-party sources, so there is very little underwriting involved. Due to this fact, these policies tend to be more expensive than Accelerated Underwriting, and coverage is usually capped at $500,000. On the plus, side, approval can take just a few days.
Guaranteed Issue Life Insurance
Guaranteed Issue (GI) offers guaranteed approval to almost everyone. (Age is usually the main reason people are turned down for GI). With GI, no health questions are asked and coverage is usually capped at $25,000. GI is often purchased by people who are not in the best state of health and simply want enough life insurance to cover their funeral expenses.
Deciding If No Medical Exam Life Insurance is Right For You
If you are someone who needs life insurance quickly, is not in the best health, or hates the idea of undergoing blood tests and providing detailed medical information to a third-party, no exam life insurance can be the ideal solution. The fact that there are different types of no exam policies makes it easier to find one that's suitable for your specific situation.