Union Home Minister chairs 31st Northern Zonal Council meeting in Amritsar: Union Home Minister, Sh. Amit Shah chaired the 31st meeting of the Northern Zonal Council convened in Amritsar, Punjab.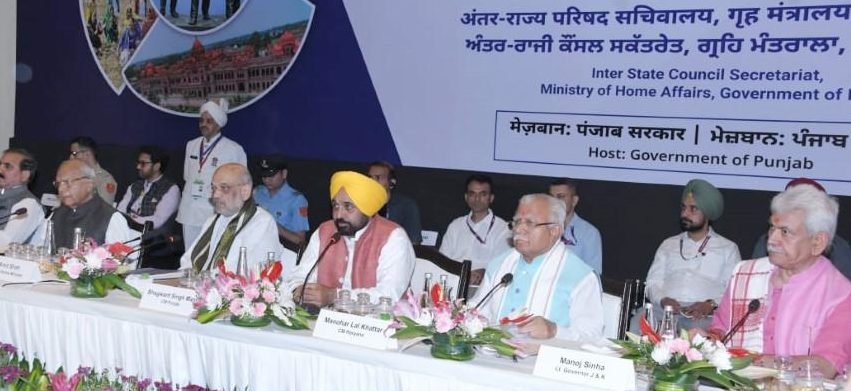 During the meeting, Haryana Chief Minister, Sh. Manohar Lal apart from highlighting key issues for regional development, cooperation among the states also advocated for several critical issues including the construction of the Sutlej-Yamuna Link Canal (SYL) and the Affiliation of Haryana Colleges from Panjab University.
Punjab Governor, Sh. Banwarilal Purohit, Lieutenant Governor, UT of Jammu and Kashmir, Sh. Manoj Sinha, Lieutenant Governor, Delhi, Sh. Vinai Kumar Saxena, Punjab Chief Minister, Sh. Bhagwant Mann, Himachal Pradesh Chief Minister, Sh. Sukhvinder Singh Sukhu and representatives of Northern Indian states attended the meeting.
The Chief Minister also underscored the significance of establishing an environment of collaboration among the states to ensure the successful and prompt execution of development projects. He emphasized that by pooling resources, sharing knowledge, and adopting best practices, the states could achieve efficient and effective project execution, ultimately contributing to the growth of the region and the nation as a whole.
Sutlej-Yamuna Link Canal (SYL) Canal Construction
The Chief Minister stressed the urgent need to complete the construction of the Sutlej-Yamuna Link Canal (SYL) canal in the Punjab region. He clarified that water availability and canal construction were distinct issues and should not be conflated.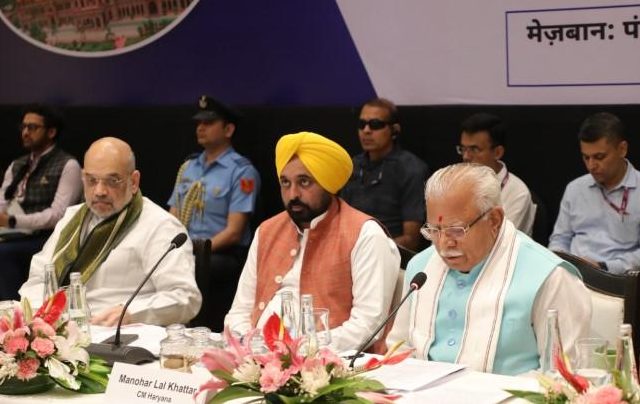 He pointed out that surplus water from rivers such as Ravi, Sutlej, and Beas currently flowed into Pakistan, and constructing SYL would enable the productive utilization of this valuable water resource. Additionally, he highlighted the importance of SYL as an alternative channel, especially in light of the aging Nangal Hydel Channel (NHC).
Affiliation of Haryana Colleges
Sh. Manohar Lal advocated for Haryana colleges in Panchkula, Ambala, and Yamunanagar to have the option of affiliating with Panjab University. He highlighted that while Haryana's share in Panjab University had been discontinued in 1973, reestablishing these affiliations would be in the best interest of students. He stressed the importance of expanding educational opportunities and enhancing the university's reputation by affiliating more colleges from both Haryana and Punjab.
Equitable Water Sharing
Reiterating Haryana's commitment to equitable water sharing and peaceful dispute resolution, the Chief Minister discussed issues related to the Bhakra Beas Management Board (BBMB). He emphasized the need to address delays in repairing the Dhulkot BBMB sub-station and underscored the importance of raising the banks of the Bhakra Main Line for efficient water resource management.
Small Hydro Power Projects
Sh. Manohar Lal proposed considering Hathnikund as a national project for small hydropower projects. He believed that such a project could have far-reaching impacts on water management and power generation capabilities in the region, warranting detailed discussion.
Innovative Data Collection and Governance
The Chief Minister also shared Haryana's innovative approach to demographic data collection through the Parivar Pehchan Patra scheme. This scheme provides real-time demographic data and has created a comprehensive database of every family in the state. This database plays a crucial role in government planning and policy implementation, bridging the gap between data collection and practical application.
Sh. Manohar Lal encouraged other participating states to explore innovative solutions like PPP to strengthen governance and ensure the welfare and prosperity of all citizens.
Ayushman Bharat's scope expanded to provide comprehensive healthcare coverage
The Chief Minister apprised the Home Minister that on November 21, 2022, Haryana took a crucial step by extending Ayushman Bharat to families through the Antyodaya scheme via the Chirayu Yojana.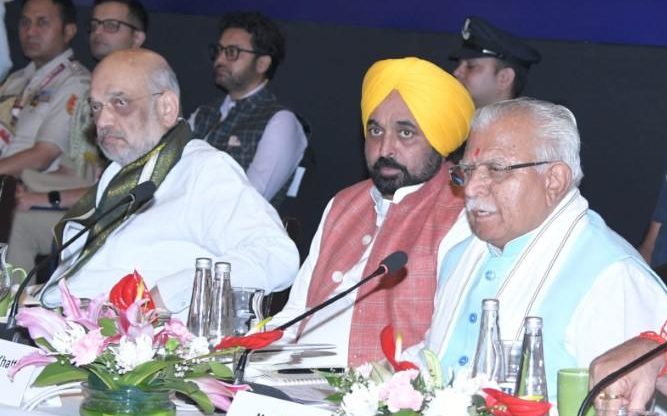 This initiative provides healthcare benefits of up to Rs 5 lakh to the most vulnerable sections of society, aligning with Ayushman Bharat-Pradhan Mantri Jan Arogya Yojana (AB-PMJAY) guidelines. To date, a total of 56,89,986 cards have been issued under this scheme. When combined with the Nirogi Haryana scheme, the total count of Ayushman cards issued stands at an impressive 85,79,273, shared Sh. Manohar Lal.
Expansion of PMJA-Chirayu Scheme for families having annual income ranging from Rs 1.80 lakh to Rs 3 lakh
The Chief Minister informed that responding to the needs of middle-income families with verified annual incomes ranging from Rs 1.80 lakh to Rs 3 lakh, the government has extended the PMJA-Chirayu Scheme. He further shared that to access these healthcare benefits, families are required to contribute a nominal amount of Rs 1500 per year. Since its launch on August 14, 2023, 12,236 families have made their contributions, enabling them to access the scheme's healthcare benefits. A total of 789 hospitals, including 175 public and 614 private facilities, have been enlisted across the state, facilitating this program. More than 9,10,525 claims have been submitted, with a total claim amount exceeding Rs 1,016.38 crore disbursed, shared Sh. Manohar Lal.
Haryana is committed to child welfare and swift justice
The Chief Minister shared that the Haryana Government remains dedicated to ensuring the safety and well-being of its citizens. A notable example of this commitment is a recent case of Child Sexual Offenses (POCSO) in the Kaithal district. The case, which deeply affected the collective conscience, led to swift action, he said.
Divulging more details about the said case, Sh. Manohar Lal further informed that a charge sheet was filed within just six days of the victim's father's complaint in October 2022. Remarkably, within a record 11 months from the date of the incident, the POCSO Court awarded the accused a death sentence for the heinous rape and murder of a seven-year-old girl. This outcome underscores the dedication of Haryana's law enforcement and judiciary to expedite justice and protect children, shared the Chief Minister.
Haryana has emerged as a Sports Powerhouse
The Chief Minister said that despite its small geographical size, Haryana has consistently demonstrated a wealth of sports talent. Recognizing this potential, the government has invested in sports facilities and incentives for athletes. This commitment has given rise to a burgeoning sports culture within the state, establishing Haryana as a veritable powerhouse of sports, said Sh. Manohar Lal.
Meanwhile, the 31st Northern Zonal Council meeting addressed various pressing issues among the northern states while promoting collaboration for the shared progress and development of the region.
Haryana Agriculture and Farmers Welfare Minister, Sh. J. P. Dalal, Urban Local Bodies Minister, Dr. Kamal Gupta, Chief Secretary, Sh. Sanjeev Kaushal, Chief Principal Secretary to Chief Minister, Sh. Rajesh Khullar also remained present on this occasion.